Christmas time is a period when we all over indulge into baking cakes, cookies, and other Christmas treats. We bake so much that we eat and eat and they never seem to end. Now, if you are lucky and working, you can always "get rid" of a few calories by taking some at your office and share them with your colleauges (let them get the calories) but otherwise if there are lots of leftovers, I hate to see anything wasted, especially during these frugal times.
The traditional Greek cookies for Christmas are Kourabiedes (shortbread cookies) and Melomakarona (honey cookies). I can't imagine Christmas without them and I bake a lot of them as my children love them. For both of them I used the recipes given in my cookbook which are different than the links provided above.
As always, I wanted to experiment further, so I decided to give them an original taste and filling. I won't reveal the filling although I can give you a hint in the picture below as I still need to perfect it. I added a few (not so traditional) spices in this mixture and the flavour was wonderful and totally different. I used this filling in just a few of each to try them just to try them and the remaining were made the classic way.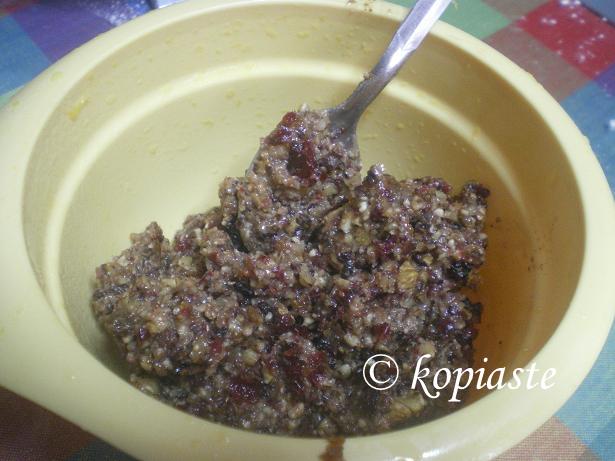 The kourabiedes were fantastic. They melted in your mouth and the filling was perfect. In the post of Whoopie Pies, I said that the melomakarona disappointed me this year. I was very wrong. I used a very strong liqueur in the syrup and at the time I tasted them I thought that you could get drunk by just eating one of these cookies. However, a few days later it seems that the alcohol evaporated and now they are more than wonderful! They are addictive and you just can't just eat only one, so there will definitely be no leftovers.
If, however, any of you have leftovers, you can use them as a base for a cheesecake.
Apart from these two cookies, I always make a Christmas cake. Although I have been making this recipe since I was in high school, I think that this year it was better than ever. I again followed the recipe in my cookbook and the only thing I changed was to use different spoon sweets (fruit preserves) as each year I use whatever I have leftover or sometimes I set aside some especially for the cake. This year I used Fig preserve and Walnuts preserve. I had made candied lemon peels for my Spiced Ginger Chocolate Cake with Teratsomelo (carob syrup) which I also used in the cake. I have used this combination in the past but it never tasted sooooo good.
Normally the Christmas Cake and these two cookies are more than enough for our needs and I never have leftovers.
This year my daughter wanted me to make a Gingerbread house as well. After an accident, the house broke, so the big pieces were made into Gingerbread Cigar Cookies and the remaining (which was a lot) was stored in an air tight container. As the Gingerbread house was made a lot of days ahead, I used part of it to make a cheesecake and I also made a second dessert which is still in the deep freezer.
If you want to make any of these desserts, all you have to do is crush the cookies, put them in a zip lock bags and store them in the deep freezer. They preserve well for a long time so you can use them whenever you like. You can then use them as your base to make anything with a crust, such as tarts, cheesecake, truffles, put them in ice creams, in crepes, etc.
Here are a few ideas with which you can experiment:
For making Caryokes, use the bread crumbs instead of the rusks and add less (or no sugar at all) as the cookies are already sweet.
Sorry for the bad pictures below but these are recipes made when I first started blogging 🙂 but you get the idea.
To make individual cheesecakes, mix the cookies with some butter, place them in muffin tins and bake for ten minutes. Allow to cool and after removing from the tins, use them in a glass to make either individual cheesecakes or use whipped cream, or pastry cream (custard) and fruit preserve or compotes to make something like a trifle, instead of using sponge cake.
Kormos is something similar to Yule log. Instead of using biscuits and butter, as they coookies already have a lot of butter in them I would bind them together with a chocolate cream cheese, mixed with whipped cream and add lots of nuts and dried fruit.
You can do the same thing with truffles.
This year I made quince spoon sweet twice. When I made it the second time, I made more syrup and used the leftover from the previous batch to make some jam. Actually I did not use any of the fruit in the jam but added more sugar and water to make the syrup. When making the fruit preserve I set aside the quince seeds which are very rich in pectin. I wrapped them in a tulle and boiled them with the syrup and this made the jam set. I used this to make the jelly.
Quince Gingerbread Yoghurt Cheesecake, Recipe by Ivy
Preparation time: 30 minutes
Ingredients:
3 cups gingerbread biscuits crumbs (see gingerbread cigar cookies)
1 cup roasted walnuts
2 tsps butter, melted
For the Cream Cheese
400 grams low fat cream cheese (I used Philadelphia 12%)
500 grams Greek yoghurt
350 ml heavy cream
1 tablespoon lemon zest
1 tsp vanilla
½ cup icing sugar
2 – 3 tbsp Greek honey
For the Jelly
2 cups quince jam (or use other jam)
1 cup hot water
4 gelatine leaves
Directions:
Roast the walnuts in a preheated oven at 200 degrees C for 5 minutes and set aside to cool.
In a food processor powder the cookies and walnuts. Heat the butter and mix to combine with the powdered cookies and walnuts. Press with your hands into the bottom of a spring form pan and set aside.
In the mixer bowl beat the heavy cream and gradually add the icing sugar, lemon zest and vanilla. When peaks form add the cream cheese and yoghurt and beat until fluffy. Add 2 tbsps honey, mix and taste. If you want the cream sweeter add the third tablespoon and mix.
Pour the cream cheese mixture evenly over prepared crust and refrigerate for at least 1 – 2 hours until it sets.
At this stage you can serve it with your favourite fruit spread on top or you can continue as I did to make the jelly.
Soak gelatine sheets in cold water for about 10 minutes. You can cut them in smaller pieces if you like. Discard the water and use only the soft gelatine.
Bring one cup water to boil and mix in the gelatine to dissolve. Place the quince jam (jelly) in a big bowl and add the hot gelatine water. Mix to combine and set aside until it begins to thicken (about 45 minutes).
Carefully add the jelly on top of the cream cheese, a tablespoon at a time, so that the cream cheese will not crack on top.
Refrigerate for a few hours (or preferably overnight) until it sets and serve.
Kopiaste and Kali Orexi!!