These Turkey Ravioli are made with homemade phyllo, stuffed with leftover roasted turkey, mashed potatoes, cheese and other ingredients.
The turkey I cooked this year was around 4.5 kilos and of course there were roasted potatoes, the turkey stuffing, mushroom and prune sauce, yoghurt sauce and tabbouleh, which was way too much for the four of us, so he had lots of leftovers.
All the family prefers eating the turkey breast but we couldn't eat more than a slice considering how many others things I had cooked.
On Friday I deboned the thighs and wings and made a Turkey Carbonara Pie.
On Saturday I used the carcass to make Turkey Trahanas Soup.
On Sunday I used the leftover turkey broth to make Dolmades, which were delicious, and with the leftover turkey breast I made these ravioli.
The dough I made was only enough to make five servings of ravioli and I still have about 1/3 of the filling left.
If you want to use all the filling you must make more dough and use at least 700 grams flour.
If not you should use less ingredients. (I have adjusted the recipe in red).
If I had made more dough I would prepare and freeze part of the ravioli to cook another day.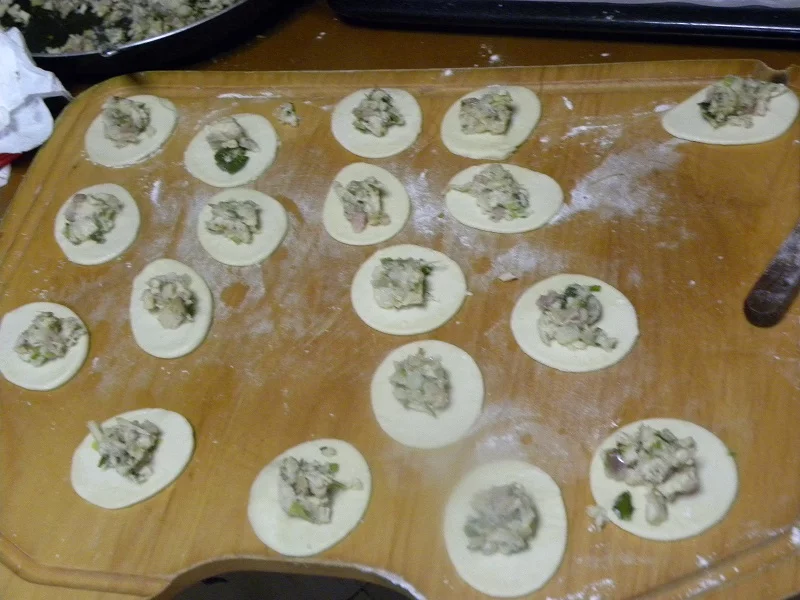 This filling was delicious and you can use it to make a meat pie or you can make Calzone or turnovers. I haven't decided yet what to do with it.
Turkey Ravioli with leftovers
Prep Time:
1 hour
30 minutes
Total Time:
1 hour
45 minutes
These Turkey Ravioli are made with homemade phyllo, stuffed with leftover roasted turkey, mashed potatoes, cheese and other ingredients.
Ingredients
Dough:
1 dose phyllo (without the vinegar) (or make 1 1/2 dose)
Extra floor to dust on the working surface
Filling:
1 tbsp olive oil
1 tbsp vitam culinesse (liquid margarine, or substitute with butter)
1 medium red onion, finely chopped
½ cup green onions, finely chopped
1 small clove roasted garlic, mashed
5 slices bacon, finely chopped (3 slices)
360 grams (3 cups) finely chopped turkey breast leftovers (200 grams)
½ cup herbs (kafkalithres myronia) finely chopped
1 tbsp carino (chicken seasoning) (1/2 tsp)
1 tbsp salt
Freshly grated black pepper
100 grams grated graviera (75 grams)
3 medium potatoes, boiled
2 tbsp milk
1 tbsp olive oi
Halloumi or graviera to grate on top
Instructions
Prepare the dough (see recipe and instructions here) and set aside to rest, for half an hour.
Heat the olive oil and vitam (margarine) and sauté the onion until
translucent. Add the garlic and mix for a couple of seconds.
Add the bacon and sauté for five minutes, add turkey, herbs
and spices and mix.
Remove from the heat and set aside to cool.
Drain potatoes, add olive oil and mash. Add the milk
and mix.
Add the potatoes to the filling, as well as the cheese and
mix to combine. Adjust seasoning if necessary.
Roll phyllo (either using a pasta machine or by hand).
Cut rounds using a cookie cutter or squares, using a knife.
Lightly brush each circle or square with a little water.
Add a tsp filling in the middle and fold one side to enclose
the filling or gather the edges to the top to make round ones. (See post for ravioli or kaloirka).
Place them on parchment paper on which also sprinkle some
flour so that they will not stick on it.
Heat water or chicken or turkey broth. If using only
water, add salt and cook the ravioli for 10 – 15 minutes.
Sprinkle cheese on the platter and using a slotted
ladle transfer the ravioli to the platter. Sprinkle with lots of cheese
on top and serve immediately.
Notes
If you are making them with broth you can eat them as a soup
Nutrition Information
Yield

5
Amount Per Serving
Calories

350
Other homemade Pasta
Here are some more homemade pasta:
Ravioles is a Cypriot pasta specialty, similar to ravioli, which are filled with aged halloumi, eggs and mint and are cooked in chicken broth. They are served with grated halloumi on top.
Kaloirka is a traditional Cypriot recipe, which is a pasta dish filled with minced veal or beef, similar to tortellini.
This chicken tortellini is a Greek-style carbonara as we add cream and yoghurt to the sauce.
Wishing you all health above all and that the New Year brings you happiness, creativeness, filled with hope and joy.
Kopiaste and Kali Orexi!