Trahanas (pronounced trah-hah-NAHS), is fermented ewes or goat milk and cracked wheat flour, which is formed into oval patties and dried. It is used to make a comforting soup with the same name.
It is known throughout Greece and Cyprus, especially in the regions where they breed livestock.
Throughout both countries, we will find different types of trahanas, which we will further explore.
Cypriot trahanas
The Cypriot trahanas, is made from cracked wheat flour and ewe's or goat milk curd that is fermented.
It is then formed into small oval patties using a special tool called "kanni", which is made from cane.
It is then sun-dried and used during winter to make soup, called trahanosoupa.
As the milk is fermented, it has a sourish taste.
How it is made in Cyprus
In Cyprus they make trahanas by using ewe's or goat milk which is prepared by pouring it into large earthenware containers or churns and leaving it to turn sour while turning it into a clean churn every day for about a week.
On the last day, it is put on to boil with wheat and salt.
Then it is allowed to set and cool and soup can be made with trahanas, fresh as it is.
When we were children we loved to eat it, before it was cooked. In the picture below you can see the fresh trahanas.
In order to preserve it for the winter, it is then shaped, and spread onto traditional shallow baskets, called tsestos or on long trestle tables or on clean sheets and left in the sun to dry.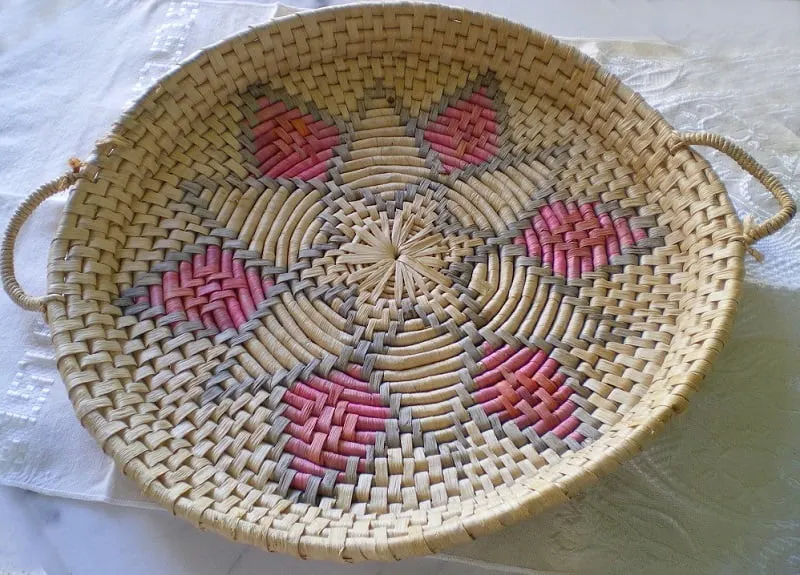 The number of days depends on how hot the sun is. Then trahanas is stored and is used until the following year.
From experience I must say that the best way to store the dried trahanas is in the refrigerator, otherwise if left outside the fridge after a long time you might get some tiny worms called "appitouria" in it.
When Trahanas is boiled just as it is, it is served very hot with salt, pepper and lemon juice. Alternatively it may be boiled in chicken or vegetable stock, with fresh tomato (this is regional) and halloumi, which makes it much tastier and creamy.
This tasty and nutritious soup is preferred by most of the Cypriots as a comfort dish but lots of years ago when they used to get up at dawn to go to their works they used to have it for breakfast.
Trahanas soup is a light, nutritious and a hearty dish, which makes it ideal for a light supper or after coming home at dawn after a night's drinking out and having an upset stomach, or after recuperating from an illness.
Greek trahanas
In many parts of Greece, trahanas is usually made with flour or durum wheat or bulgur wheat and milk.
Then they usually sieve it into tiny pellets and dried. In Crete and the islands of the Aegean, it is called "ksinohontros"and it is much similar to the Cypriot one.
In Greece there are two kinds of trahanas, sour and sweet trahanas and apart from making soups they also use it in pies, "pites" to absorb the fluids or in pies or stews, as a thickener.
I don't cook soup very often as the winters in Southern Greece, where we live, are quite mild and cook some , maybe three of four times during the whole winter.
On the rare occasions that it gets very cold and I want to make soup, there are so many different soups to chose from. I don't know which one to choose from as I like them all.
Chicken Avgolemono soup is one of our favourite ones, but I also make Trahanas with chicken and vegetables, which is a twist to the traditional trahanas soup, giouvarlakia, Vegetable soup or kreatosoupa (meat soup with beef and vegetables) or psarosoupa same as kreatosoupa.
They are all so good but we hardly make each one, more than once a year.
The weather was very mild this year and until last week the temperatures were high, around 22 – 23 degrees C so this was another reason not to make soup.
The temperature has now dropped suddenly around 15 degrees and what better than a nice bowl of hot soup.
Cypriot Trahanas Soup
Trahanas (pronounced trah-hah-NAHS), is a traditional Greek and Cypriot product, made from cracked wheat flour and a goat milk curd that is fermented.
Ingredients
6 cups water or chicken broth
1½ cups dried trahanas
2 medium ripe tomatoes, peeled and blended
Salt (optional) and freshly ground pepper
3 slices halloumi cheese (cubed)
Croutons:
2 cups stale bread, cut up into 1/2 inch cubes
4 tbsp olive oil
1 small clove garlic
Salt and Pepper
Oregano
Instructions
Heat the water or chicken broth and add trahanas, stirring occasionally until it dissolves.
Add the tomato, salt, as well as halloumi and boil for about 30 minutes.
Taste and season accordingly, as the broth and halloumi are both salty.
Serve very hot with crusty bread or croutons and freshly ground black pepper on top.
Nutrition Information
Yield

6
Serving Size

1
Amount Per Serving
Calories

235
Total Fat

13g
Saturated Fat

3g
Trans Fat

0g
Unsaturated Fat

9g
Cholesterol

12mg
Sodium

369mg
Carbohydrates

9g
Fiber

1g
Sugar

2g
Protein

5g
Soups
If you like soups, check out these soups as well!
Kopiaste and Kali Orexi,