This artichoke lasagna is a fabulous dish made with fresh artichokes, layered with bolognaise sauce and topped with luscious Greek Béchamel sauce.
Spring is here and although after my post about Spring on the 21st March, the temperature dropped suddenly and we had a very cold week, now spring is definitely here.
Artichokes are native to the Mediterranean and appear during spring.
Although during the past years we have all sorts of vegetables cultivated in green houses, we never see artichokes after the end of Spring.
Of course, we can get them frozen or canned but they are much tastier when they are fresh.
According to Greek Mythology, Dias (Zeus) the King of the Gods, had easy access to the women of the world and took full advantage of it.
Also, his power as a supreme god made him difficult to resist. He fell in love with a beautiful girl called Cynara, who rejected him and refused to resist and Dias got so angry that he transformed her into a plant.
In ancient Greek the name for artichoke was Cynara (pr. Kynara) in modern Greek An(cynara) = ankinara.
Although I've been blogging for so many years, I very rarely post artichoke recipes, except may be adding just a few in a meal, like peas, where my children could easily remove them, or disguise them with many other ingredients, as in Agginaropita, so that they may eat them.
I love artichokes and remember back in Cyprus when I was a child, that I would pluck the leaves and would eat that little part on the base which was edible and delicious.
Artichokes (cynara scolymus) do not need much water, so they are cultivated in hot and dry climates and they also grow in the wild (cynara cardunculus) as they do not need any particular care.
They are rich in antioxidants, iron, magnesium, phosphorus, potassium, fibre and vitamin C.
In the past this plant was considered to be an aphrodisiac but nowadays this myth has been busted but it does have a lot of other healthy properties.
It contains an acid called Cynarin, which protects the liver from anything that might affect it such as hepititis or cirrhosis.
Artochokes are diuretic, anticeptic and help relief gastroenteric problems.
It reduces the levels of cholesterol in the blood, it also reduces the sugar levels in the blood, it strenthens the immune system and recently studies have shown that the acids caffeic and flavoinoids help fight cancer.
You can make this meal with frozen artichokes or canned if you prefer, but with fresh artichokes it will be much tastier.
When buying the artichokes on a Tuesday from the farmers' market, I was planning to stuff the artichokes but eventually after cleaning them they were too small to be filled so at the last minute I changed my find and as I had some lasagna at home I decided to make them into lasagna, adding bechamel on top.
I just used the heart of the artichoke, so I removed most of the leaves which you can see in the pictures.
For the sauce, I made a bolognaise and when cooking it make sure to turn it off while it is still juicy because the artichokes will be added raw and will be cooked with the sauce.
Origin of the word Lasagna
You may not know this, but technically, Lasagna did not originate in Italy as you may expect.
Its origin can be traced way back to Ancient Greece. The name Lasagna, or "Lasagne" is derived from the Greek word 'Laganon'; the first known form of pasta.
Laganon was not a traditional lasagna as we know it with traditional Italian ingredients, but it was composed of layers of pasta and sauce.
So it basically got its name from the method in which it was made, not for its ingredients.
Back to the recipe. I only had 10 lasagna left from a previous recipe, otherwise Iwould have probably added another layer before the bechamel but it worked well even with two layers.
The bolognaise sauce is optional and instead you can prepare a simple tomato sauce or replace the ground meat in the bolognaise with pleurotus (oyster) mushrooms if you want to make it vegetarian.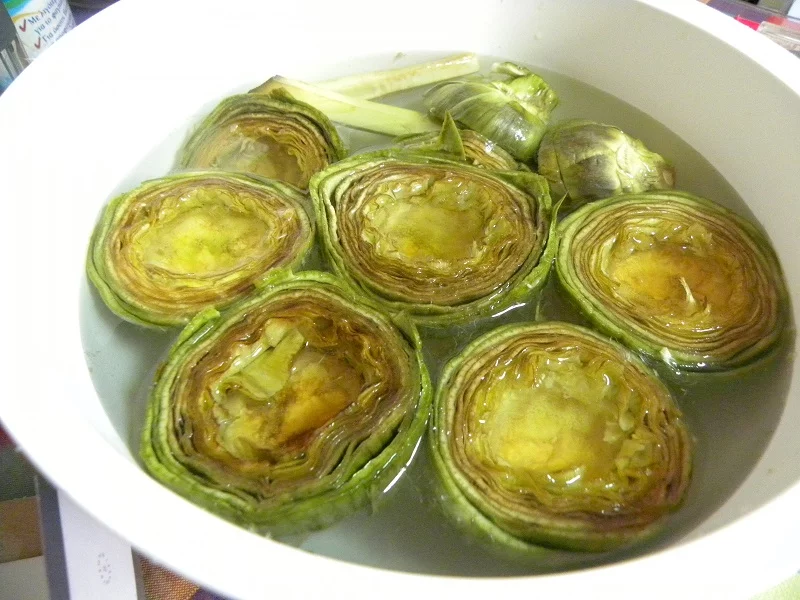 The dish was amazing. If you like artichokes, I strongly urge you to try it.
I rarely eat any of the meals I cook in the evening as I usually eat something light, such as a toasted sandwich or a Greek yoghurt with fruit but it was so delicious that I ate it for dinner as well and of course it was too much for both of us, so we had leftovers for the following day and it was even better the next day.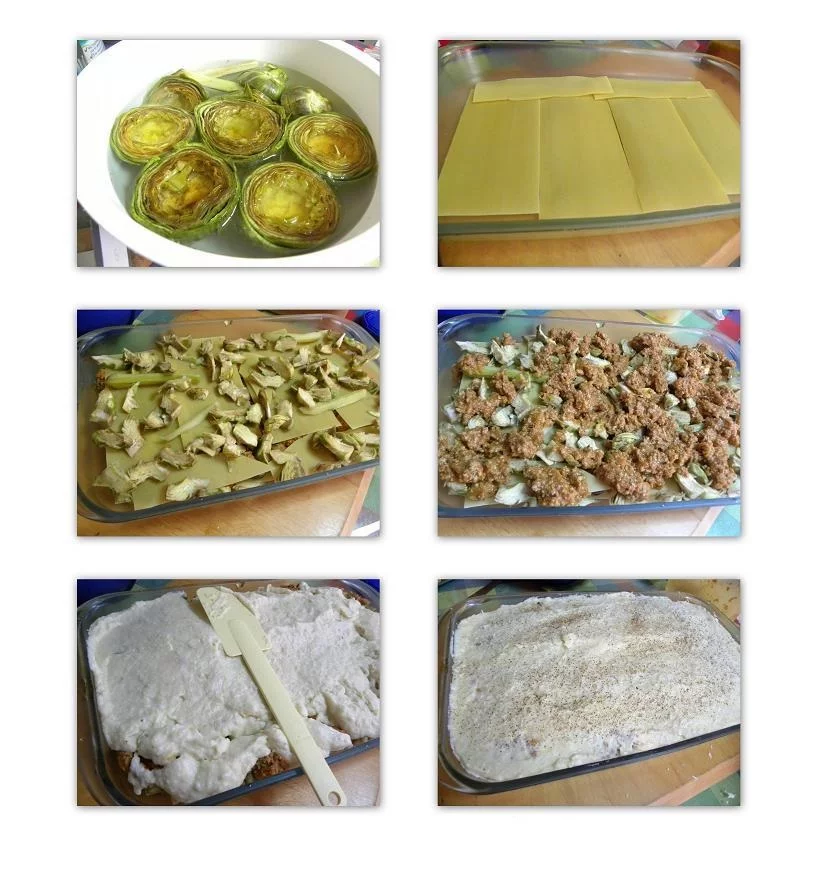 Artichoke Recipes
Here are a few more ideas how to cook artichokes.
I am sending this recipe to the event Creative Concoctions, an event created by me featuring original recipes.
Other relevant recipes:
Greek-style Lasagne with Anthotyros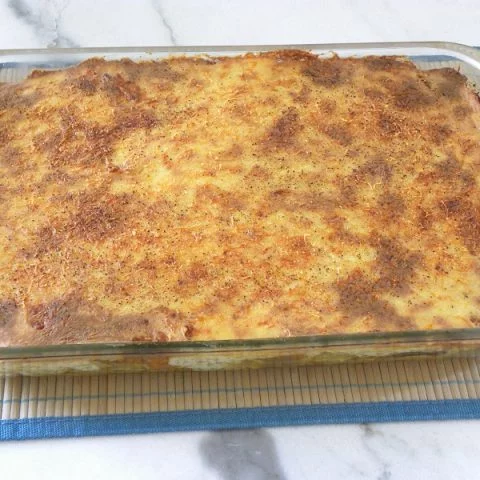 Artichoke Lasagna - Pastitsio
Total Time:
1 hour
45 minutes
This artichoke lasagna is a fabulous dish made with fresh artichokes, layered with bolognaise sauce and topped with luscious Greek bechamel sauce.
Ingredients
10 lasagna sheets (the ones you don't need to pre-cook)
8 artichokes, cut into small pieces
1 lemon
2 tbsp grated halloumi and some cinnamon to spinkle on top
For the Bolognaise Sauce:
500 grams minced veal or pork (or replace with oyster mushrooms)
¼ cup olive oil
1 large onion, finely chopped
1 clove garlic, finely chopped
2 carrots, peeled
2 pinches dried oregano
1 tbsp tomato purée
500 grams whole tomatoes, blended
1 tbsp Worcestershire sauce
1 bay leaf
½ cup red wine
50 ml milk
Salt and freshly ground black pepper
For the Béchamel Sauce:
1 litre of milk
100 grams olive oil (or butter or olive oil based margarine)
100 grams all purpose flour
3 eggs
1/2 tsp salt
1/2 tsp ground nutmeg
1/2 cup of grated halloumi, graviera, kefalotyri or dried myzithra cheese
Nutrition Information
Yield

6
Serving Size

1
Amount Per Serving
Calories

786
Total Fat

52g
Saturated Fat

15g
Trans Fat

0g
Unsaturated Fat

33g
Cholesterol

237mg
Sodium

614mg
Carbohydrates

31g
Fiber

2g
Sugar

5g
Protein

45g
PIN FOR LATER
Kopiaste and Kali Orexi!!