Sheftalia singular. Sheftali, are Cypriot oval shaped crépinettes, made with minced pork, herbs and spices which are then wrapped in caul fat and barbecued.
The post has been updated in March 2022 with instructions how to make the Sheftalia in the Air Fryer, so keep scrolling for the instructions.
A few months ago I told you how I made Cypriot Pita Bread and how easy it was to make.
Ever since I learned how to make them we have been enjoying them in all sorts of sandwiches especially with halloumi and lountza or eating them with dips, like hoummous, taramosalata, tzatziki or melitzanosalata etc.
However, one of the best ways to use them is to fill them in with sheftalia or souvlakia or both, "mixed" as we call them in Cyprus.
Sheftalia were unknown in Greece until the 21st century, but after the internet, they are now becoming popular and you can find them sold in most supeermarkets.
With Easter just around the corner, probably 99% of the Greeks will be barbecuing or grilling lamb ovelias (whole lamb on a spit) and kokoretsi or other food, as is the tradition.
We always make some sheftalia as well.
Today I would like to tell you how to make this Cypriot specialty.
Origin of Sheftalia
The origin of the word sheftalia comes from the Turkish word şeftali (kebab). However, the word şeftali means "peach" in Turkish.
So how is this delicacy which is made with minced meat, spices and herbs be connected with the word peach?
The word şeftali (peach), has its root from the Persian word şaft ālū , which means "fat berry".
So, this crépinette, which looks like an oval shaped meatball, wrapped in caul fat*, probably took its name by being compared to a fat berry or peach.
How to Make Sheftalia
The ingredients needed are: caul fat*, preferably from pork or lamb but they should be very fine, minced meat, preferably pork mince, lots of onions, lots of parsley, tomato, salt, pepper and some cinnamon.
*Caul fat is the membrane that surrounds the stomach and is transparent, fragile, and naturally fatty, although when it is finally grilled or barbecued all the fat melts away, giving lots of flavour to the crepinettes.
I cannot tell you exactly how much caul fat you will need because some parts of the membrane are thick and fat and only the transparent part must be used.
For each sheftali, you will need a piece of caul fat about 10 ×10 cm (4 x 4 inches) in order to wrap them.*
Ask the butcher in your neighbourhood for it.
In Cyprus you can also find it frozen in supermarkets.
I do get some in Athens from my butcher but whenever we go to Sparta there is a big butchery and the owner has a big pigsty.
Caul fat from pigs are better because those from lamb have a lot of fat on them and are more expensive.
So whenever we go to Sparta I bring a lot with me (did I say a lot) and after washing them I separate them and store them in the deep freezer and use them whenever I like.
Apart from sheftalia I also wrap stuffed meat rolls with the caul (instead of the phyllo).
If you decide to make them, don't add oregano because: it's more like Greek meatballs or biftekia, don't add cumin: it's soutzoukakia, don't add mint: it's Cypriot keftedes (meatballs), don't add rice: it's dolmades, don't add egg it's something else and don't use cooked meat, as I've seen that as well.
When we first moved to our house in 1992, there was a take-away rotisserie just around the corner and I was so excited to see that he was selling sheftalia.
I was already more than ten years in Greece and apart from a few Cypriot restaurants in Athens, you couldn't find sheftalia anywhere else, so I hadn't eaten any for a long time.
The first thing we bought from this rotisserie were some sheftalia!!
I was at first surprised of their size. Each sheftali was like a giant burger but shaped oblong like sheftalia.
When taking them home the first bite revealed chunks of meat (probably his leftover grilled meat) and chunks of peppers and whatever else he thought would go with it and wrapped them in the caul fat and baptized them as sheftalia 🙂
Needless to say that I never bought his sheftalia again but I continued buying other grilled meat as they weren't bad.
Months later when we got acquainted, I asked him where he learned the recipe and he confessed that he served his military service in Cyprus years ago but could not remember exactly how they were made, so he just improvised.
If you ever visit Cyprus, you can find sheftalia in every neighbourhood, where there are small kebab shops selling souvlakia and sheftalia.
They are served in Cypriot pita together with salad (tomato and cucumber or slaw, depending on the season), parsley and lemon juice. If you like pickles you should ask them to add some in your pita.
Update: April 2022
Can I make the sheftalia in the Air Fryer?
Good question. Yes, of course you can make them.
Put them in one layer in the air fryer basket (mine can take 8 sheftalia or 500 grams). They do not need to be oiled.
I used the drumstick program, which is set at 180oC for 20 minutes. I gave them an extra 2 minutes for a darker colour.
You should see how much fat melted due to the caul fat!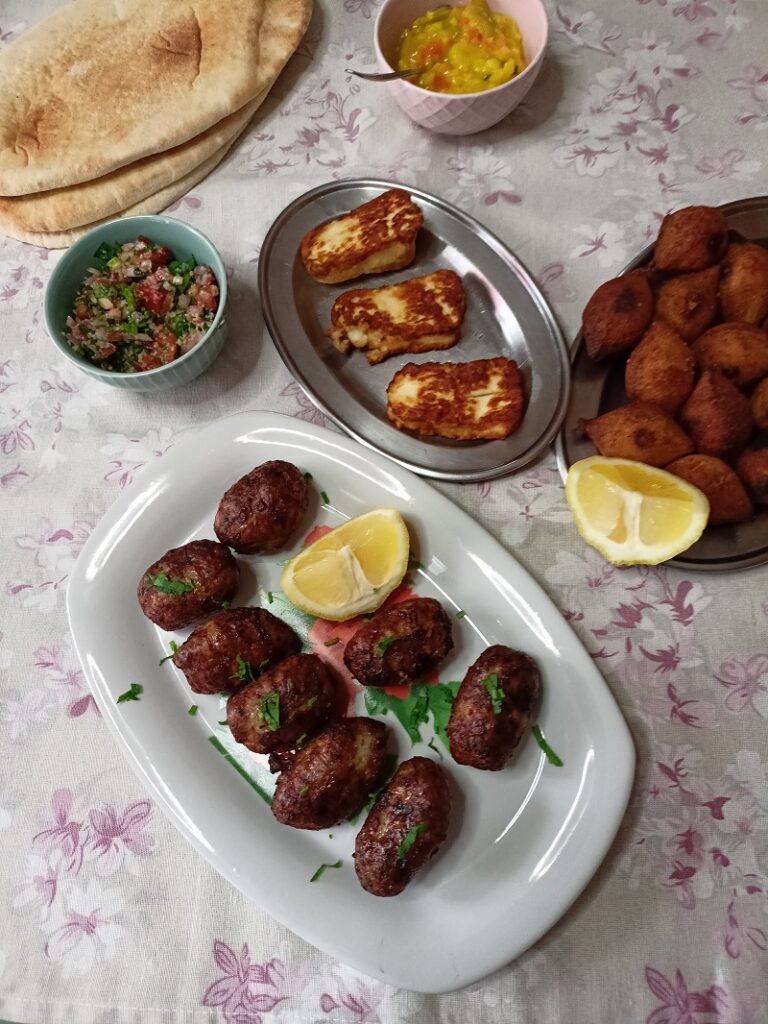 Sheftalia (Cypriot Crepinettes, served in Cypriot Pita Bread)
Total Time:
2 hours
25 minutes
Sheftali pl. Sheftalia are like oval shaped meatballs, which are wrapped in caul fat. Caul fat is the membrane that surrounds the stomach and is transparent, fragile, and naturally fatty, although when it is finally grilled or barbecued all the fat melts away giving lots of flavour to the crepinettes.
Ingredients
1.500 grams (3.30 lbs.) ground pork
3 onions, finely chopped
4 medium tomatoes grated
1 cup of parsley, finely chopped
1 tbsp salt
½ tsp pepper
½ tsp ground cinnamon
1 kilo Caul fat, called panna or mpolia, in Greek*
½ cup lemon juice
To serve:
Cypriot pita bread, finely chopped tomato, cucumber, parsley, onion (or cabbage salad during winter) some Piccalilli pickles and lemon juice.
Instructions
Wash the caul fat well under running cold water and place it in a bowl, add the lemon juice and leave it for 10-15 minutes.
Rinse and let it drain.
In a large bowl mix the ground pork, onion, parsley, tomato, salt, pepper and the cinnamon.
To prepare them, carefully unravel the caul fat and stretch it out over your work surface. Place a spoonful of the ground meat at the edge and fold in the outside edges and roll it once into a neat little package, shaping it with the palms of your hand, just as we wrap dolmades and cut it with a sharp knife.
Thread sheftalia using two metal skewers, with 4-5 sheftalia lengthwise depending on the size of the skewers or place them inside a wire basket grill.
Prepare a charcoal grill, same as for souvla or souvlakia. Do not place too close to heat as sheftalia must cook fairly slow, so that the inside is well cooked and the outside nicely browned without being burnt.
Grill around twenty minutes, turning the grill frequently, until the outside is crispy and dark.
Alternatively, if you do not have an outdoor grill, you can grill sheftalia in the oven.
To serve:
Make a slit on one side of a pita pocket to form a large pocket and warm the pita bread on top of sheftalia, just before they are ready.
Slide two to three Sheftalia off the skewer into the pita and add chopped tomatoes and cucumber, 1 tsp chopped parsley, as much chopped onion as you like and season with salt and a lot of lemon juice.
Notes
Before barbecuing, sheftalia can be frozen for up to 4 months. Defrost before grilling.
Our family owns four restaurants in Cyprus and you must know that in the restaurants we avoid adding the tomato as some people think the meat is not cooked properly.
However, at home we always add it as it makes the meat tender and sweet.
Nutrition Information
Yield

40
Serving Size

1
Amount Per Serving
Calories

118
Total Fat

8g
Saturated Fat

3g
Trans Fat

0g
Unsaturated Fat

4g
Cholesterol

35mg
Sodium

204mg
Carbohydrates

2g
Fiber

0g
Sugar

1g
Protein

10g
Air Fryer Recipes
Wondering what to cook in an air fryer? Find easy recipes for air fried chicken, meatballs, burgers, fries and so much more!
PIN FOR LATER
Kopiaste and Kali Orexi,