Souvlaki plural souvlakia, is a popular Greek fast food consisting of small pieces of meat grilled on a skewer served with a piece of bread on the skewer.
Souvla in Greek means skewer and souvlaki (plural souvlakia) is the diminutive of souvla (little skewer). The pieces of meat which are skewered and barbecued on skewers are also called souvlakia aka Greek kebabs.
The origin of the word souvla derives from the Latin subula, Venetian subla .
The ancient Greek word for souvlaki is "Kandavlos = Κάνδαυλος" attested by Athenaeus, in his "Deipnosophistae" and before that it was mentioned by Homer.
Among the numerous artifacts found in Akrotiri of Santorini, there were racks clearly intended for grilling skewers of meat over heated coals, proving that souvlaki dates back at least before the 17th century B.C.
Skewered offal can also be found in Roman text, dating from the 1st century b.C.
Akrotiri Firedogs (Though a more common name would be Andiron)
During the Byzantine era, references survive describing street vendors selling souvlakia with pita in Constantinople.
You can find street vendors selling souvlaki kalamaki, which is skewered meat with a regular piece of bread. However, souvlaki is also sold in pita with lots of onions, tomatoes or tzatziki.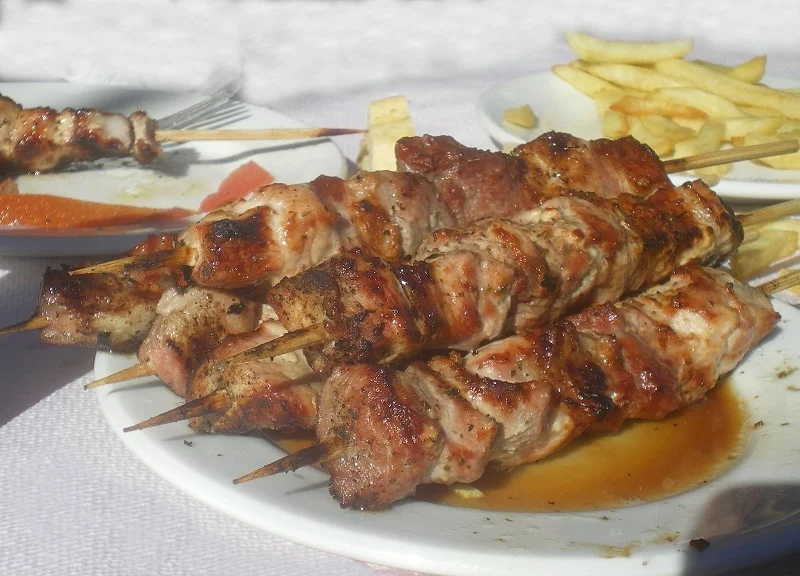 This is not something new. Although some may say that souvaki is similar to the Middle Eastern kebab, we all know that there were Greek colonies all around the Middle East.
My recipe is for pork souvlakia but it can also be made with lamb.
When we made the lamb souvlakia there was no adequate light, so my pictures are not so good.
The meat becomes more tender and juicy if you use a marinade before grilling them.
Whenever I make some Cypriot Pita, we make souvlakia and sheftalia and serve them with coleslaw, tomato, cucumber, parsley, onion and lemon.
In Cyprus, we also add some pickles but I never find them in Greece.
If you don't like lamb or pork you can try my Chicken Souvlaki.
Whenever I visit Cyprus, I always bring some along. Instead of serving them the above classic way, one other great salad to use is Tambouli (tabbouleh).
MOUNT HYMETTUS AND WILDFIRES
You must be wondering what's a donkey doing in a cooking blog? This cute animal is grazing on Mount Hymettus. Certainly, it has nothing to do with this recipe but this donkey has more sense than most people have.
Each summer we have the same problems. Fires! Today, I feel frustrated because this beautiful mountain is once more on fire.
Athens is surrounded by mountains and in the East of Athens is Mount Hymettus which is just near my house. Just a couple of kilometres from where the picture was taken is where I live.
It's a very beautiful mountain and we usually go and walk on its trails.
The mountain is long, narrow, rocky and arid, with flora that numbers over 600 plants, consisting mostly of several kinds of pine trees and cypresses but there are also olive trees, fig trees, oak trees, carob trees, judas trees, citrus trees, eucalyptus and many other kinds and lots of bushes.
No wonder why the Attic honey is considered to be one of the best in the world. It's full of laurel and rosemary, thyme and oregano and lots of other kinds.
On the lower parts of the mountain, its fauna is, donkeys which are used for transportation where cars do not go, stray cats and dogs but the real fauna consists of rabbits, foxes, turtles, hares, porcupines, serpents and of course lots of birds, among them endangered species.
You can find some more information and more pictures I have taken on Mount Hymettus in this post.
Each year a piece of its forest is burnt. Last year it was on our side of the mountain and this time it's on the other side.
As I am writing this, the mountain is still on fire, as fierce winds sweep it towards our side.
As I hear on the T.V., they say that it is a malicious forest fire as they heard some explosions before the fire. The fire reached the peak and now it's on our side of the mountain and the aeroplanes and helicopters are throwing water.
We had power failure because of the fire and you know what that means. No cooking, no ironing, no air condition (the temperature is about 90 degrees), no cold water and no internet.
This is really a coincidence as I planned to write about souvlakia which is one of the most popular street foods in Greece.
Sia, of Monsoon Spice, is hosting an event called MPB-Street Food, where we have to post a street food.
Souvlaki (Pork or Lamb Kebabs)
Total Time:
1 hour
30 minutes
Souvlaki plural souvlakia, is a popular Greek fast food consisting of small pieces of meat grilled on a skewer.
Ingredients
1 kilo pork from the neck or lamb from the shoulder
Marinade for the pork souvlaki:
1/2 cup extra virgin Olive Oil
1/4 cup lemon juice
Black Pepper
Oregano
For 1 kilo meat:
100 ml Greek yoghurt
¼ cup olive oil
2 tbsp mustard
Black pepper (no salt)
1/2 tsp oregano
2 tbsp Worcestershire sauce
2 tbsp lemon juice
Instructions
Cut the meat into 1-inch cubes. Let them stand in the marinade for about 1 hour and thread them on metal or bamboo skewers.

Grill meat over glowing coals, for about 8 to 10 minutes, turning occasionally, until nicely coloured on all sides and cooked through. Alternatively you call grill them for about 20 minutes, turning until done.

Remove from the grill and sprinkle with salt, more oregano and lots of lemon juice.

Alternatively, you can cook them under a very hot grill, turning constantly, so that the meat becomes well seared on the outside and tender and juicy inside.
Notes
Nutritional information is for the pork souvlaki.

Nutrition Information
Yield

5
Serving Size

5
Amount Per Serving
Calories

591.39
Total Fat

46.81g
Saturated Fat

11.72g
Unsaturated Fat

35g
Cholesterol

192mg
Sodium

100.69mg
Carbohydrates

1.29g
Fiber

0.21g
Sugar

0.31g
Protein

39.6g
Other relevant recipes:
PIN FOR LATER
Kopiaste and Kali Orexi,