Mpiftekia, pronounced beef-TEH-kya, which are Greek homemade burgers, can be shaped round, oblong or even wrapped around a skewer and grilled.
The post has been updated in April, 2022 with Air Fryer Mpiftekia (Greek Beef Burgers). Just scroll further down and you will find the instructions.

They are ideal for those who are on a diet provided the meat is lean and served with a salad.
All it needs is to squeeze some fresh lemon juice when they are still hot and serve with a low-fat yoghurt sauce and some low calorie roasted potatoes in parchment paper.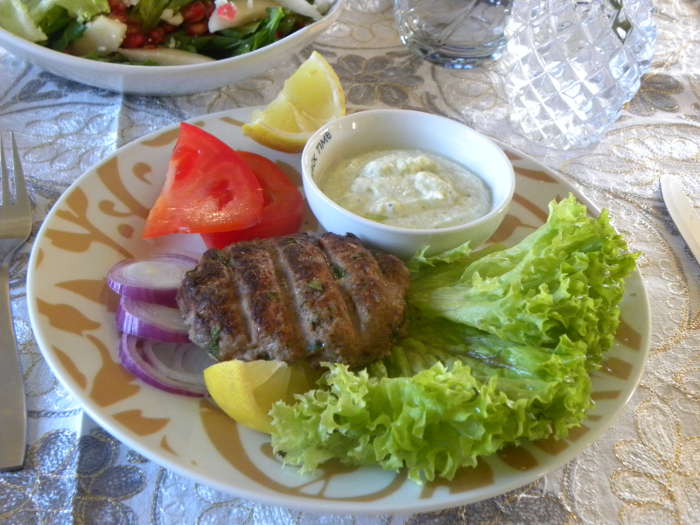 There is a huge difference between homemade beef burgers, using good quality meat and no preservatives and store-bought burgers . You know what ingredients are in there.
Not everyone in the family is watching their weight, so I spoil them with Fried potatoes, the Greek way (fried in olive oil) or healthier roasted potatoes wrapped in parchment paper, regular Tzatziki or Avocado Tzatziki and Tyropitakia (feta triangles).
My children prefer them the American way, in a bun with ketchup, some vegetables such as lettuce, tomato, onion slices mixed with parsley and pickled cucumbers and sometimes I also make some caramelized onions.
The burgers I made are around 200 grams each, uncooked. I am not on a diet but like to eat healthy. If you are on a diet you can make your burgers around 150 grams each.
You can grill the burgers on an electric bbq, over charcoal, in the oven or on the stove top using a cast iron pan.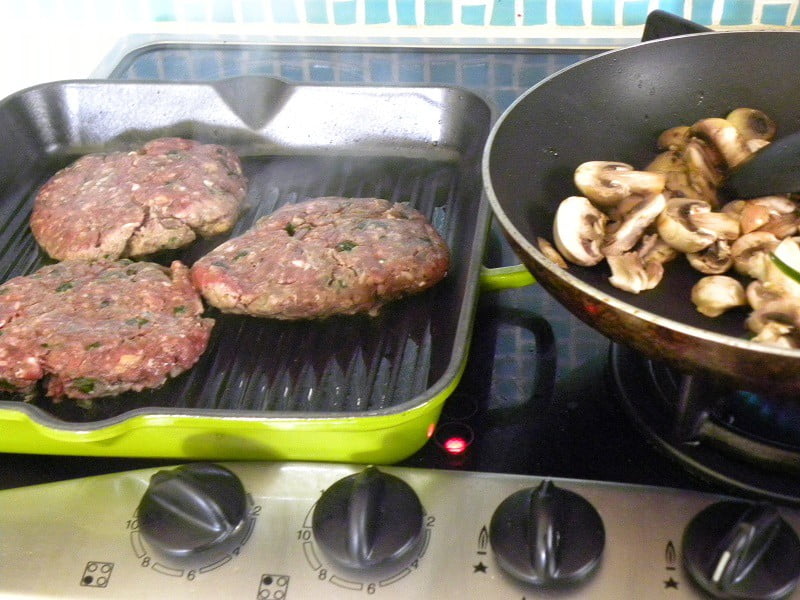 To light the charcoal:
Put the charcoal in a pyramid at the bottom of the grill.
Add lighter fluid to the charcoal and light the charcoal.
You are ready for charcoal grilling when they are mostly covered in ash and glow red with no visible flame. This will take about half an hour.
Spread the charcoal out on the bottom of the grill.
You can find this and many more Greek recipes in my cookbook "More Than A Greek Salad", and "Mint, Cinnamon & Blossom Water, Flavours of Cyprus, Kopiaste!" both available on all Amazon stores.
Mpiftekia (Greek Beef burgers)
Mpiftekia, pronounced beef-TE-kya, which are Greek homemade burgers, can be shaped round, oblong or even wrapped around a skewer and grilled.
Ingredients
1 kilo ground veal
2 medium onions
4 slices toast bread with the crust, ground
1/4 cup olive oil
½ cup chopped parsley
2 tablespoons mild mustard
2 tbsp red wine vinegar (or milk, if you prefer)
1 tablespoon salt
Freshly grated black pepper
A pinch of oregano
A pinch of thyme
1 egg
Instructions
Crumble the bread in a food processor. Add it to the minced meat.
Puree the onion with a little olive oil in the food processor or grate it.
Add the remaining ingredients and mix well.
Shape the burgers. (If you want to store them in the freezer wrap them with cling film). Refrigerate until ready to grill.
Put the burgers on the grill and cook on both sides for ten minutes.
If not barbecuing, lay an aluminum foil or parchment paper on the grill of your oven and bake near the grill for about 15 minutes. Turn them over and simultaneously remove the foil.
Bake on the other side for 5 more minutes.
To cook them in a cast iron skillet, heat the pan very well. With a brush, oil the skillet.
Put the burgers and wait until they change colour from pink to grey, reaching the middle. Then turn them over and cook on the other side as well and cook for five more minutes.
Serve with some rice, potato chips or salad.
Nutrition Information
Yield

6
Serving Size

1
Amount Per Serving
Calories

500
Total Fat

30g
Saturated Fat

9g
Trans Fat

1g
Unsaturated Fat

19g
Cholesterol

128mg
Sodium

1519mg
Carbohydrates

15g
Fiber

1g
Sugar

2g
Protein

45g
Air Fryer Mpiftekia (Beef burgers)
These were cooked using the installed program for drumsticks. This function is set for 20 minutes at 180oC / 350oF.
I opened the basket after 10 minutes and turned them over. They were ready at the end of the 20 minutes.
The next time I made them, I only cooked them for 15 minutes, turning them over once.
Air Fryer Recipes
Wondering what to cook in an air fryer? Find easy recipes for air fried chicken, meatballs, burgers, fries and so much more!
Other relevant recipes:
Feta-stuffed mpiftekia (Greek Hamburgers)
Kopiaste and Kali Orexi,