Mpiftekia, pronounced beef-TEH-kya, which are Greek homemade veal burgers, which can be shaped round, oblong or even wrapped around a skewer and grilled.
The post has been updated in April, 2022 with Air Fryer Mpiftekia (Greek Veal Burgers). Just scroll further down and you will find the instructions.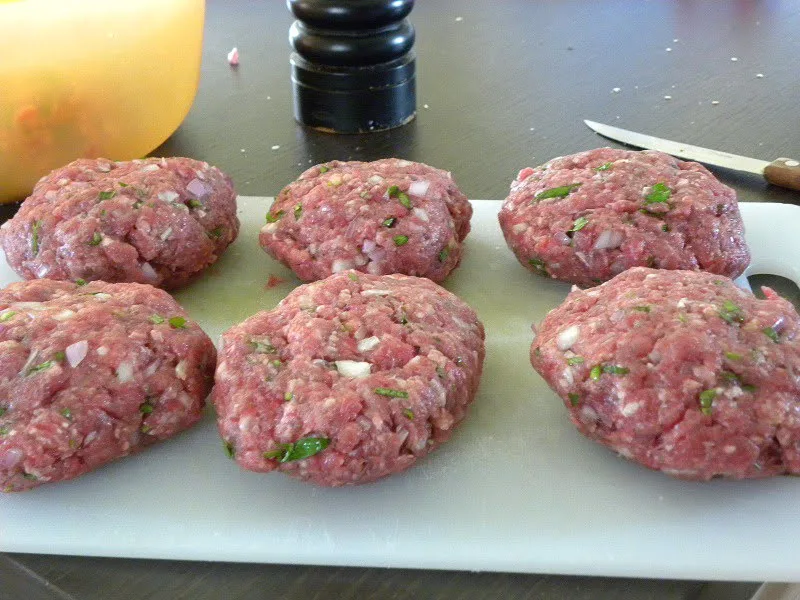 What can I accompany Mpiftekia with?
They are ideal for those who are on a diet provided the meat is lean and served with a Greek salad of boiled amaranth greens.
All it needs is to squeeze some fresh lemon juice when they are still hot and serve with a low-fat yoghurt sauce and some low calorie roasted potatoes in parchment paper.
There is a huge difference between homemade veal burgers, using good quality meat and no preservatives and store-bought burgers . You know what ingredients are in there.
Not everyone in the family is watching their weight, so I spoil them with Fried potatoes, the Greek way (fried in olive oil) or lately fried potatoes made in the air fryer or healthier roasted potatoes wrapped in parchment paper, regular Tzatziki, Tyrokafteri or Avocado Tzatziki and Tyropitakia (feta triangles).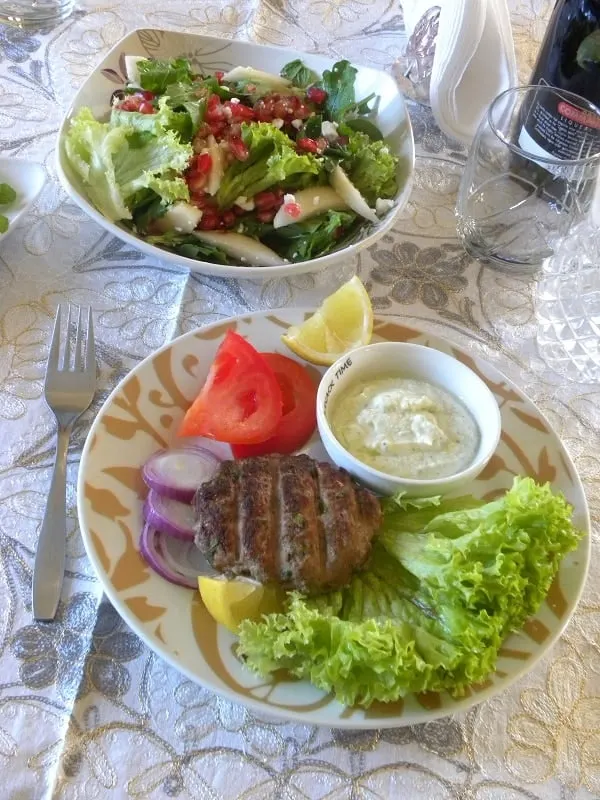 My children prefer them the American way, in a bun with ketchup, some vegetables such as lettuce, tomato, onion slices mixed with parsley and pickled cucumbers and sometimes I also make some caramelized onions.
The burgers I make are around 170 – 200 grams each, uncooked. The large ones are suitable for an average adult male but the female members of the family eat the smaller ones. If you don't eat much you can make them smaller.
You can grill the burgers on an electric bbq, over charcoal, in the oven, in the air fryer or on the stove top using a cast iron pan.
Can I freeze my Mpiftekia?
Of course! I always make more and freeze them for times when I don't have much time to cook.
Shape them into balls, the size of a tennis ball or weigh them around the weight you prefer.
Then flatten them into patties, around 2 cm thick.
Put each one in a food bag and then put them on a cutting board and put them in the freezer. Once they become hard, you can remove them from the cutting board and put them wherever you can fit them in your freezer.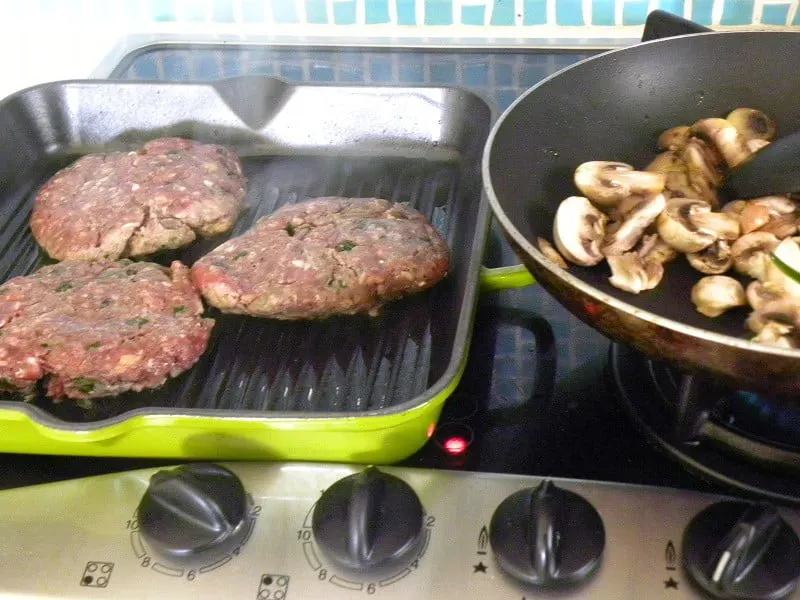 To light the charcoal:
Put the charcoal in a pyramid at the bottom of the grill.
Add lighter fluid to the charcoal and light the charcoal.
You are ready for charcoal grilling when they are mostly covered in ash and glow red with no visible flame. This will take about half an hour.
Spread the charcoal out on the bottom of the grill.
Air Fryer Mpiftekia (Veal burgers)
The first time I attempted to cook them in the air fryer, I used the installed program for drumsticks. This function is set for 20 minutes at 180oC / 350oF.
I opened the basket after 10 minutes and turned them over. I cooked them for 5 more minutes and they were done.
So, from now on, I just set the temperature to 180oC and cook them for 15 minutes, without turning them over.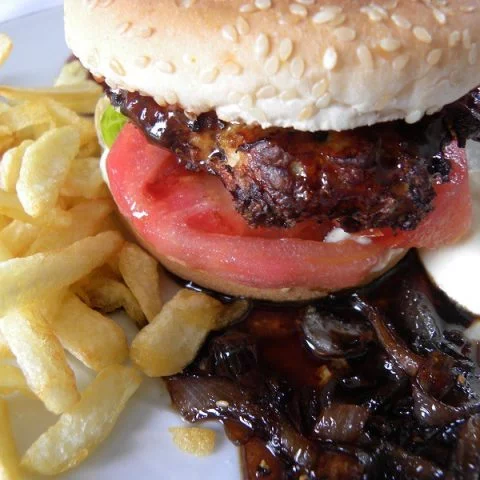 Mpiftekia (Greek Veal Burgers)
Mpiftekia, pronounced beef-TE-kya, which are Greek homemade burgers, can be shaped round, oblong or even wrapped around a skewer and grilled.
Ingredients
1 kilo ground veal from the chuck
2 medium onions
4 slices toast bread with the crust, ground
1/4 cup olive oil
½ cup chopped parsley
2 tablespoons mild mustard
2 tbsp red wine vinegar (or milk, if you prefer)
1 tbsp baking powder
1 tablespoon salt
Freshly grated black pepper
A pinch of oregano
A pinch of thyme
1 egg
Instructions
Put the ground veal in a large bowl.
Add the bread in a food processor and mix until it is ground.
Add it to the ground meat.
Then add the onion in the food processor and puree it with a little olive oil or grate it.
Add the remaining ingredients and mix well.
Shape them into balls, the size of a tennis ball, and then flatten them into patties, around 2 cm thick. Refrigerate until ready to grill on the barbecue.
Put the burgers on the barbecue and cook for five minutes on each side.
If not barbecuing, preheat the oven to 180 degrees C. Put some water in a baking tray and add an Oven Cooker Rack Grill on top. It should not touch the water. Lay an aluminum foil on the grill and make some holes for the fat to flow below in the water. Bake for about 15 minutes. Turn them over and simultaneously remove the foil.
Bake on the other side for 5 more minutes.
To cook them in a cast iron skillet, heat the pan very well. With a brush, oil the skillet.
Put the burgers and wait until they change colour from pink to grey, reaching the middle, for about 3 - 4 minutes. Then turn them over and cook on the other side as well for 3 -4 more minutes.
To bake them in the air fryer: Set the temperature to 180oC and cook them for 15 minutes, without turning them over.
Serve with some potato chips or a salad.
Notes
If you wish to make more than you need, after shaping them, you can freeze them. Put them into containers, spaced apart and cover each layer with cling film.
If you prefer, you can store each one individually in plastic food bags.
Nutrition Information
Yield

10
Serving Size

1
Amount Per Serving
Calories

309
Total Fat

18g
Saturated Fat

5g
Trans Fat

0g
Unsaturated Fat

12g
Cholesterol

96mg
Sodium

1017mg
Carbohydrates

9g
Fiber

1g
Sugar

2g
Protein

28g
"These values are automatically calculated and offered for guidance only. Their accuracy is not guaranteed."
Air Fryer Recipes
Wondering what to cook in an air fryer? Find easy recipes for air fried chicken, meatballs, burgers, fries and so much more!
Other relevant recipes:
Feta-stuffed mpiftekia (Greek Hamburgers)
Kopiaste and Kali Orexi,