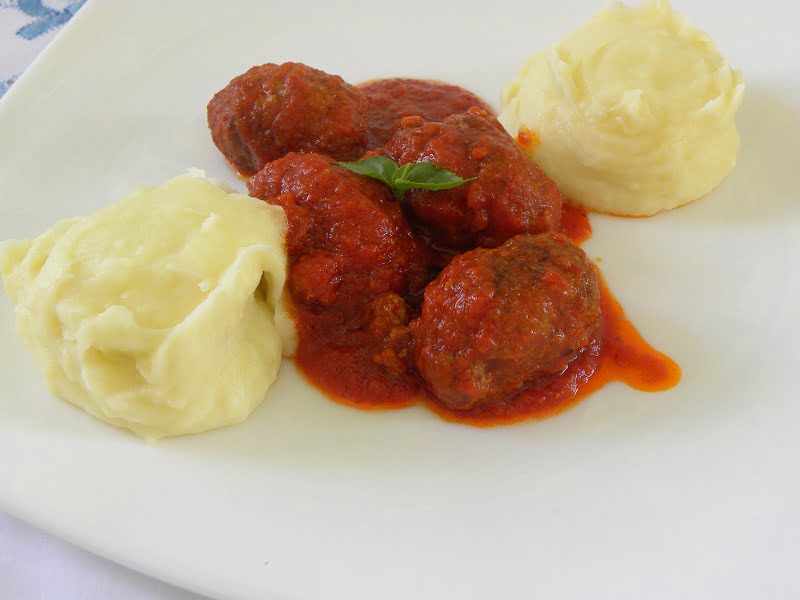 Soutzoukakia Smyrneika, are spicy sausage-shaped meatballs, which are lightly fried and then cooked in a delicious tomato sauce and come from the once Greek part of Asia Minor, Smyrna.
Before proceeding to the recipe, I want to thank each and every one of you again for the lovely comments regarding the cookbook.
Today I want to share with you a delectable recipe sent to me by one of my Greek readers. She wrote to me at the beginning of summer and sent me her grandmother's authentic recipe of soutzoukakia, who lived in Smyrna.
Smyrna was situated on the eastern shores of the Aegean Sea, opposite Chios in Asia Minor, with mainly Greek population.
If you would like to learn more about the destruction of Smyrna and the Greek Genocide, please read my older post or watch the video by The National Geographic.
My reader says that from the notes she read in the recipe, there were some other variations of this recipe but it was a meal served on very special occasions like engagements or weddings. Cinnamon was added as it was considered to be an aphrodisiac.
Soutzoukakia, original recipe by Aikaterini-Deligiannis Vouka, from Smyrna.
You will see below that I have made a few minor changes to mine.
Tomato Sauce
3 kilos fresh ripe tomatoes
2 tbsp butter
1 heaped tbsp sugar
1/2 tsp cinnamon, salt and pepper (allspice optional)
Peel the tomatoes, remove seeds and grate. Cook them on low heat for about half an hour, then add the remaining ingredients and simmer until the sauce thickens.
For the meatballs
1 kilo ground beef
3 slices white bread without the crust, soaked in the wine
Juice of 1 small lemon
2 tbsp olive oil
Salt, pepper, allspice, cumin, cinnamon
3 cloves garlic, minced
Mix all the ingredients. Form into oblong small sausages and carefully lightly fry them in olive oil. Cook them in the sauce for about 30 minutes on low heat.
Some minor changes I made
In the original recipe her grandmother used fresh ripe tomatoes.
As I made this recipe recently when tomatoes are out of season, I preferred to use both tinned tomatoes and tomato juice, although we get tomatoes year round in Greece, but they are more expensive now and don't taste that good.
I do recommend fresh tomatoes when they are cheap and in season.
I never cook with butter, so I substituted it with olive oil to make the sauce.
There was no onion in the original sauce, but I believe than adding an onion improves a tomato sauce and instead of using sugar, I added honey.
In the recipe there were no specific amounts of spices, so I adjusted them to fit our taste, so it's up to you to add more spices but I think the analogy was well balanced. I don't add too much salt in my recipes so you might want to add more.
Baked Soutzoukakia
For those on a diet, instead of frying the meatballs, you can make them the same way but bake them in the oven .
Line a baking tin with parchment paper, place the meatballs and bake them in a preheated oven to 180 degrees C/ 350 F for about half an hour.
They do not need to brown but just to firm up and then continue cooking them in the sauce.
I made them when my husband was on a gallbladder diet.
However, spices are not recommended when on a gallbladder diet, so just reduce spices to half quantity for a milder flavour but still delicious.
Authentic Soutzoukakia Smyrneika
Total Time:
1 hour
15 minutes
Soutzoukakia Smyrneika, are spicy sausage-shaped meatballs, which are lightly fried and then cooked in a delicious tomato sauce and come from the once Greek part of Asia Minor, Smyrna.
Ingredients
For the Tomato Sauce
¼ cup olive oil, divided
1 small onion
500 grams (1.10 lbs) tomato puree
1 tin whole tomatoes with the juice (400 gr. – 14.11 oz)
½ cup water
1 large tbsp thyme honey
¼ tsp cinnamon
Freshly ground black pepper
3 allspice berries
1 tsp salt
For the meatballs:
800 grams ground veal or beef
3 slices white bread without the crust
1/3 cup red dry wine
2 ½ tbsp lemon juice
2 tbsp olive oil
½ tsp salt
1/8 tsp cinnamon
1/8 tsp freshly grated black pepper
1/8 tsp ground allspice,
1/8 tsp cumin
1 very large clove garlic (about 1 tsp)
Olive oil, for frying (about 1 cup for a small deep frying pan)
Instructions
Puree the onion together with 2 tbsp olive oil in a food
processor. Heat the remaining olive oil and sauté the onion for a few minutes and then add all the spices and stir to get out their fragrances. Add the tomatoes and water, bring to a boil, lower heat and simmer for about 20 minutes, until the sauce is thick.
Meantime, soak the bread together with the wine, lemon juice and 2 tbsp olive oil.
Squeeze the bread and use the fluid to puree the garlic in a
food processor. Then add the bread in the food processor and mix.
Put the ground meat in a bowl with all the spices and bread.
Mix well and let it rest for about ½ to 1 hour in the refrigerator for the flavours to mix.
Shape the meatballs into oblong small sausages, around 8 cm (3 inches) long. Heat about an inch of olive oil in a skillet and fry them just until lightly golden brown on both sides. Remove them directly into the sauce.
Bring the sauce to boil, lower heat and simmer for about
another 20 minutes until sauce thickens.
Notes
I served the soutzoukakia with olive oil mashed potatoes but if you like you can serve them with fried potatoes, rice or pasta.
Nutrition Information
Yield

50
Serving Size

1
Amount Per Serving
Calories

69
Total Fat

4g
Saturated Fat

1g
Trans Fat

0g
Unsaturated Fat

3g
Cholesterol

14mg
Sodium

107mg
Carbohydrates

3g
Fiber

0g
Sugar

1g
Protein

5g
Gallbladder Diet: The calories are much less if the meatballs are baked in the oven. For gallbladder diet, you should add much less spices.
PIN FOR LATER
Kopiaste and Kali Orexi!!