If you are craving something sweet and have no dessert at home, these baked apples are so easy to make, very healthy, considering there is no butter or eggs and satify your craving for something sweet. They are versatile and can be stuffed using different nuts, dried fruit, other alcoholic drinks, liqueur, red sweet wine, sugar, honey, maple syrup, fruit preserves, jams, spices etc.
A few days ago I made an amazing Apple Tart, which I wanted to post, but looking in "My recipes to post" file, I saw that I had a lot of apple recipes I made using apples, which I did not post. Some of these recipes have been made even four years ago.
So, I decided to start from the older recipes and please excuse the photographs if they are not so good.
Here are a few of such recipes which will follow: There is an Apple Pie with lattice, an Apple Caramel Cream cheese cake, an Upside Down Apple Pie with yoghurt, an Apple strudel, an Apple Caramel Crumble, and my latest recipe which is the above Apple Tart which is not just any Apple Tart, but an original recipe of mine.
To make these easy, vegan stuffed apples, I used some of my homemade Lemon Marmalade as well as homemade citrus liqueur, which I had at home but if you don't have any of these ingredients, you can substitute them with any other nuts, dried fruit, citrus marmalade or other alcoholic drink, such as brandy, rum, liqueur etc.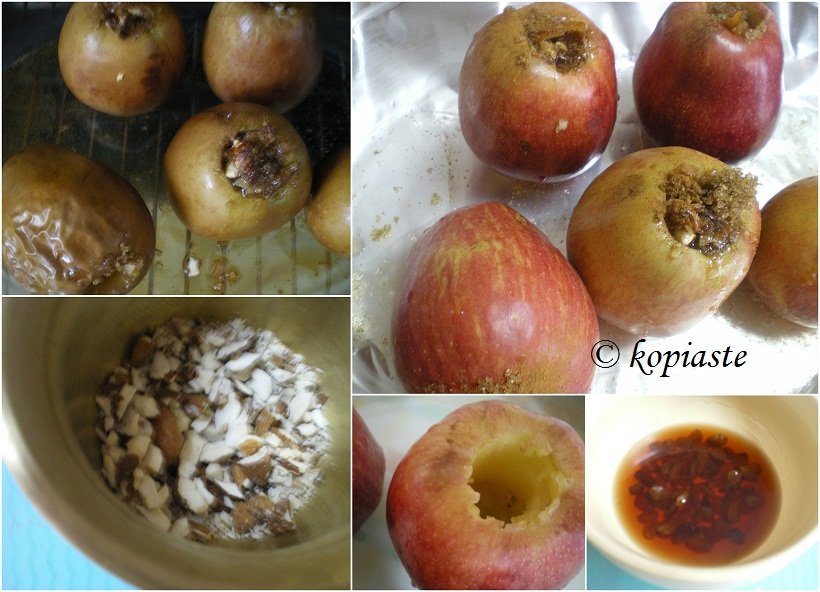 Stuffed Baked apples, recipe by Ivy
Preparation time: 20 minutes
Cooking time: 35 minutes
Serves: 5
Ingredients:
5 large apples

5 tablespoons coarsely chopped almonds

1 tablespoon of raisins

1/4 cup citrus or other liqueur

3 tablespoons of lemon marmalade

1 tsp brown sugar on top of each apple

A sprinkle of cinnamon on top of each apple

1/2 cup of water
Directions:
Preheat oven to 180ο C / 350ο F.

Soak raisins with cherry brandy for 15 minutes.

Mix in the almonds and the marmalade.

Core the apples but do not go all the way through. Fill in the cavity with as much of the mixture it can take, adding some of the liquid as well.

Sprinkle some cinnamon and brown sugar on top.

Place in a Pyrex or other baking tin, add leftover marinade and some water and bake for about 30 minutes until apples are soft.
Serve as it is or for a more decadent dessert, serve it with whipped cream (vegan or not), or with scoops of ice cream, sour cream, or even Greek yoghurt with honey for a much healthier dessert.
As you may know by now, google has announced that google reader will terminate its services in a few months. You can now follow all my posts on "Bloglovin".
Kopiaste and Kali Orexi,