Moussakas (pr. mouh-sah-KHAS), is a casserole of layered sautéed slices of potatoes and eggplants, (in some places they also add zucchini and tomatoes), with the meat sauce in the middle layer, topped with a lush layer of béchamel sauce and myzithra or graviera cheese on top, baked in the oven.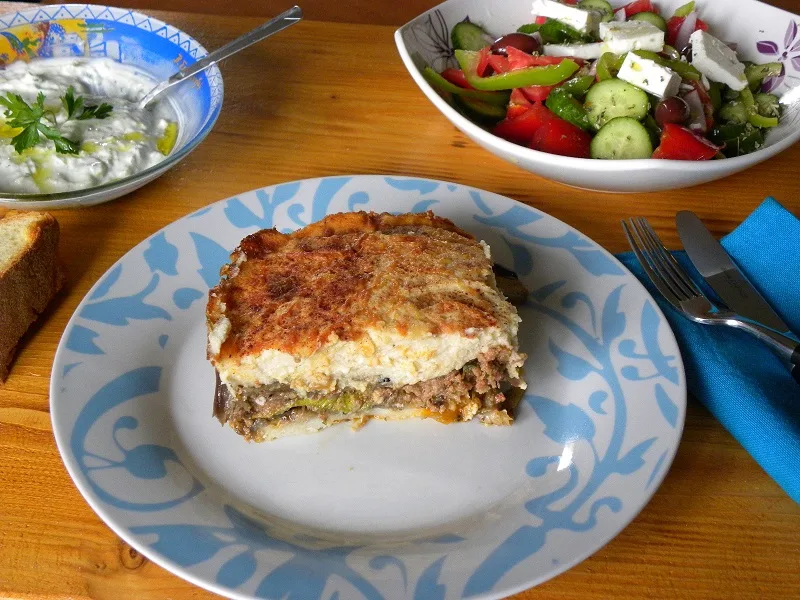 The vegetables are fried in extra virgin olive oil and left in a colander or on kitchen paper to drain any excess oil.
A layer of potatoes is placed in a baking tin, then a layer of eggplants and a layer of zucchini (if added).
Then the meat sauce, which is made with either ground pork or veal or a mixture of both, is added in the middle.
On top another layer of potatoes, zucchini and eggplants is added and finally it is topped with the bechamel sauce.
It is then baked in the oven until golden.
This is the traditional way of making moussakas but if you want a lighter version of moussakas instead of frying the potatoes and eggplants you can brush them with olive oil and bake them in the oven or cook them on a non stick sauteing pan by just slightly brushing them with olive oil.
There is no Greek family which does not make Moussakas on special occasions but it is also the most popular dish among the tourists.
The Cypriot version of moussakas lies in the meat sauce, which is usually ground pork and the spices used in it (salt, pepper and cinnamon) and of course the local Cypriot cheese which is added in the bechamel and on top which is either dried anari (myzithra) or halloumi.
A quite rich dish but so delicious!!
Can I make Moussakas ahead?
Yes, you can make Moussakas ahead of time. In fact, making Moussakas in advance can be quite convenient, as it allows the flavours to meld and develop, resulting in a tastier dish when it is reheated.
Here are some tips for preparing and storing Moussaka ahead of time:
Assemble and Bake: You can assemble the Moussakas up to the point of baking it, cover it with plastic wrap or aluminum foil, and refrigerate it for up to 24 hours before baking. This is a great way to prepare it the day before you plan to serve it. When you're ready to enjoy your meal, simply remove it from the refrigerator, remove the cover, and bake it according to your recipe's instructions.
Fully Cook and Reheat: Alternatively, you can fully cook the Moussakas, allow it to cool, and then refrigerate it. When you're ready to serve, reheat it in the oven at a lower temperature (around 325°F or 160°C) until it's heated through. This method is suitable for making Moussakas a day or two in advance.
Freezing: If you want to make Moussakas well in advance, you can freeze it. After baking, allow it to cool completely, then wrap it tightly in plastic wrap and aluminum foil or place it in an airtight container. You can freeze it for up to 2-3 months. To reheat, thaw it in the refrigerator overnight and then reheat it in the oven.
Toppings: If your Moussaka has toppings like a béchamel sauce or cheese, it's a good idea to add these toppings just before reheating or serving. This will help maintain their texture and flavour.
Keep in mind that while Moussakas can be made ahead of time and reheated, the texture may change slightly after refrigeration or freezing, but the flavours often improve. Reheating it in the oven is generally recommended for the best results, as it will help to maintain its overall quality.
Can I make Moussakas Vegetarian or vegan?
Yes, you can definitely make a vegetarian version of Moussakas. Instead of using ground meat, you can substitute it with various vegetarian or plant-based alternatives.
See also my vegan Moussakas.
Authentic Greek Moussakas
Total Time:
1 hour
45 minutes
Moussakas, is the most famous Greek dish which is layered with sautéed slices of potatoes and eggplants (in some places they also add zucchini), with the meat sauce in the middle layer and topped with béchamel sauce and myzithra or graviera cheese.
Ingredients
1 kilo tsakonikes (Japanese type or other) eggplants, partly peeled and cut into thin slices (other types of eggplants can also be used)
1 kilo potatoes, cut into thin slices
500 grams small zucchini, cut into thin slices
½ cup olive oil for frying
Ground cinnamon to sprinkle on top
For the meat sauce:
500 grams ground veal
1 red onion, finely chopped
1 clove garlic, finely chopped
1/4 cup olive oil
1 tbsp sea salt
Freshly grated black pepper
1 bay leaf
½ tsp ground cinnamon
½ tsp ground allspice
1 cup concentrated tomato juice
½ cup water
1 cup parsley, finely chopped
Béchamel Sauce:
1.5 litre milk
80 grams olive oil
80 grams all-purpose flour
5 eggs
½ teaspoon salt
½ teaspoon ground nutmeg
1 cup grated graviera cheese
Instructions
Prepare the meat sauce:
Heat the olive oil in a pot and sauté the onion until translucent. Add the garlic and mix for a few seconds.
Add the ground meat and sauté for a few minutes. While mixing, add salt, pepper, cinnamon, allspice, tomato juice and water and cook over moderate heat for about 15 minutes or until the sauce reduces. Remove from the heat and discard bay leaf. Mix in parsley and set aside.
When the béchamel sauce is ready, you can optionally mix in two tablespoons of the béchamel sauce.
Fry the vegetables:
Meantime, wash the vegetables and dry them.
Peel the potatoes and cut them into ½ cm thick slices.
Heat the olive in a non-stick frying pan and fry the potatoes on both sides, in batches.
While frying them, cut the zucchini a little bit thinner without peeling them.
Eggplants must be cut just before frying as they oxidize.
Remove them on kitchen paper. Continue with the zucchini and fry them on both sides.
There will be some leftover olive oil so remove it in a metallic bowl and leave just about 1 tbsp olive oil in the frying pan.
Sauté the eggplants on one side, brush them on top with a little bit more olive oil and sauté them on the other side as well. Continue with the remaining eggplants adding a tablespoon olive oil each time and brushing them before turning them over.
Prepare the Béchamel sauce:
Heat the milk and set aside.
Beat the eggs with a fork until combined and set aside.
In a saucepan heat the olive oil and add the flour and mix thoroughly to make the roux*. Add salt and nutmeg.
Withdraw the pot from the heat and add the warm milk, stirring constantly.
Gradually add the beaten eggs, a little at a time slowly, but stirring constantly until it is absorbed.
Put the pot back on the heat and continue mixing until the sauce thickens.
Remove from the heat and mix in the grated cheese, reserving some to sprinkle on top.
Assembling the dish:
Place a layer of half of the vegetables, first the potatoes, then the eggplants and then the zucchini, in a 32 x 23 x 6 cm (12.5 x 9 x 2.5 inches), baking tin and season each layer with salt.
Mix in a couple of tablespoons béchamel in the meat sauce.
Add the meat sauce on top of the vegetables, and then layer the remaining vegetables, which again season with salt.
Add the béchamel sauce on top and spread it to cover the vegetables.
Sprinkle some of the grated cheese and sprinkle some cinnamon on top.
Bake in a preheated oven to 180o C /350o F (160οC / 320oF for a convection oven) for about 45 - 50 minutes or until golden on top.
Set aside for at least half an hour to cool before serving.
Notes
*Roux (pr. Rou) is the method of cooking any kind of fat with flour and
is the base of making sauces and gravies, or thickening soups and stews. The mixture is stirred in the hot oil until the flour is incorporated, and then cooked until the flour starts toasting (changing colour to a darker shade).
Moussakas is best to let cool before cutting into portions, firstly to allow
it to absorb the juices from the vegetables and secondly for the cream to set.
Nutrition Information
Yield

9
Serving Size

1
Amount Per Serving
Calories

571
Total Fat

36g
Saturated Fat

8g
Trans Fat

0g
Unsaturated Fat

26g
Cholesterol

114mg
Sodium

1144mg
Carbohydrates

40g
Fiber

4g
Sugar

4g
Protein

25g
"These values are automatically calculated and offered for guidance only. Their accuracy is not guaranteed."
This and many more recipes are included in my cookbook Mint, Cinnamon & Blossom Water, Flavours of Cyprus, Kopiaste as well as in Volume 1 of my e-cookbook, sold on all Amazon stores.
Traditional Greek Recipes
Do you like Greek food? Discover some more of the traditional Greek food.
PIN FOR LATER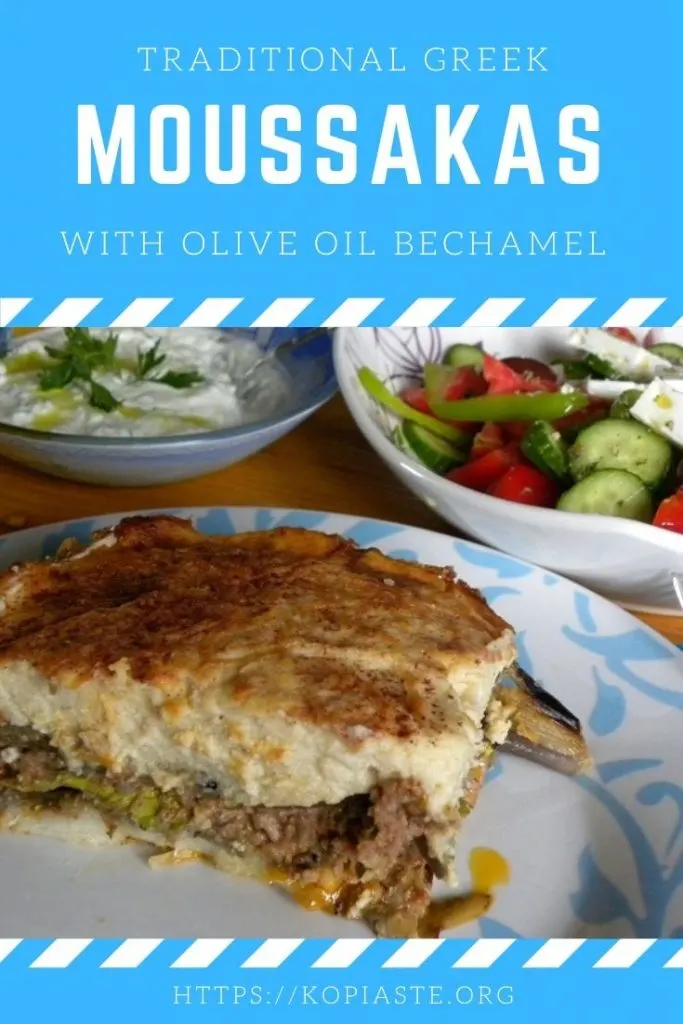 Kopiaste and Kali Orexi,