Kotopoulo me hilopites (also written as hylopites), is a Greek dish with baked chicken in tomato sauce and then hilopites, (Greek noodles), are cooked in the sauce.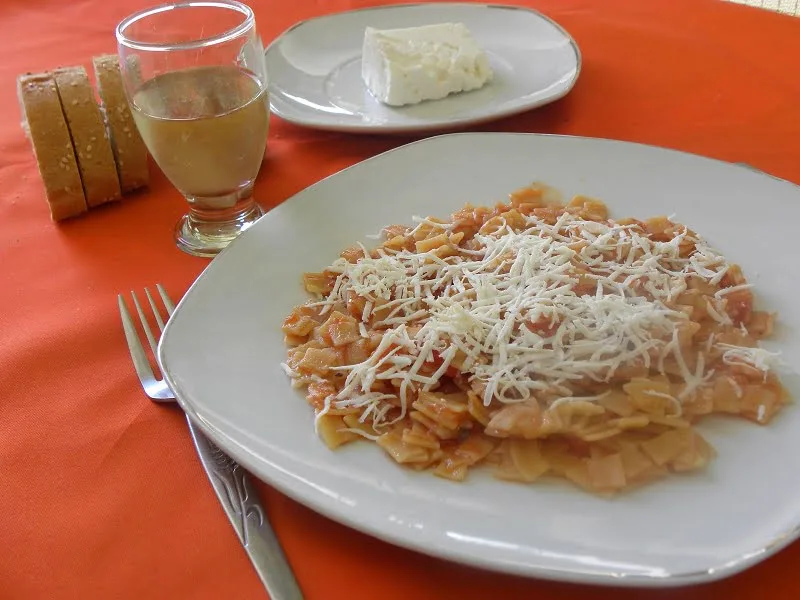 Hilopites are a traditional Greek egg pasta which can be found in long form, similar to tagliatelle or they can be cut into little square pieces, like the ones I have used.
If you cannot find hilopites see how you can make them yourselves or you can substitute them with other egg pasta.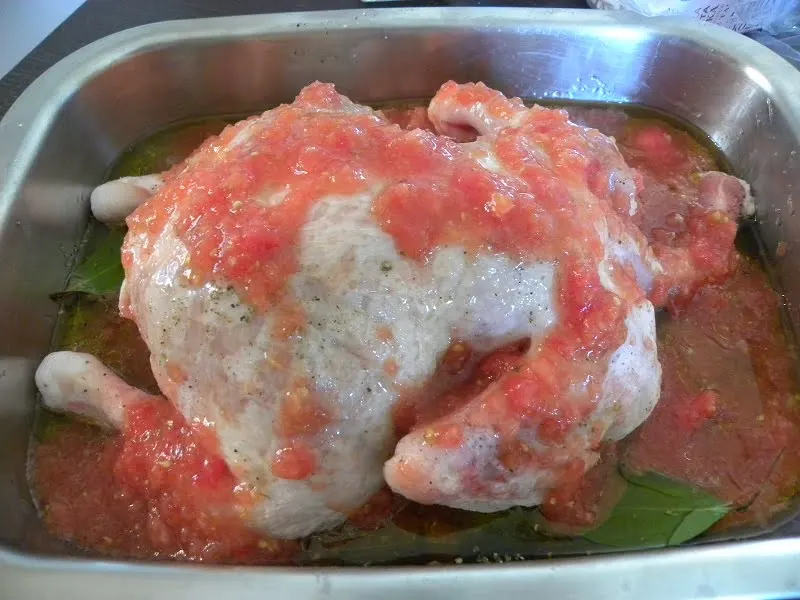 I have lots of recipes I have gathered during all these months and for which I did not have the time to write about them.
So instead of writing a lot of things I thought that it would be the time to write some of these recipes and have them in autopost for the period I shall be away.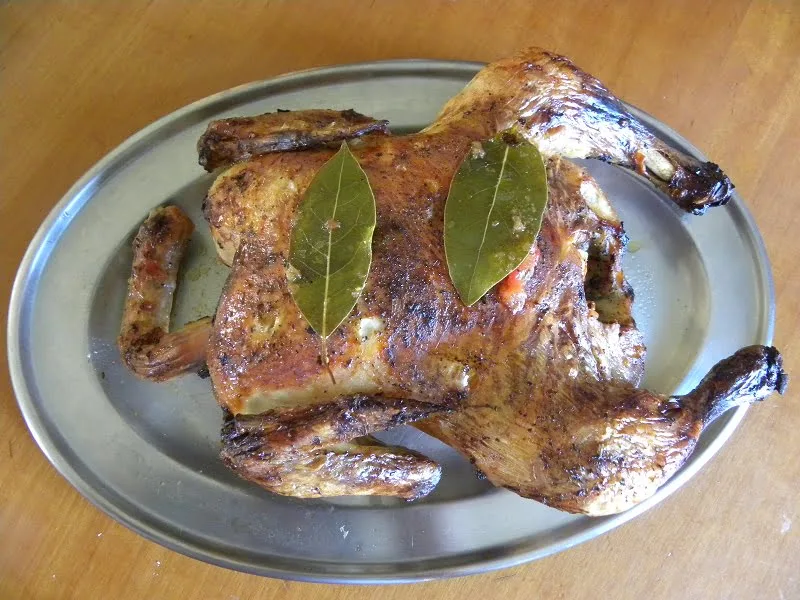 How to make Kotopoulo me Hilopites
To make this simple dish not many ingredients are necessary. Greek cooking is based on simple but good quality ingredients.
The chicken is baked whole, or cut into pieces, in the oven with the skin on, with olive oil and fresh grated tomatoes, which make the sauce. (In the video, I used chicken breast and thigh fillets).
When baked the chicken is removed and additional water is added, for the pasta to be cooked in the chicken-tomato sauce, which makes it extra delicious.
It is then served with lots of grated myzithra on top or other cheese such as graviera, kefalograviera, kefalotyri or substitute with Parmesan.
Kotopoulo me Hilopites (Chicken with Pasta)
Cook Time:
1 hour
30 minutes
Kotopoulo me hilopites means chicken baked with a traditional Greek egg pasta which can be found in long form, similar to tagliatelle or these are cut into little square pieces, like the ones I have used.
Ingredients
1 medium sized chicken (about 1.200 grams) or just thighs and breast
1/2 cup olive oil
2 1/2 cups ripe tomatoes peeled and blended
1 cup white dry wine
Salt and freshly ground black pepper, to taste
1 tsp oregano
2 bay leaves
3 cups hot water (add more, if necessary)
1 tsp sea salt
500 grams hilopites pasta
Instructions
Wash the chicken and season inside and out with salt, pepper and oregano.
Put it in a baking tin, breast facing down and add the tomatoes.
Add the olive oil, wine and bay leaves.
Preheat oven to 180 degrees C and roast the chicken for about one hour and fifteen minutes, turning once.
When roasted, remove chicken to a platter and add the hot water. Discard the bay leaves and add some more salt.
Bring to a boil and then add pasta. Stir a couple of times until the pasta is cooked (about 20 minutes) and if needed add more hot water.
Serve, grating some Greek dried Myzithra, graviera, kefalotyri, halloumi or any other hard cheese on top.
Nutrition Information
Yield

8
Serving Size

1
Amount Per Serving
Calories

311
Total Fat

18g
Saturated Fat

3g
Trans Fat

0g
Unsaturated Fat

14g
Cholesterol

31mg
Sodium

79mg
Carbohydrates

22g
Fiber

2g
Sugar

2g
Protein

10g
Like this post?
You can hover over this image to pin it to your Pinterest board. Please feel free to share it with your friends and fellow bloggers, using the share tools below.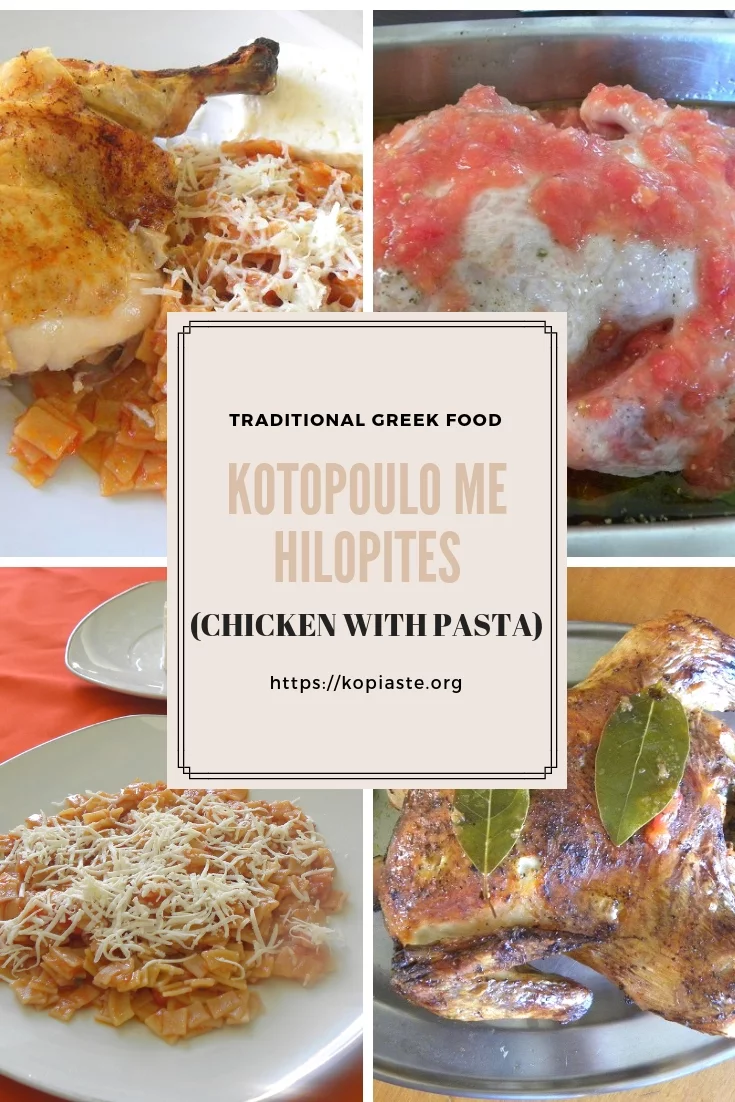 Kopiaste and Kali Orexi!