Kotopoulo Kokkinisto (pr. koh-TOH-pou-loh koh-khee-knee-STOH), is a Greek stewed chicken dish which is cooked in tomato sauce and flavoured with Greek spices.
How to make the stew
To make the kotopoulo kokkinisto (chicken stew), it's better to use a whole chicken (or parts of it) leaving the skin and bones on. This adds amazing flavour to the stew.
Then we dredge the chicken in flour and we sauté it in olive oil. The flour will thicken the sauce.
Sauté the chicken in a frying pan using extra virgin olive oil. Do this in batches so that it makes a crust outside and retains its juices inside.
Remove it to the pot it will eventually be cooked in and prepare the sauce:
Sauté an onion and garlic in the same frying pan until translucent and deglaze with a lovely dry white wine.
Then add fresh puréed tomatoes. Greek tomatoes ARE THE BEST, especially those which grow in the region of Nafplio!
I want to stress this because all my customers rave about how delicious Greek tomatoes are.
During winter we prefer to use some store bought tomato passata, which is not bad but fresh tomatoes make a much lighter sauce.
So, what does make a Greek chicken stew different from a chicken stew from another country?
Well each country uses specific spices and here is what we use in Greece:
Sea salt (I use my gourmet salt made with basil but you can use plain sea salt).
Whole black Peppercorns.
A cinnamon stick.
Allspice berries and
Bay leafs.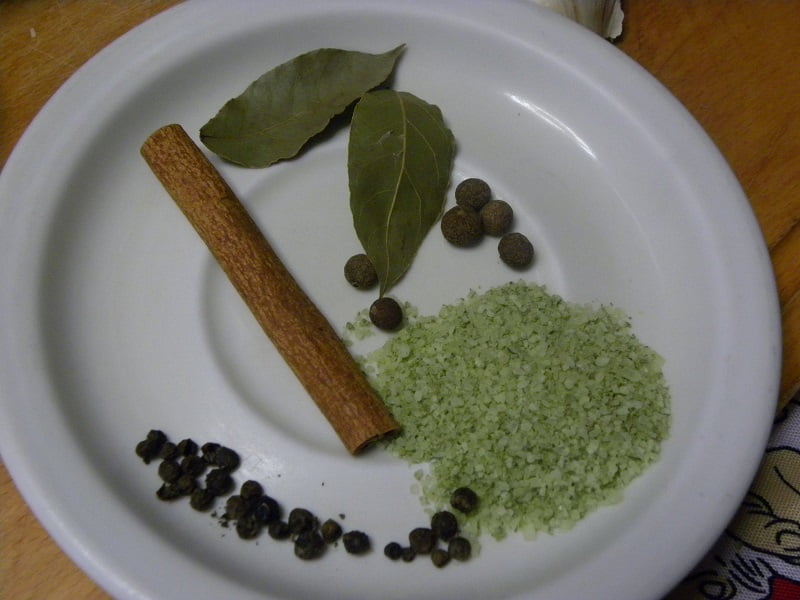 If you don't like chicken, see my recipe for Moschari Kokkinisto (Stewed Veal).
What Side Dishes can I serve Kotopoulo Kokkinisto with?
We usually serve it with one of these side dishes:
Kotopoulo Kokkinisto (Stewed Chicken)
Total Time:
1 hour
15 minutes
Kotopoulo Kokkinisto is a Greek stewed chicken dish which is cooked in a delicious tomato sauce with all the Greek flavours.
Ingredients
1 chicken (about 1.500 grams) cut into pieces
1 large onion, finely chopped
1 clove garlic, finely chopped
1 kilo fresh ripe tomatoes, peeled and pureed or 500 grams passata
1/2 cup all purpose flour
1 tbsp salt
¼ cup olive oil
1 cup white wine
500 ml water
Spices:
1 cinnamon stick
6 – 7 black peppercorns
5 - 6 allspice berries
2 bay leafs
1 tsp sea salt and freshly ground black pepper
about 500 ml water
For the omelet:
3 eggs
1 teaspoon olive oil
Salt and pepper
Rice pilaf:
2 cups bonnet rice
4 cups of water
1 tbsp salt
2 – 3 tablespoons parsley, finely chopped
Instructions
Wash and cut the chicken into portions and strain.
In a zip lock bag add flour, salt and pepper and coat the chicken.
Heat the olive oil in a frying pan and sauté the chicken on both sides in batches.
Remove the sautéed chicken in a saucepan.
Sauté the onion until translucent and then add the garlic and sauté it for a few seconds.
Add the wine, mix and let it boil for 2 – 3 minutes until the alcohol evaporates.
Add the spices, (salt, peppercorns, allspice berries, cinnamon stick and bay leafs) as well as the fresh puréed tomato.
Bring to boil and simmer for 10 minutes.
Pour the sauce on the chicken, add enough water to cover the chicken and simmer covered for about thirty minutes, until the chicken is cooked.
Remove the lid and cook for another 5 - 10 minutes uncovered, on high heat until the sauce reduces.
Serve with a rice pilaf with omelet and finely chopped parsley.



Notes
Prepare rice pilaf
Prepare the omelet which cut into small pieces.
Mix omelet and parsley in the rice and serve with the chicken.

Nutrition Information
Yield

6
Serving Size

1
Amount Per Serving
Calories

378
Total Fat

17g
Saturated Fat

3g
Trans Fat

0g
Unsaturated Fat

13g
Cholesterol

137mg
Sodium

620mg
Carbohydrates

33g
Fiber

4g
Sugar

6g
Protein

20g
Chicken Recipes
If you like chicken, here are some more chicken recipes for you to choose:
Kopiaste and Kali Orexi!