Greek Béchamel Sauce or white sauce or Mornay sauce, has been taken from the French cuisine and introduced to the Greek cuisine by Nicolaos Tselementes.
The difference of a traditional Béchamel sauce to the Greek one, is that Tselementes added eggs and cheese to the Greek Béchamel, which makes it much richer.
Béchamel sauce is used as a basic sauce to top Moussakas, Pastitsio, Papoutsakia and used in many other Greek recipes.
To make this sauce you need an equal amount of butter or olive oil and flour (in weight) which is made into a roux and then milk is added and flavoured with nutmeg.
The ratio to make the béchamel sauce is 50 grams fat (butter or olive oil), 50 grams all-purpose flour to 1 litre of milk.
The addition of eggs should be added carefully so as not to curdle the eggs. They are whisked separately and added a little at a time, whisking continuously until they are incorporated.
After the sauce thickens, add the cheese. You can add graviera, dried myzithra, kefalograviera, kefalotyri, halloumi etc. You can find substitutes of these Greek cheeses in a separate post.
How to make the Greek Béchamel sauce
Before starting, heat the milk. The reason we heat the milk is to speed up the procedure of setting the sauce.
Beat the eggs. The eggs can be beaten with a fork or a whisk so that when adding them gradually to the sauce, the egg whites will not curdle.
Heat the olive oil and add the flour, salt and nutmeg and mix thoroughly using a whisk, until it starts to brown. This is the first stage of making a roux. However, we want the flour to toast and release its aroma. This will make the bechamel sauce much tastier.
Remove the pot from the heat and add the warm milk, stirring constantly, until the sauce is thick and creamy. The reason we remove it from the heat is because the milk is hot, it may overflow.
Add the whisked eggs gradually and stir until incorporated, so that the eggs will not curdle.
Finally add the grated cheese and stir until the cheese melts in the sauce.
If you are going to use the bechamel at a later stage, remove it from the heat and cover it with cling film. This will help to not get a crust on top.
Helpful Tips:
Bechamel can be made thicker or thinner, depending on the recipe in which you want to use it.
If your bechamel becomes too thick add some more cold milk and mix until it reaches the right consistency you want it.
If it is too runny, and you want it thicker, dissolve a tablespoon of corn flour (starch) with 1/4 cup of milk and add it to the sauce and stir until it sets.
To make béchamel healthier I always use olive oil instead of butter.
If you have cholesterol:
Instead of butter use olive oil.
Add less eggs or only egg whites. You can also go without the eggs altogether.
Use low fat milk, low fat cheese or skip the cheese altogether.
For dishes like moussakas and pastitsio, sprinkle some cinnamon on top of the bechamel and you will be amazed by the taste.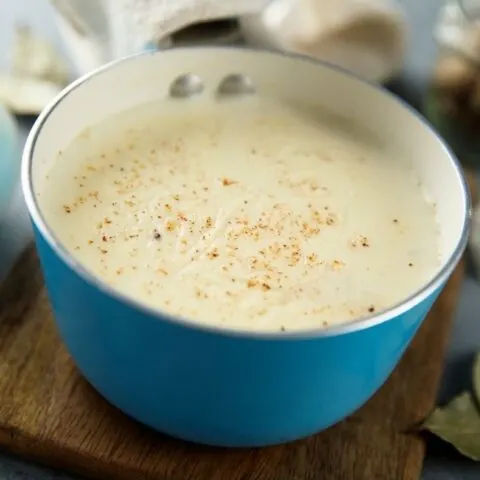 Greek Béchamel Sauce
Béchamel Sauce, is a White Sauce, made with all-purpose flour, butter (or olive oil) and milk. The Greek version also includes eggs and cheese.
Ingredients
1.3 litres of milk (about 6 cups)
70 grams olive oil (or butter if you prefer)
70 grams all-purpose flour
4 eggs
1/2 teaspoon salt
1/2 teaspoon ground nutmeg
1/2 cup of grated halloumi, graviera, kefalotyri or dried myzithra cheese
Instructions
Before starting, heat the milk. Also beat the eggs and set aside.
In a saucepan heat the olive oil and add the flour, salt and nutmeg and stir
thoroughly using a whisk, until it starts to slightly brown.
Remove the pot from the heat and add the warm milk, stirring constantly, until the sauce is thick and creamy. (Be careful as the hot milk may overflow).
Add the eggs a little at a time, stirring until it is incorporated and gradually
all is added.
Remove from the heat and mix in the grated cheese.
Cover with cling film, until ready to use.
Notes
This quantity is enough to cover a dish made in a 32 x 23 cm baking tin.
If you make too much, when it cools it can be stored in the fridge for two days or in the deep freezer for a longer time.
Nutrition Information
Yield

1
Serving Size

1
Amount Per Serving
Calories

2144
Total Fat

139g
Saturated Fat

46g
Trans Fat

0g
Unsaturated Fat

86g
Cholesterol

927mg
Sodium

2601mg
Carbohydrates

125g
Fiber

2g
Sugar

2g
Protein

99g
Recipes with Greek Béchamel Sauce
Béchamel sauce is used in many Greek recipes. You will find some recipes listed below.
Kopiaste and Kali Orexi,