Fricassee is a Greek recipe made with pork, lamb or chicken, with lots of lettuce, aromatic herbs and the traditional Greek avgolemono sauce.
Greek fricassee refers to a method of cooking meat or vegetables in avgolemono sauce, (which means egg and lemon sauce). Here, pork or lamb is cooked with lots of lettuce and aromatic herbs .
The flavour of the meat cooked with the lettuce and then the egg and lemon "avgolemono" sauce which is added at the end, makes it simply fantastic!
Instead of lettuce, you can use other green as wel. I have made it in the past with stamnaggathi, purslane and almyra greens.
Just after we got married we left Cyprus and came to live in Greece.
My husband was an officer in the Greek army, so we were transferred to a small village in Northern Greece, called Rodopolis, Serron, a place far away from his family.
I practically had no one to turn to when I needed help (neither did we have the internet then to look for recipes) and overseas or long distance phone calls cost a lot.
I did, however, have a cookbook and gradually I learned some new things about cooking but I am sure no recipe book will ever tell you how to fry potatoes or other easy things.
I learned the hard way and it took some time to learn everything. This is what I have in mind whenever I give a recipe.
I have in mind that there are some other people who do not know the obvious things.
Eventually I made some new friends and we would swap recipes.
This is how I learned some new Greek recipes which we did not cook in Cyprus.
One summer, when we went back to Cyprus, on holidays I cooked for my family some of the new recipes I had learned and one of them was Fricassee.
My mother liked it very much and I told her how to make it.
Of course, she never wrote the recipe down and as she was growing old she couldn't remember the whole recipe when she decided to make it.
A few years later, when we visited Cyprus again, my mother made fricassee for us but it was somehow different.
She forgot the recipe and added tomato to it. It wasn't bad but we laughed with her.
Years later I found out that at some parts of Lakonia (where my in-laws live) they do add tomato to their fricassee, as well as to the traditional Easter dish called "Magiritsa".
Well I suppose someone else may have forgotten, as my mother did 🙂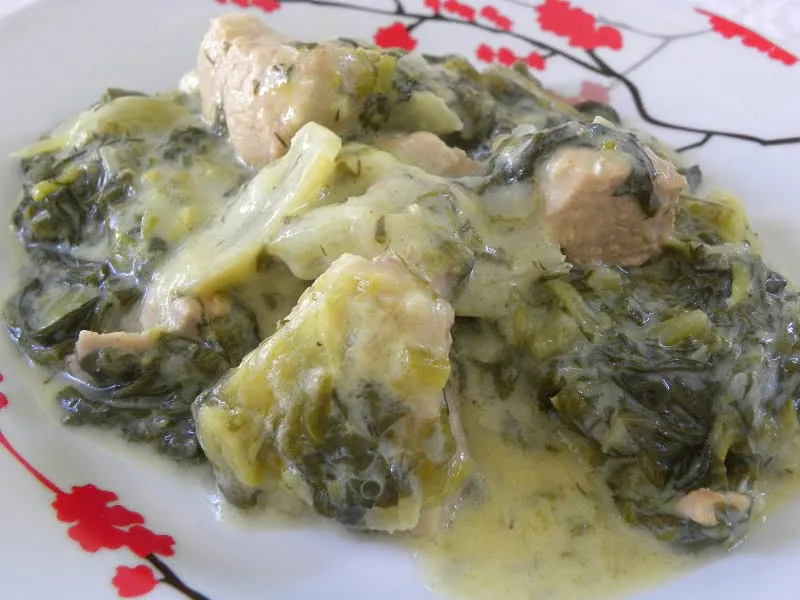 Origin of the recipe
I don't know the origin of this recipe but I assume this was originally a French recipe, as fricassée is a French word.
The French recipe is a stew, usually with a white sauce, as wine and cream are used.
It is usually made with all kinds of meat, poultry, fish, and even vegetables alone (see my recipe for Thyme Chicken Fricassee or Lamb Fricassee), sometimes cooked with vegetables such as mushrooms, shalots, aromatic herbs etc.
Nicolas Tselementes, a famous Greek chef, who studied in Vienna and worked abroad for many years, introduced French cuisine to the Greeks, at the beginning of the previous century.
However, I checked his cookbook, named after him, and his Lamb fricassee has no lettuce in it and is totally different than the way fricassee is now made.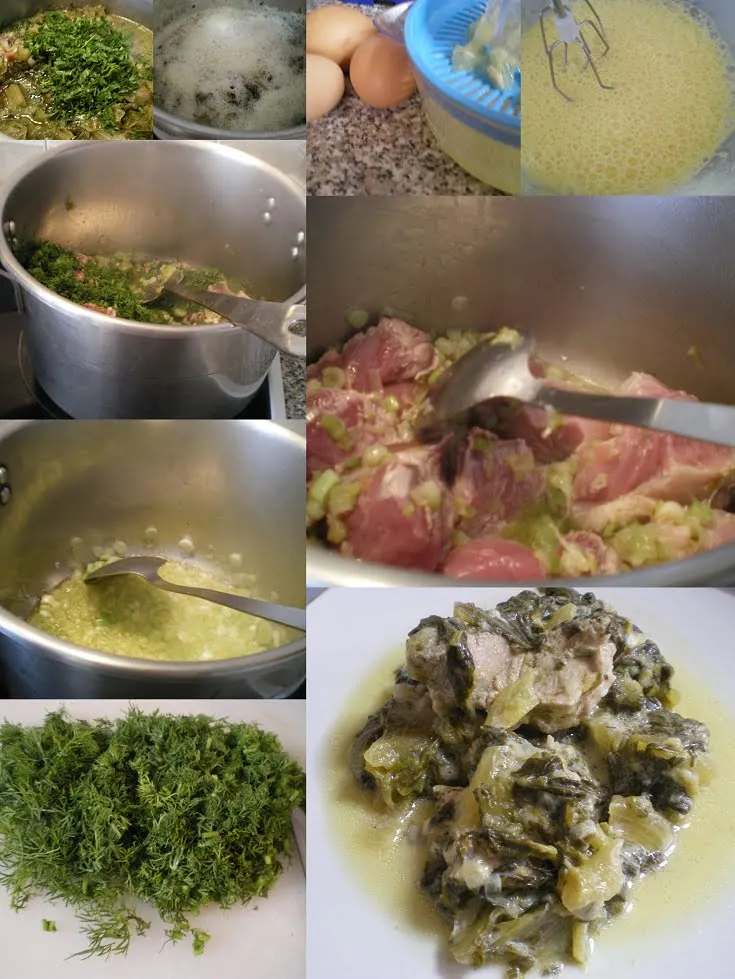 Chirino Fricassee (Pork in Avgolemono Sauce)
Cook Time:
1 hour
30 minutes
Additional Time:
10 minutes
Total Time:
2 hours
10 minutes
Greek fricassee refers to a method of cooking meat or vegetables in avgolemono sauce, (which means egg and lemon sauce). Here, pork is cooked with lots of lettuce and aromatic herbs .
Ingredients
1 kilo boneless pork from the neck or lamb from the leg
6 spring onions, including green part, finely chopped
1 small onion, finely chopped
1/2 cup olive oil
2 - 3 celery ribs, finely chopped
3 very big lettuces, romaine type
1/2 cup dill, finely chopped
1/2 cup parsley, finely chopped
Salt and freshly ground black pepper
Water
For the avgolemono sauce
3 eggs
½ cup lemon juice
1 tbsp corn flour (starch)
Instructions
Cut the meat into medium portions, wash and drain.
Wash and cut the lettuce into 3 cm (1-inch) pieces, which boil for 5 minutes and then drain.
Heat the olive oil in a skillet and sauté the meat on both sides.
Remove the meat in a saucepan. Do this in batches until all the meat is fried.
Add the onions and sauté them until they become translucent. Add them in the pot.
Add salt, pepper, and water to cover the meat and bring to a boil.
Reduce the heat and simmer until the meat becomes tender. If needed, add more water until the meat is cooked.
Add the strained lettuce and cook for another 15 – 20 minutes.
Add more water, if necessary.
Finally, add the dill and parsley and mix.
Remove from the heat and prepare the avgolemono sauce.
In a separate bowl, beat the egg whites until frothy. Add the yolks and the lemon juice, while still mixing.
Finally, take a ladle of hot broth from your pot and slowly add it to your egg and lemon mixture while whisking.
Pour the avgolemono sauce into your saucepan and mix.
Leave it to rest for 10 - 15 minutes and then serve.
Nutrition Information
Yield

6
Serving Size

1
Amount Per Serving
Calories

678
Total Fat

47g
Saturated Fat

13g
Trans Fat

0g
Unsaturated Fat

31g
Cholesterol

253mg
Sodium

230mg
Carbohydrates

10g
Fiber

4g
Sugar

3g
Protein

53g
Kopiaste and Kali Orexi!