A good Homemade Greek Tomato Sauce can be used in many ways. Make a big batch of this delicious tomato sauce and have it on hand whenever you need it.
During summer, use fresh ripe tomatoes but of course, during winter you can use canned tomatoes or passata to make this delicious Tomato Sauce, as I did in the video.
How to use the abundance of my tomatoes
If you are into gardening and have more tomatoes than you can eat, a good way to preserve them is to make a simple sauce which will be the base of making other recipes during winter.
However, not all of us have gardens. In this case the farmers' market comes to our rescue!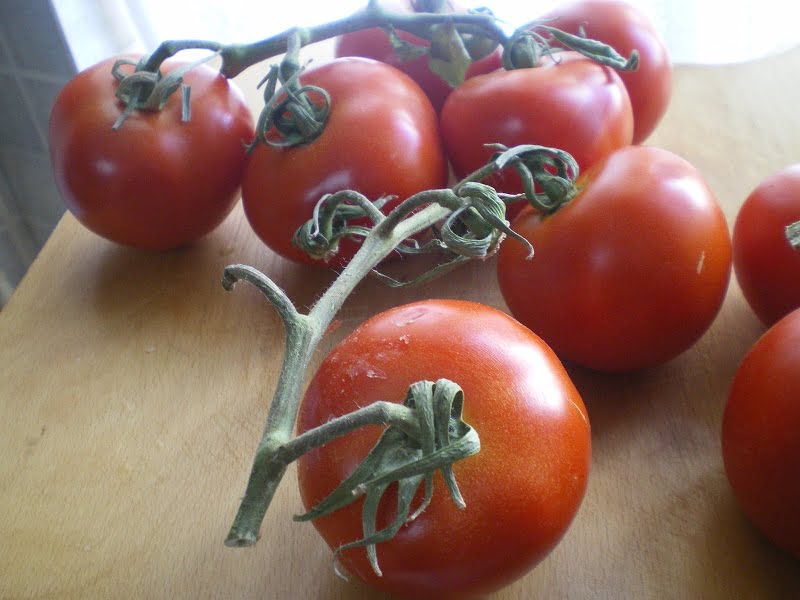 During summer the tomatoes are very cheap. In Greece, if you visit a farmers' market you will notice that their price ranges between 1 το 1.50 Euros during the peak of summer and even less when they are ripe.
Riper tomatoes are much cheaper, so if you find some, grab them as they are perfect to make sauce and enjoy during the winter.
In both cases you will need only the basic ingredients, which are the tomatoes, olive oil, onions and garlic.
How To Make a Basic Tomato Sauce From Scratch in the oven
Making your own tomato sauce is a bit labour intensive but it is really worth the effort. The amount of this sauce is to be made in two big oven trays and baked in a fan forced oven.
Yields: 2 1/2 kilos sauce
Ingredients:
5 kilos ripe Roma or San Marzano tomatoes
1/2 cup extra virgin olive oil
3 red (or other) onions, coarsely chopped
2 – 3 cloves garlic, coarsely chopped
3 tbsp coarse sea salt
1 tbsp sugar (optional)
1 tbsp balsamic vinegar
Peel the onions and garlic and chop them.
Wash the tomatoes, remove the stem and cut them in the middle.
Sprinkle the salt on a baking tray and layer the tomatoes, cut side facing down.
Add the onions and garlic in between the tomatoes.
Add the remaining ingredients on top.
Preheat the oven to 180o C and bake for about 45 minutes, until slightly charred on top.
Set aside to cool and remove the skin.
Put them in a colander and press with a spoon to remove excess fluid. Then put them in a food processor together with the remaining ingredients and pulse them a few times to your desired level of chunkiness.
Note. As this sauce will be the base of making other recipes, you do not need to add other herbs and spices.
Do I Need To Peel The Tomatoes To Make the Sauce?
The most time consuming part is peeling the tomatoes. However, if the skin is not burnt and you do not have any problem digesting the skin, this is what adds more flavour to your sauce and more nutritious.
As it's not nice to have have any leftover skins in your tomato sauce, so using a food processor or an immersion blender after the sauce is baked, will solve this problem.
Fun fact: Tomato skins contain essential amino acids and actually have higher levels of lycopene (a powerful antioxidant (anti-cancerous), Carotenoids, Amino acids, and Minerals.
FAQs
Can I make the tomato sauce on the stove top?
Yes, of course.
Wash the tomatoes and grate them on a box grater or use a food processor to puree them. Put them in a pot with salt (1 heaped tablespoon for 3 kilos of tomato puree). Bring to a boil and then lower heat to a simmer and cook until the sauce is reduced to half the amount.
Slowly simmering the sauce brings out all the deep, rich flavors without lots of added ingredients.
How Do You Store Tomato Sauce?
Place in an airtight container and refrigerate for up to three days.
Alternatively, for information on canning your own, see this article on The Spruce Eats.
After making the sauce set aside until it cools.
Transfer your sauce into freezer containers or freezer bags or plastic cups. Don't use big containers unless you will be cooking for a crowd. I recommend that you store your basic sauce in 1 or 2 cup containers.
Store in the fridge for 3 – 4 days.
Store in a refrigerator's freezer up to 3 months.
Store in an upright or chest freezer for a year.
Alternative ways to make a simpler tomato sauce
What if you have never made a tomato sauce as above but still you want to make a simple sauce to serve on your spaghetti?
Of course you can buy a ready made sauce, with all the preservatives that go with it, or if you are one of those people who love making everything from scratch, here is another way to make some homemade sauce.
Ingredients Used In This Sauce
It goes without saying that if you have made the above tomato sauce, you can use that sauce. Alternatively, you can use fresh or tinned tomatoes or passata or tomato paste. Fresh tomatoes are always best to use during the summer, when tomatoes are ripe and sweet. Of course during winter, it is best to use the other alternatives
Extra virgin olive oil
Onion (I prefer to use a red onion)
Garlic
Carrots (Using carrots in the sauce adds sweetness and lowers acidity)
Celery
Organic vegetable bouillon
What spices to use in a Greek Tomato Sauce
Freshly ground black pepper
Allspice berries
Cinnamon stick
Bay leaf
Fresh or dried oregano
Fresh or dried thyme
Using fresh herbs and aromatics adds a flavor that can't be found in store-bought sauces.
How Do You Make Tomato Sauce Thicker?
The best way to thicken tomato sauce is to reduce by simmering uncovered until it thickens on its own.
How can I use this tomato sauce?
Serve this tomato sauce over pasta, with meatballs, as a base for pizza, in calzone, in lasagna etc.
Homemade Greek Tomato Sauce
A good Homemade Greek Tomato Sauce can be used in many ways. Make a big batch of this delicious tomato sauce and have it on hand whenever you need it.
Ingredients
¼ cup olive oil
1 onion, finely chopped
1 clove garlic, finely chopped
1 carrot grated
1 stalk celery
½ cup white dry wine
½ tbsp salt
Freshly ground black pepper
5 allspice berries
1 cinnamon stick
1 bay leaf
1 tsp dried oregano
1 tsp dried thyme
1 vegetable bouillon
600 grams ripe tomatoes (or 1 passata (500 grams) plus ½ cup water)
Instructions
If using fresh tomatoes blanch and peel them.
Puree the onion with some olive oil (or grate the onion on a box grater).
Empty it in a bowl and do the same with the carrot and celery.
Heat the olive oil in a saucepan and sauté the onion until translucent.
Add the garlic and mix for a few seconds, until fragrant.
Add the grated carrot and celery, as well as the spices and vegetable bouillon and mix.
Add the wine and cook for a few minutes for the alcohol to evaporate.
In the meantime, puree the tomatoes and add them as well. (During winter add canned tomatoes or passata).
Lower the heat and simmer until the sauce thickens, for about 30 - 35 minutes.
When done, discard the bay leaf, cinnamon stick and allspice berries.
Serve this sauce over pasta, with meatballs, as a base on pizza, to make
calzone or lasagna, etc.
Nutrition Information
Yield

5
Serving Size

1
Amount Per Serving
Calories

183
Total Fat

12g
Saturated Fat

2g
Trans Fat

0g
Unsaturated Fat

9g
Cholesterol

0mg
Sodium

814mg
Carbohydrates

16g
Fiber

5g
Sugar

7g
Protein

3g
"These values are automatically calculated and offered for guidance only. Their accuracy is not guaranteed."
Tomatoes
Making good use of the abundance of tomatoes.
Kopiaste and Kali Orexi!