Did you know that in Greece we have our own pizza which is called Ladenia (Λαδένια), meaning olive oil bread.
This is a vegan pizza and is a speciality from the island of Kimolos.
I saw this recipe a couple of years ago on Elias Mamalakis T.V. show, a famous Greek T.V. persona.
The main ingredients of this pizza is bread dough, tomatoes and onions, which are sprinkled with salt, pepper and oregano, as well as some olive oil on top.
I have made my own twist to Ladenia. During the period of fasting, when no meat or dairy products are allowed, this makes a delicious meal, especially in the evening.
When fasting lasts 49 days, you cannot eat only tomatoes and onions every night. To make it different, sometimes I add Marinara Sauce and some times Pesto (without the cheese) on the dough, depending on what I have at home.
The ingredients I add on top are all vegan and these also depend on what seasonal vegetables I have at the time.
Some of the ingredients used are olives, mushrooms, pickled spicy peppers, bell peppers, artichokes, grilled courgettes and eggplants and of course lots of onions and tomatoes.
Vegan Pizza with Pesto (no cheese in the pesto)
Both pizzas are not only delicious but very healthy as well.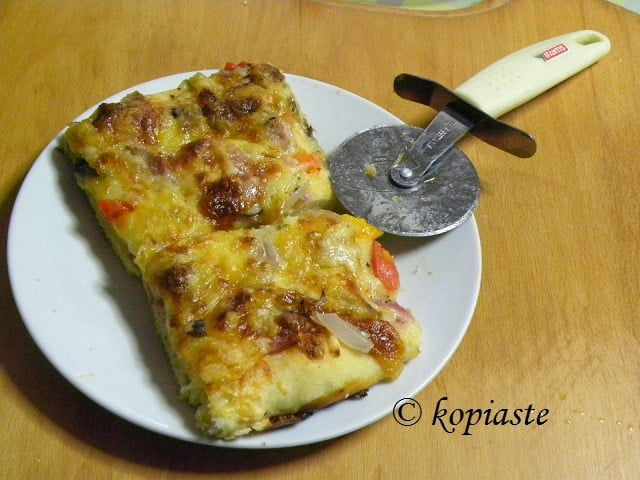 My twist on Ladenia, a Greek Vegan Pizza
For a large baking tin 33 x 40 cm
Ingredients:
Pizza Dough (see recipe here)
Marinara Sauce (see recipe here)
Topping for one large pizza:
5 button mushrooms
2 pickled spicy peppers, deseeded
2 artichokes, fresh or frozen
1 cup bell peppers, any colours you prefer
1/2 cup olives, pitted
2 grilled courgettes or eggplants
2 large onions
3 large, ripe tomatoes
1/4 cup olive oil
1 tablespoon Greek oregano
Salt and pepper to taste
Directions:
Preheat oven to 200oC / 400o F
Brush the baking tin with olive oil. Roll out the dough and transfer to baking tin. Press the dough with your fingers to stretch the dough and cover the tin.
Spread a thin layer of Marinara sauce or Pesto.
Begin with the onions, add remaining ingredients and finish with tomatoes.
Sprinkle with the oregano, salt and pepper and with remaining olive oil on top.
Position rack in the lower third of the oven and bake pizza for about 30 minutes or until the crust is browned.
During our recent trip to Rome, I was really curious to try an original Italian Pizza but I must say I was rather disappointed.
Unfortunately we did not have the luxury of time to try everything we wanted, as after walking for hours and hours every day, when it was lunch time and were feeling really tired and wanted to rest for a while, we stopped to rest and eat.
One day we stopped at a caffè where they served pizzas, panini and other quick snacks. The caffè looked very inviting, so we decided to go with a pizza, a salad and a glass of wine for each of us.
As it proved the pizza was pre-baked with some sauce and then a few ingredients were tossed on top and warmed up for a few minutes.
The salad (just enough for one person) was even worse: just some lettuce, tomato, cooked corn and a few pieces of tuna was the special salad which cost 8 Euros.
Okay, okay, don't shoot me!!! I knew that that could not be real pizza, so one of the evenings when we went out we decided to eat pizza again, this time at a real Italian Pizza restaurant.
I don't remember the name of the pizza but the sauce was delicious and it was topped with artichokes, red bell peppers, black olives, feta and mozarella cheese. It was fantastic.
My friend Natalia took as to a delicatessen shop selling all kinds of cheeses and hams, salamis, prosciutto etc.
There was a great variety and although I wanted to buy a little bit of everything, I selected those I wanted to try the most: Gorgonzola, Caccio, formaggio al pepperoncino (a cheese with cow's milk and peppers) and of course buffalo mozarella.
When we came back I wanted to use some of the Italian cheeses we brought, so one use was in Pizza. It was delicious, having a taste of gorgonzola here or a spicy cheese in another bite.
Homemade Pizza with Mozarella, Prosciutto and other Italian Cheeses

Makes: 2 pizzas, 30 cm. pizza baking tin

Ingredients:

Pizza Dough (see recipe here)

Marinara Sauce (see recipe here)

Topping:

8 slices prosciutto di Parma, chopped in bite size pieces

2 buffalo mozzarellas, cut into 12 slices each

Half a cup caccio, grated
Half a cup formaggio al pepperoncino, grated
Half a cup gorgonzola

1 cup ricotta

Directions:

Preheat oven to 200oC / 400o F.
Brush two 30 cm pizza baking tins with olive oil. Divide dough into two equal parts and then form two balls.Roll out dough and transfer to tins.
Spread a thin layer of Marinara sauce.
Scatter mozzarella and prosiutto on top of the sauce.
Combine the remaining cheeses together and add a teaspoon here and there.
Position rack in the lower third of the oven and bake each pizza separately, for about 30 minutes or until the crust is browned. (If you like you can bake both using the air).
My husband and children don't fast the whole period but just for a week, so I usually increase the dough dose and make two large baking tins. Two of my children don't like eating vegetables so I make one with ham or turkey or bacon and lots of cheese on top. Any leftovers disappear in the morning 🙂
I love pizzas with pesto more than with tomato sauce.
I topped the pizza dough with pesto and add my favorite ingredients.
In this pizza I used Mint Pesto, smoked turkey, gouda cheese and feta , bell peppers, tomato, onion, oregano and mozzarella on top.
Leftovers are perfect for breakfast or brunch the next day!
You can find my Greek recipes in my cookbooks «More Than A Greek Salad», and«Mint, Cinnamon & Blossom Water, Flavours of Cyprus, Kopiaste!» both available on all Amazon stores. Read more here.
Other related Recipes:
Savoury and Sweet Pizza Rolls and Pizza Bread
Kopiaste and Kali Orexi,