Another thing we tried, while in Rome was Calzone.
Although I had heard of calzone, I thought it would be much smaller and imagined it to be something like a turnover with phyllo pastry, similar to the Greek bourekia otherwise called Kaltsounia in Crete (do you see any similarities in the name?). However, kaltsounia are totally different and I will write a separate post about them.
However, it was huge and was practically like a pizza folded in two, only it had sauce inside. Technically, what they brough us was not a calzone but a stromboli, maybe it was named after the volcano Stromboli (Sicilian: Stròmbuli, Greek: Στρογγύλη Strongulē) and someone plump in Greek is called στρομπουλή (fem.) or στρουμπουλή strombuli.
"Calzones are similar to stromboli, but traditionally the two are distinct dishes. A common misconception is that the ingredients are the primary difference between the two. The ingredients are actually at the discretion of the chef. Although most strombolis are rolled, strombolis have also been known to be prepared like a calzone, where the only difference is that a stromboli has the sauce inside of the folded crust, where the calzone is served with dipping sauce on the side". Wikipedia

My husband ordered a roasted chicken with potatoes, together with a salad and wine and tiramissu was included in the price of the dish. You can imagine how much we ate that evening. Both of us could have eaten well, just eating that calzone and the salad. I tried some of the roasted chicken with potatoes but it was similar to the way we make it in Greece, so I preferred the calzone/stromboli which had the most amazing tomato sauce inside and it was filled with mushrooms and other ingredients I do not remember and of course melting mozarella.
(Sorry for the bad quality of photo but the lighting in the restaurant was very poor).
When we came back, I made some calzone using the Italian cheeses. The ingredients given below are enough to make twelve calzones but I did not use all the ingredients as I wanted to save some of the cheeses to make another recipe. The remaining I filled with smoked turkey and milner cheese.
Calzone with Mozarella, Proscuitto and other cheeses


Makes: 2 big ones or 12 small calzone

Ingredients:

Pizza Dough (see recipe here)

Marinara Sauce (see recipe here)

Filling:

6 slices prosciutto, cut in two pieces

1 buffalo mozzarella, cut into 12 slices

Half a cup grated caccio

1 cup ricotta

Half cup spicy formagio all peperoncino (cheese with peppers)

1 Egg yolk

Egg white for brushing

Directions:

Preparate the dough, according to the instructions given.
While the dough is resting prepare the pizza sauce.
Grate the cheeses and mix in the egg yolk.
Preheat oven at 180 degrees C and line a baking tin with parchment paper.
Divide the dough in twelve equal pieces and roll each piece of dough into discs about 20 cm diameter.
Spread 1 tablespoon of marinara sauce leaving a 3 cm edge without sauce.
Add 1 mozzarella slice, 1 piece of prosciutto and some cheese mixture.
Fold dough over to enclose the filling and form a large turnover. Roll up the edges with your fingers to close tightly and prevent leaking or just press the two edges with a fork.
Brush with the egg white and bake for about 30 minutes or until golden brown..
Let the calzones rest 10 minutes before cutting to allow the cheese to set.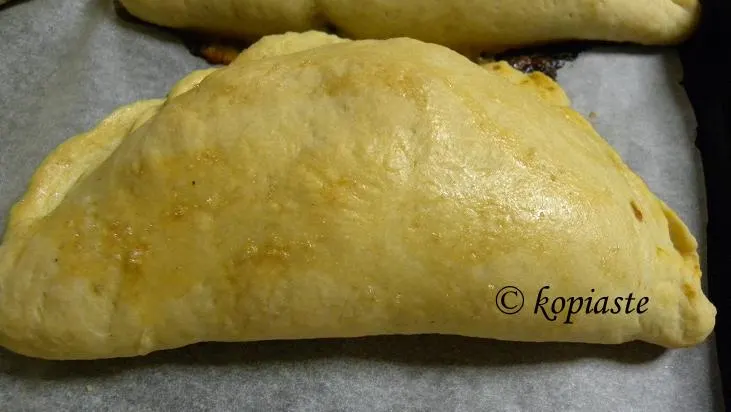 A few days later I had some leftover Greek roasted chicken, and as these calzone are very delicious and easy to make, I made them again this time using some other ingredients I had at hand.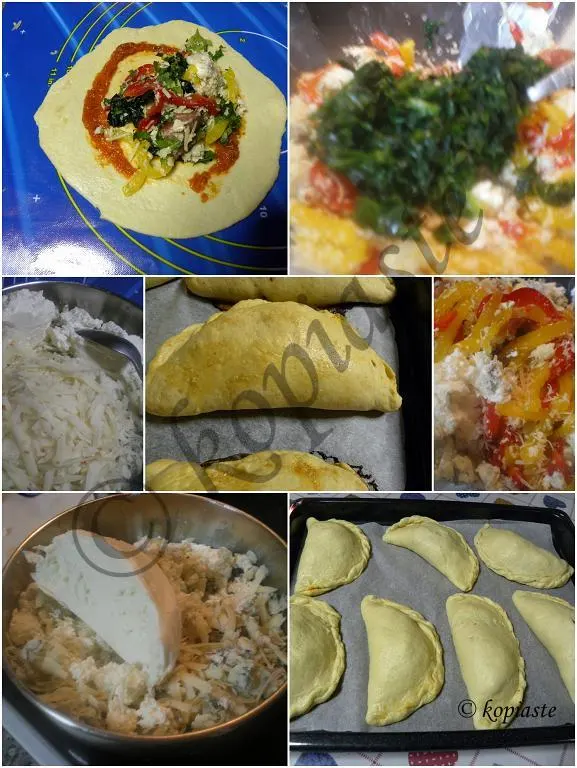 Chicken Calzone, recipe by Ivy

Makes: 2 big ones or 12 small calzone

Ingredients:

Pizza Dough (see recipe here)

Marinara Sauce (see recipe here)

For the filling

2 cups leftover roasted chicken, deboned and cut into small pieces

150 grams Gorgonzola picante

170 grams buffalo mozzarella

50 grams formaggio al peperoncino, grated


80 grams ricotta

½ cup various red and yellow peppers

150 grams fresh spinach squeezed (about ½ cup)

4 slices of prosciutto di parma, cut into small pieces

2 tablespoons parsley, finely chopped

Freshly ground black pepper to taste (I do not add any salt as the cheese are quite salty)

Directions:

Mix all the filling ingredients together and make calzone the same way as above.
Enjoy!!