Marinara sauce, ia an Italian sauce from Naples, made with fresh tomatoes, onions, garlic, spices and herbs.
Although the name "marinara" which means "sailor's sauce", may bring to your mind seafood, it has nothing to do with that.
Some legends say that the wives of sail-men prepared this sauce when their husbands returned back from their trips or when the Neapolitan sailors returned from their trips, they prepared a sauce which was named after the sailors making it.
After our recent trip to Rome , I am still dreaming of Rome and its food.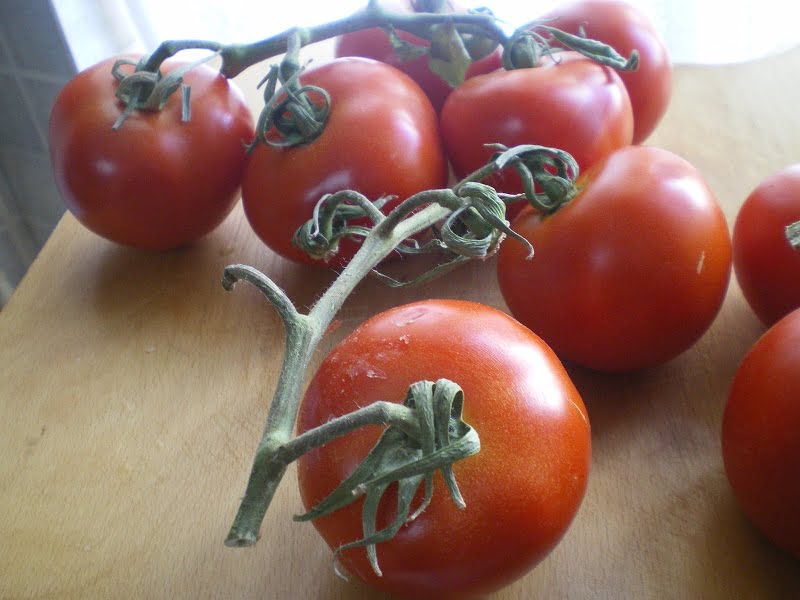 I love a good marinara sauce!
I have been making this sauce for ages and as I will be recreating some recipes we tried, I have realized that I have never posted the recipe before.
This sauce is very easy and very versatile and it's not worth buying the ready-made sauce as homemade tastes much better and costs less, when tomatoes are in season.
During summer, tomatoes are abundant and cheap and I grow basil in a pot on my small balcony.
'Even when tomatoes are out of season, I make marinara sauce with canned tomatoes, sometimes I use pummaro or tomato paste, depending on what I have at home.
See also my winter tomato sauce.
In summer Greek tomatoes are firm, sweet and juicy.
If your tomatoes are tart, you can add a couple of grated carrots to the sauce, instead of adding sugar, which balances the tartness of the tomato.
Depending on the season, add some fresh oregano and thyme as well.
If you don't have fresh herbs you can also add some dried oregano, thyme and basil.
I always peel the tomatoes before making the sauce so that there is no skin in the tomatoes.
Although this is not very traditional, I like to add a piece of cinnamon stick in the sauce but do not mention it in the recipe.
It's up to you to add it if you also like the taste of cinnamon, as much as I do.
This sauce is so easy to make and tastes a million times better than the store bought one.
I always make big batches during the summer, which I deep freeze in plastic cups, which are around 1 cup capacity, so this saves time and money.
I use this sauce to make an easy vegan spaghetti dish, especially during lent, as you can see in the photo with no cheese, but feel free to use grated cheese on top as well.
I also serve it with meatballs, as a base for pizza, in calzone, in lasagna etc.
Easy Homemade Marinara Sauce
Total Time:
1 hour
15 minutes
This homemade marinara sauce recipe is easy tomake with just a few ingredients such as ripe tomatoes, garlic, herbs, and onions.
Ingredients
¼ cup olive oil
1 big onion, finely chopped
2 cloves garlic, finely chopped
1 kilo fresh ripe tomatoes, peeled and grated or 1 can (500 grams) whole tomatoes with juice
1 pummaro condensed tomato juice (500 grams)
1 tbsp tomato paste
About 1/2 cup fresh broad leaf basil
1 sprig fresh oregano, only the leaves (optional)
1 tsp dried oregano
1 tsp dried thyme
½ tsp salt
Freshly ground black pepper
1 tsp boukovo (sweet pepper flakes) (optional)
1 inch cinnamon stick (optional)
2 grated carrots (or 1 tbsp honey or sugar (optional), depending on the tartness of the tomatoes)
Instructions
Wash and make an X section below each tomato and remove the green stalk, if any.
Heat a large pot with water and blanch the tomatoes in for 1 minute. Cool under running water and then peel each tomato and remove the green and hard core.
In a food processor add the tomatoes, basil leaves and carrot and puree.
In another saucepan heat the olive oil and sauté the onion until translucent. Add the garlic and mix for a few seconds.
Add the tomatoes, tomato juice and tomato paste.
Add salt, pepper, pepper flakes as well as fresh or dried herbs and simmer, stirring regularly until the sauce is reduced.
Serve with pasta, meatballs, on pizza etc.
Nutrition Information
Yield

1
Serving Size

1
Amount Per Serving
Calories

981
Total Fat

58g
Saturated Fat

8g
Trans Fat

0g
Unsaturated Fat

47g
Cholesterol

0mg
Sodium

2071mg
Carbohydrates

114g
Fiber

23g
Sugar

76g
Protein

17g
Other relevant recipes:
Penne with Mushrooms and Marinara Sauce
Kopiaste and Kali Orexi!