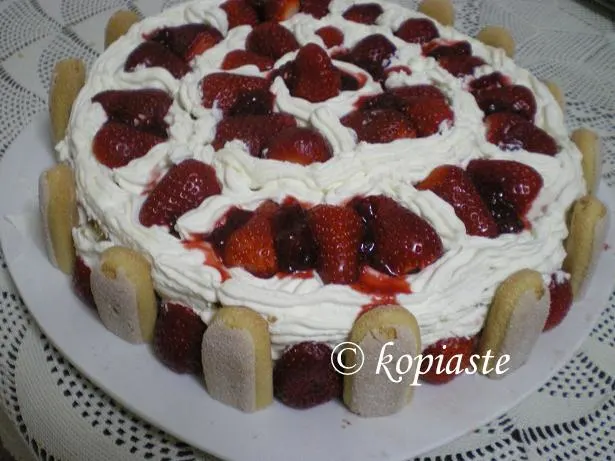 Torta fragole is a strawberry cake which I prepared for my birthday. I won't be writing a lot about this birthday cake as the basics are the same in most of my cakes.
I have made a Sponge Cake and then some Creme Patisserie and some Whipping Cream. Finally I have made a Strawberry Sauce and put the cake together as follows:
Ingredients:
Basic Sponge Cake: I did the same sponge cake and split the sponge by using a long sharp knife.
1 kilo strawberries
savoyard (lady finger) biscuits
Basic Whipped Cream: (I made much more than usual).
Basic Creme Patisserie: I made 1/3 of the recipe.
Strawberry Sauce: I made double the recipe but instead of brandy I added a shot of gooseberry liqueur. However, this is just for extra flavour. You can add strawberry liqueur, raspberry, blackberry or just brandy. If you don't want to add any liqueur just add 1 spoonful of lemon juice.
Directions:
Prepare sponge cake from the previous day.
Wash and select strawberries you will need for decoration (about 25) and set aside. With the remaining follow the directions and make the sauce.
When the sauce starts to boil for a few minutes, cut the sponge cake with a long and sharp knife and split it into two pieces. Place in a platter and wet it with the strawberry syrup. Place syrup back on heat and boil until sauce thickens. Set aside and let it cool down.
Meanwhile prepare pastry cream and add a few spoonfuls of strawberries from the sauce. Just add the pieces of strawberries and not the sauce itself. Stir and set aside to cool down but keep stirring from time to time.
Prepare the whipping cream. I used 750 ml of whipping cream with a spoonful of sugar powder and 1 vanilla, I did not want the cream to be sweet. When the whipping cream is ready remove 3/4 in a bowl. Add another spoonful of sugar powder and mix. Place in the refrigerator to be used later on. In the remaining whipping cream, add a few spoonfuls of strawberries (just the strawberries, not the juice) and mix well but make sure that the sauce is completely cold. When the pastry cream is cold mix in the whipping cream and add this as a first layer on the sponge cake. Before doing so place the ring of the spring form on top of the sponge cake. Add the cream. Cover with the second sponge cake and refrigerate for a few hours.
When ready to decorate, remove the ring of the spring form and decorate with the whipping cream, the fresh strawberries and strawberry syrup. I also decorated it with the Savoyard biscuits, which I halved and placed half a strawberry between the biscuits.
Kopiaste and Kali Orexi,