Káposztás Tészta is a simple Hungarian dish with two main ingredients: cabbage and pasta.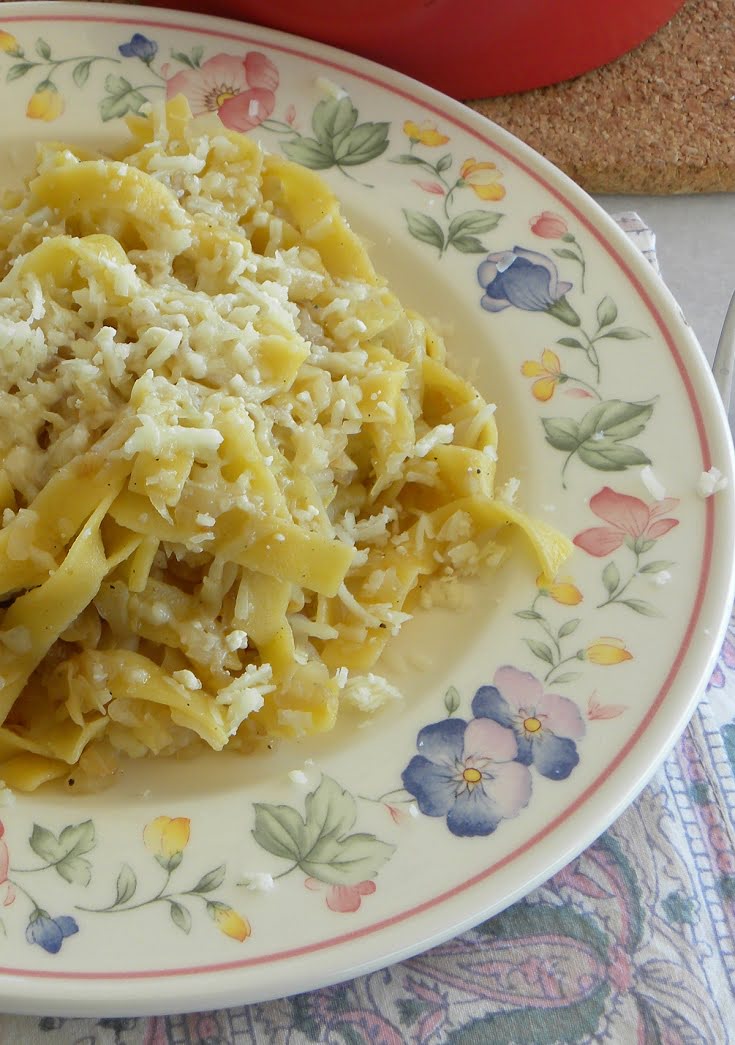 During September, I had a cooking class with a group of friends from Israel.
One of the dishes we made was a Cabbage Salad with Pomegranate. We chopped a head of cabbage but it was too much for the salad.
I was planning to keep it to make Lahanoryzo or the above salad, when a lady from the group said that she makes a Hungarian pasta dish with cabbage.
I was very much interested to try something new, so I asked her if she could tell me how she makes it and I took notes on the recipe.
At that time, we were making Gigantes Plaki (baked Giant Beans), so as she was explaining how she made the dish, I took notes of the instructions on the recipe.
Understanding the recipe by watching a video
When I made the recipe for the first time I googled the recipe and saw a video of a lady, talking in Hungarian making it.
Although I did not understand the language, I saw how she cut the cabbage, removed the core, then cut it again into large pieces, and then used a food processor to shred it into very small pieces.
The cook also showed the traditional way of grating it on a box grater or finely chopping it with a knife.
She then added a generous amount of salt to the cabbage and then squeezed out the water.
The woman then put the cabbage in a skillet and kept mixing it continuously for some minutes. She then put the lid on the skillet but she was there watching and mixing so as not to burn it.
Then she made some space on one side and added a lot of sugar, around 2 tablespoon, which she caramelized and then mixed with the cabbage.
Eventually the cabbage started changing colour and became light brown. I heard her saying the name of the dish which sounded like KAH-poe-stash Tay-stah.
She then removed it from the skillet to cool and showed that at this stage the cabbage could be freezed. She then cooked her pasta and mixed it in the cabbage.
Her pasta were big square noodles, about 3 x 3 cm wide.
I have never seen similar shaped pasta in Greece, so my choice was to use Greek pasta, called hylopites.
The lady then added black pepper to the dish and the video ended there.
That is how I made it the first time, when I made the video.
My variations
After learning the technique, I made it again and again, adding onions as my friends suggested but also adding some garlic and butternut squash cut into small cubes.
Another day I made it substituting the butternut squash with grated carrot.
I considerably reduced the amount of sugar given in her video, as the onion and the butternut squash add their own natural sweetness to the dish.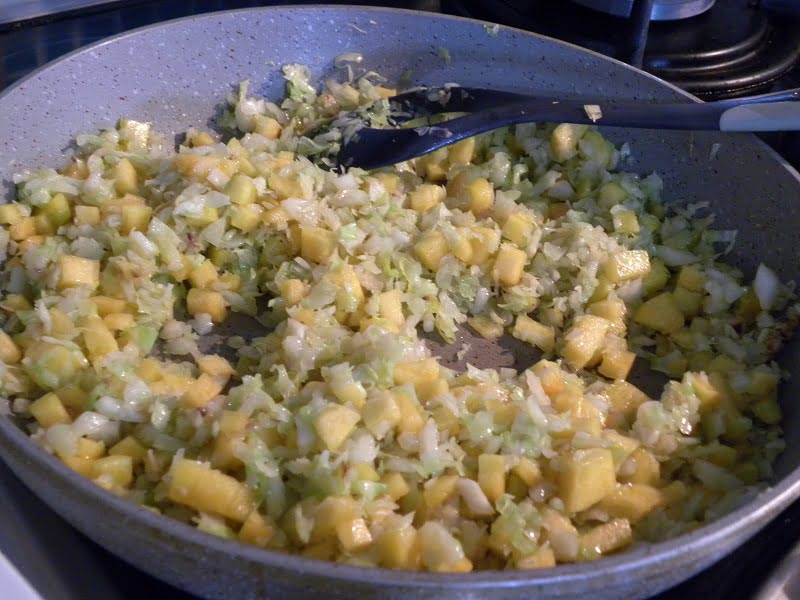 I served it with grated graviera, black pepper and some finely chopped wild fennel on top.
The first time I made the dish, it was good. However, the second time we loved it even more, as it was much closer to our taste.
I will definitely be making this dish in the future.
I am already thinking of some variations, for example to make it vegan, using eggless pasta and sautéing some mushrooms to add in it or even adding some smoked eggplant.
For meat lovers, I would add some Greek smoked, cured meat, called syglino or pasto or even bacon, although I am not a big fan.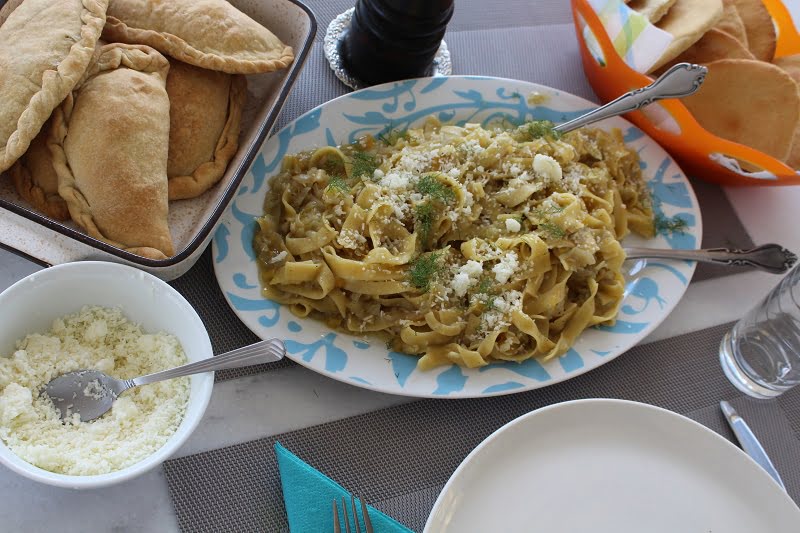 Káposztás Tészta (Hungarian Cabbage and Pasta)
Additional Time:
30 minutes
Total Time:
1 hour
30 minutes
Two simple ingredients pasta and cabbage are used for this delicious Hungarian dish. A great way to use any leftover cabbage.
Ingredients
6 cups white cabbage
1 tbsp sugar
1tbsp sea salt
3 tbsp extra virgin olive oil
2 medium onions, finely chopped
1 clove garlic, finely chopped
Salt and Pepper to taste
1 cup vegetable broth
500 grams egg pasta (I used Greek hilopites)
1/2 cup graviera cheese (optional)
Freshly grated black pepper to serve on top
1 tbsp finely chopped wild fennel (optional)
Instructions
Cut the cabbage in the middle and discard the hard core. Finely chop or grate the cabbage, from the big holes of the box grater.
Put it in a colander and sprinkle with some salt, about 1 tbsp would be enough. Let it stand for 30 minutes and squeeze out as much water as possible. A lot of water will come out.
Put it in a frying pan, with the sugar on one side, on medium heat.
Make some space for the sugar and mix it until the sugar caramelizes.
Keep mixing for about half an hour, watching and stirring regularly, until light brown in colour.
In a separate frying pan, add the olive oil and sauté the onions, until translucent.
Add the garlic and sauté for a few seconds until fragrant

.

Add the cabbage back in the frying pan and season with salt and pepper.
Add the vegetable broth and cook the cabbage for five more minutes.
Heat the water, add salt and cook the pasta, al dente, according to packet instructions.
Drain the pasta and combine it with the cabbage.
Serve with grated graviera cheese and lots of freshly ground black pepper on top.
Nutrition Information
Yield

5
Serving Size

1
Amount Per Serving
Calories

376
Total Fat

22g
Saturated Fat

7g
Trans Fat

0g
Unsaturated Fat

14g
Cholesterol

384mg
Sodium

1826mg
Carbohydrates

26g
Fiber

5g
Sugar

10g
Protein

20g
Like this post?
You can hover over this image to pin it to your Pinterest board. Also, please feel free to share it with your friends and fellow bloggers, using the share tools below.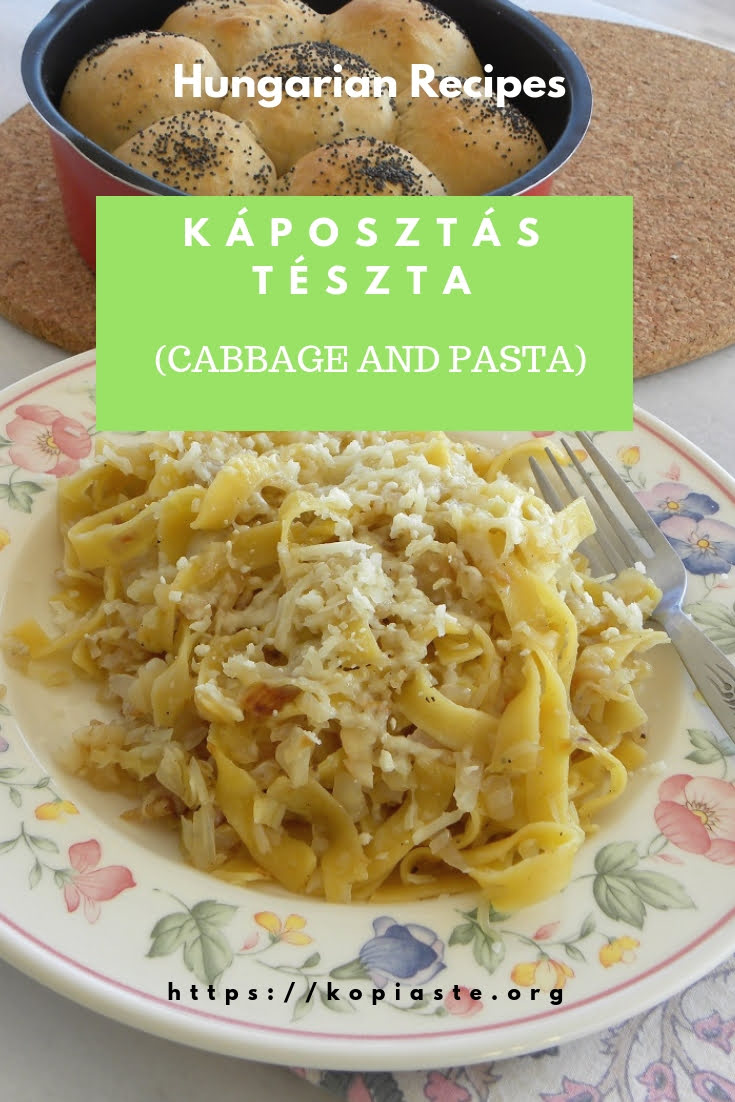 Kopiaste and Kali Orexi!