Loquat Jam is easy to make, with a sweet and tart taste, slightly floral from the fragrant geraniums and absolutely delicious.
Loquats start ripening during late spring until June.
They are very good for your health as they contain antioxidants and high levels of pectin, which is highly beneficial to remove the toxins produced in the body.
When ripe, they become quite sweet, making them the perfect fruit to make jam.
This fruit does not have a long shelf life, so even if you leave them a day before making the jam they will start having brown spots on them but even if they do, that will not affect its taste.
Once made into jam their colour transforms from yellow to amber and their taste is amazing, something between an apricot and mango, but slightly more exotic.
You can peel them if you like but it is time consuming.
If you like chunks of fruit in your jam you do not have to remove the skin but even if you do not, you can still have a smooth jam, by mashing them.
I preferred to puree half of them, as I like some chunks in the jam.
This was the first time I made loquat jam and as I did not know the exact time I needed to cook it, you will see that there were several stages to test if it had set.
This was necessary as jams set after they cool.
However, now that I have tested it, you can skip the second stage and cook it only once for forty minutes. Let it cool and if has not set, just repeat the last stage.
If you are cooking on gas, you might need to cook them for more time. As mine was cooked on a ceramic stove, the stove continues to produce heat for at least ten more minutes.
The more you boil the jam, the thicker it becomes and its amber colour becomes darker. If you usually use a thermometre, just turn off the heat when in reaches 105 degrees centigrade.
If you do not have fragrant geranium leaves you can make it without them or add vanilla or if you like it spicy, you can add a cinnamon stick or 1 tbsp fresh, grated ginger.
I highly recommend trying this jam at least once. It's absolutely delicious, and the colour of the jam is spectacular.
Useful Tips:
◊ If you do not have any fragrant geranium leaves you can add a piece of cinnamon stick or some vanilla or if you like a more exotic taste, add 1 tbs fresh, grated ginger.
◊ Lemon juice is added in all jams or fruit preserves in order to prevent sugar from crystallizing. One tablespoon is enough but if you like a more tangy taste, you can add up to four tablespoons. It also helps setting procedure.
◊ Sugar in jams or preserves acts as a preservative. If you add the correct amount of sugar, it will have a long shelf life and when you open a jar, no refrigeration is necessary.
It's the equivalent of what salt is used for curing meat or vegetables. Both of them prevent microbial spoilage. In case you do not succeed the first time and one of your jams or preserves forms mildew on top see How to fix spoon sweets or jams.
◊ If you see foam forming on top of your jams, while boiling, don't worry. You do not have to remove it. It's only bubbles from the sugar and mixing it it will finally dissolve in the jam.
◊ Before bottling your jams or preserves, it is essential to wash the jars well with soap and then sterilize them in order to prevent microorganisms, fungus or anything else that help them spoil, from developing.
◊ If you use a wooden spoon, use it only for your preserves. If you use it while cooking onion or garlic, this might affect the taste.
Jams or fruit preserves may overflow during boiling process, if left unattended. If you leave the wooden spoon inside or over the pot, it will prevent the jam or syrup from overflowing but be sure there is enough fluid, as otherwise it may burn.
◊ If you wonder why after bottling, I flip the jars upside down, the reason is that they seal the jar and again prevent spoilage.
Although you may read elsewhere that some people don't recommend this method, I believe in older methods, which were very wise. My mother used this method and I've tested it over and over and it works for me.
◊ Finally, something else that I've learned from my mother is to never test jams or preserves, while cooking or eat them when done, using the same spoon or fork twice.
My mother may have not known why this happens but apart from being gross, but even if you are the only one eating from the jar, saliva will spoil the jam or preserve due to an enzyme found in saliva.
In Greece and Cyprus you will see loquat trees everywhere but if not, you can find loquats at the farmers' market or groceries, even in supermarkets.
When we lived in Cyprus we had a loquat tree in our yard and enjoyed eating them right from the tree.
I have so many lovely memories sitting under its thick shade saying jokes and playing backgammon with my friends.
Even in Athens, where the buildings do not have a lot of yard space, we also have one in our back yard.
When we moved to Assini, we started planting some of our favourite fruit trees.
Apart from the citrus trees, which were already in our property, we hired someone from the village to graft a few of them to make two varieties of oranges, bergamots and clementine mandarins.
We have planted a vine (veriko variety), which we brought from Cyprus, two fig trees (one brought from Cyprus – vartika variety), two pomegranate trees, an apple tree, a plum tree, a pear tree, a peach tree and a loquat tree.
This year we are hoping to have the first fruit from some of the trees we planted. Our apple and plum trees have produced a few fruit on each and can't wait for them to ripen and for the others to grow and bear some fruit.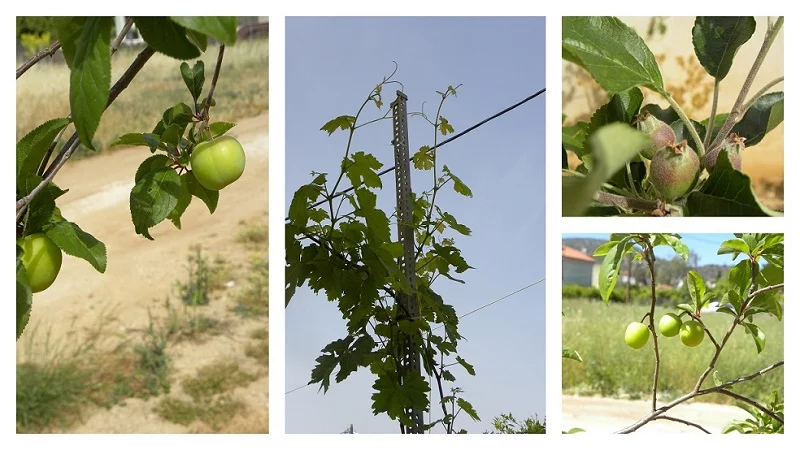 I recently made some loukoumades, so I kept some without adding any honey on them. Instead, I made some mini sandwiches with them and served them with loquat jam and some Greek graviera.
Loukoumades with loquat jam are perfect for breakfast, brunch or just for a snack!
Update: May, 2021
This year I made some Loquat Jam again. The only difference this year is that I removed the skin from the loquats and added 4 apples (I used 2 starking apples and 2 Golden Russets, known in Greece as "Mila Tripoleos"), which I grated on the larger holes of a box grater. I also increased the sugar by one more cup.
Fragrant Loquat Jam
Yield:
4 jars 1/2 kilo each
Loquat Jam is easy to make, with a sweet and tart taste, slightly floral from the fragrant geraniums and absolutely delicious.
Ingredients
1380 grams loquats, deseeded and stems removed
1 kilo sugar
4 fragrant geranium leaves
4 tbsp lemon juice
Instructions
Wash and drain the loquats.
After deseeding, place them in a large pot and cover them with the sugar.
Set aside until the loquats release most of their juice and wet the sugar, about 4 – 5 hours.
Mix with a wooden spoon, occasionally mashing them to release more juice.
Add the fragrant geranium leaves.
Bring to a boil and simmer for 20 minutes.
Turn the heat off and wait until it cools completely.
Put half of the fruit with a little syrup and a geranium leaf in a food processor and puree.
Put it again on the heat and bring to a boil. Simmer again for 20 more minutes.
Turn off the heat and let it cool completely.
At this stage it should jell. If not, repeat the same procedure once again for ten more minutes.
Add the lemon juice and when it comes to a boil, remove from the heat.
Ladle in ½ kilo, sterilized jars.
Clean the rim of the jars and screw on the lids. Put them upside down until they cool.
Store in your pantry.
No refrigeration is necessary.
Nutrition Information
Yield

4
Serving Size

1
Amount Per Serving
Calories

1132
Total Fat

1g
Saturated Fat

0g
Trans Fat

0g
Unsaturated Fat

0g
Cholesterol

0mg
Sodium

10mg
Carbohydrates

293g
Fiber

6g
Sugar

250g
Protein

2g
"These values are automatically calculated and offered for guidance only. Their accuracy is not guaranteed."
Jams and Marmalades
Some more homemade jams and marmalades
PIN FOR LATER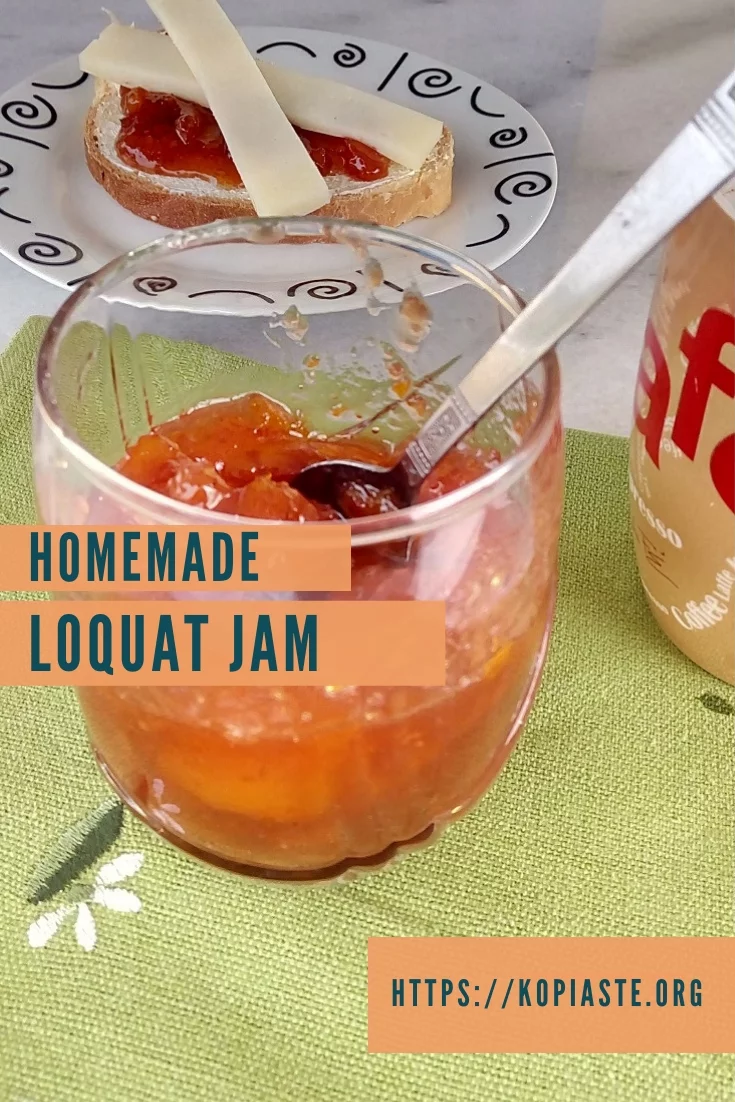 Kopiaste and Kali Orexi!