This is the easiest strawberry jam you can make and it tastes amazing!
There are many recipes for strawberry jams which you can follow but in my opinion you cannot follow the same recipe always. My secret is to boil the jam in stages to achieve the right density.
As some strawberries are juicier than others, it may take more time for the juicy ones to set. As the jam sets after it cools, start by boiling it for twenty minutes and let it cool completely. Continue for another ten minutes and let it cool again. If it doesn't set, repeat this stage.
When it sets, bring to a boil, add the lemon juice, mix and remove from the heat.
If you have a candy thermometre then the procedure is much easier. The jam will be ready when it reaches 105 degrees C. Add the lemon juice and the jam is ready.
The amout of sugar to add and cooking time will depend on how sweet the strawberries are raw and how juicy they are. A good ratio is 1 kilo strawberries and 1/2 kilo sugar, if you don't want the jam to be too sweet, as I do. If the strawberries are tart, you can add 800 grams upto 1 kilo sugar, if you like it very sweet.
As I like some chunks of fruit in the jam, I leave them whole if they are small or cut them in big pieces if they are big but you can cut them into smaller pieces if you like. If I add them whole, I just crush them with the wooden spoon to release some of the juice.
The next step is to add the sugar on top and let them sit overnight, to release their juice and for the sugar to dissolve. Before putting it on the heat mix it to make sugar that the sugar has dissolved.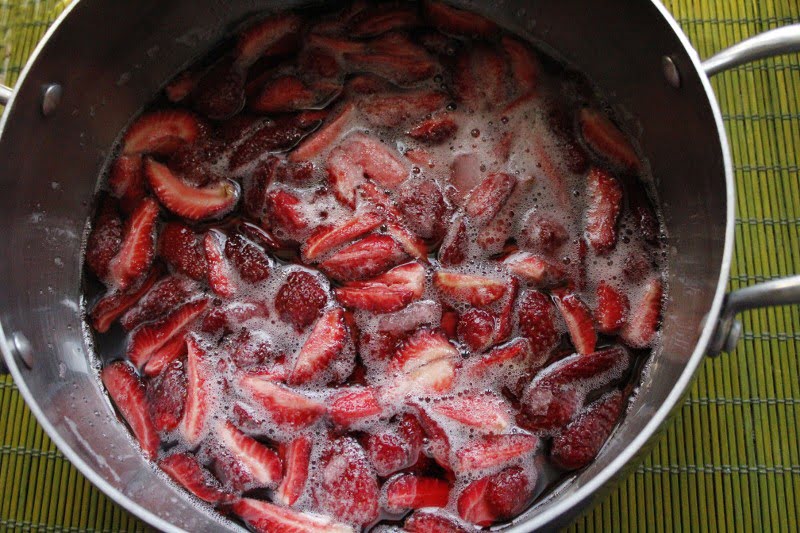 As the jam boils, you will see foam forming on top. This is nothing to worry about as it is just air bubbes as the sugar boils.
As your jam may overflow while it is boiling, keep a wooden spoon inside the pot or a wooden stick on top, as this will prevent it from overflowing.
There are many methods to sterilize the jars. I have been making jams for many years and although at the beginning I used to boil the jars and lids the past years I use the washing machine. What I do is before using them, I wash them in the washing machine in the high temperature program (65C). I usually wash them in the evening and they stay in the washing machine all night.
Would you believe that in the morning they are still warm? This has been working well for me for years but feel free to use whichever method you prefer best.
This week I couldn't resist buying some strawberries. I usually check the prices before buying and I spotted someone selling them with 2 Euros a kilo. This was a great opportunity to make some strawberry jam as the strawberry season is almost over.
My friends Rosie, of Rosie Bakes a Peace of Cake and Pixie of, You say Tomahto and I say Tomayto are hosting their first event "Putting up" and they are hoping to make it a seasonal event. If you are into making jams and preserves there is still plenty of time until the 21st of May to participate and who knows you may win the raffle which will be a book on Jams and Preserves.
Other Jams and Marmalades
Some more homemade jams and marmalades
Strawberry Jam
This is the easiest strawberry jam you can make and it tastes amazing!
Ingredients
2 kilos strawberries
1 kilo sugar
6 tbsp lemon juice
Instructions
Wash the strawberries with plenty of cold water and remove the stems. Place them into a colander so that they dry and then put them in a large pot.
Add sugar and press them with a wooden spoon to release some juice. Cover with cling film and refrigerate overnight.
The next day make sure that the sugar has dissolved and bring to a boil. When they begin boiling lower heat to the minimum and stir it once in a while.
Simmer for 20 minutes and let it cool.
Repeat this procedure until the jam sets.
Put is back on the heat, add the lemon juice, stir and remove from the heat.
Ladle in ½ kilo, sterilized jars.
Clean the rim of the jars and screw on the lids. Put them upside down until they cool.
Store in your pantry.
No refrigeration is necessary.
Nutrition Information:
Yield:

2,5 kilos
Serving Size:

1
Amount Per Serving:
Calories:

2263
Total Fat:

3g
Saturated Fat:

0g
Trans Fat:

0g
Unsaturated Fat:

2g
Cholesterol:

0mg
Sodium:

26mg
Carbohydrates:

579g
Fiber:

20g
Sugar:

549g
Protein:

7g
PIN FOR LATER
Kopiaste and Kali Orexi,