Lamb is the star of the Easter lunch and I want to offer you an exquisite recipe from Tuscany, a classic. How to prepare the leg of lamb in milk.
When I saw the three ingredients for this month's Royal Foodie Joust, a cooking challenge, chosen by last month's winner, my friend Peter, of Souvlaki for the Soul, chose lamb, fennel seeds and milk.
I thought it would be impossible to use all three ingredients in a recipe.
First of all I had trouble finding some fennel seeds, but now that I have found them, you will be seeing them often in my recipes.
I loved them the first minutes I crushed them and the aroma came out, not to mention the wonderful taste it gives to food.
Since I made this dish last week, I've experimented using it in other recipes, which I will post at a later stage.
So, in order to participate at the Joust I google searched for a recipe, writing the three main ingredients: fennel seeds, parsley and dairy (I wrote milk).
I found a recipe by Mario Batali with lamb. Those who read my blog know that I am not a great fan of lamb, neither are the rest of the family, so I decided to make it with goat meat, which does not have much fat.
However, I did not find goat meat so I settled with lamb.
The recipe proposes lamb shoulder, however lamb leg has more lean meat and I spent an hour removing all visible fat in the meat.
Batali calls lamb braised in milk "absolute poetry," especially when it's flavoured with a scattering of fennel seeds. "This," he adds, "is what the Roman Empire must have tasted like." I must add that he was absolutely right.
I am not going to speak about Roman cuisine but I have done some reading about ancient Greece and about what they ate and like to share some things I learn through my posts.
Recently, I came across a Greek University teacher, in Melbourne University Mr. George Theodoridis, and we exchanged a few e-mails. I'd like to share some of the information I learned from him.
Mr. Theodoridis is a great ambassador of Greek culture and has translated nearly all ancient Greek dramas, plays, poetry etc., into English. I am sure that not only my friends of Greek origin, living abroad would love to read Aristophanis, Euripides, Aeschylus, Sophocles, Sappho etc., in English but I am sure some other of my friends will, as well.
It seems that food recipes were very popular from ancient times and some of these ancient plays were a great source of information about what the ancient Greeks ate.
I wanted to learn more about the origin of Greek food and I asked a few things. This is what he told me:
"….. The Roman tragedians and comedians learned from the Greeks, Shakespeare learned from the Greeks, the French learned from the Greeks; all progressive nations learned from the Greeks and progressed from there. To this day the Christian religions (as well as the other two Abrahamic religions) have Aristotle in their core teachings.
As far as food, is concerned, I do not like the notion that food is separated by the ridiculous, pretty word, "cuisine." Food evolved from the very day life appeared on this planet. The smallest organism eats something before it gets eaten by something else, until we, the humans, who are at the top of the food chain, eat them!
So, food, then, until quite recently, when travel became much swifter, was very localized. People ate what was around them and garnished their food with what herbs and spices grew around them. That's all really!
Eventually, the rich would travel further – Herodotus travelled thousands of miles into Africa and Asia – and these travellers brought back foods, usually nuts and grains that they found in other lands. They've also come back with many ideas as to the way different localities prepared their food.
Religious leaders have always put prohibitions on food: what to eat, what not to eat, when to eat what, how to kill animals, which animals to kill, etc, etc.
To go back to the point you're making about Greek food being Turkish – or Middle to Near Eastern – this is, again, quite a silly statement for people to make.
Nobody knows who was the first to cook a shish kebab, or a souvlaki, a stuffed pepper or tomato, for example! Why would it have to be a Turk or an Egyptian or even a Greek? Why not a Libyan, a person from Caucasus?
Lamb was around from the moment humans were around: so were cows, chickens, fish, birds and a whole array of vegetables. So, all these dishes could have originated anywhere in the world!
We have, of course the vegetables that are quite recent: tomato, potato and several fruits; but generally speaking, what we could see in Greece we could also see anywhere on the planet!
We must also not forget that the Greeks came to Greece in at least three waves after the Minoan civilisation of Crete: Dorians, Ionians and Aeolians being these three, but the Aegean basin comprised many cultures and ethnicities all with their own ways of preparing food.
Incidentally, I find it hard to believe that the Spartans lived only on Melan Zoumos (Black soup!) They had slaves, the Hellots and they worked the land, so what work did they do on that land, other than growing crops?
As well, not only Greece but also every other country on earth had numerous population shifts with empires being raised and fallen time and time again. Think of all the empires and how their leaders treated the local populations!
The rest of Greece, particularly those close to the sea, ate a great deal of fish and we often see in Aristophanes' work, much talk about the price of sardines. There are also references about chickens (see Lysistrata for example).
So, there was much fish, chicken, lamb and beef. There were also wild animals, like deer, hogs foxes, etc.
Homer talks of sacrifices of hekatombs (a hundred cows) and there were lots of pigs.
Ancient Greeks also talked of boiling a variety of birds, from sparrows to swallows. Look at Aristophanes' play "The Birds."
These were the "flesh" they dealt with. Euripides in his "Cyclops" talks about Cyclops throwing the human cuts onto the coals to roast them, or to pierce them with skewers and put them on the coals or to boil them. Remember Polyphemus loved human flesh!
So, there were meats and vegetables, as well as herbs like parsley and fennel (Dionysos' emblem). Honey was also available and honeyed figs were occasionally served and there were grains, like wheat and barley from which they made bread and cakes. "Honey cakes" were used in sacrifices, on the altar.
Doctors, like Hippocrates, taught that we must know when to eat "hard" foods and when to eat "soft" foods and Pythagoras (the mathematician) who had a school of philosophy-cum-theology, said that we should avoid foods like beans… but, intelligent though he was, he was also quite crazy, believing that a soul could jump (transmigrate) from one living creature to another: from human to dog, etc!
The cooking method would be again whatever was possible at the time but it would mostly be rather bland by today's standards. No salt or pepper, for example. Wine and olives would accompany the main meal and it would be followed by fruits and nuts, like grapes, dried figs, walnuts, etc.
Garlic and onions were also available and much loved. Beans, lentils and leaks were also available.
Food is a combination of available ingredients and imagination; and those two elements are common to every human being on earth…..".
Ancient Greek cookbooks: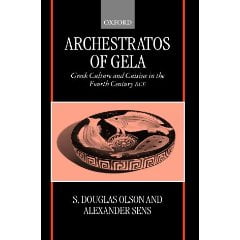 The first cookbook was written by the Greek food gourmet, Archestratos, in 330 B.C., which suggests that cooking has always been of importance and significance in Greek society.
Lamb braised in Milk with Garlic, Parsley and Fennel
Beginning with the recipe I chopped the garlic and parsley but I am not sure what he meant by chopping the fennel seeds so I just crushed them with a mortal and pestle and mixed them with the parsley.
Then when I started sautéing the parsley-garlic-fennel paste (which was not a paste) I thought that sautéing all that lamb in not too much olive oil I would end up burning the garlic plus the meat would not roast, so I set aside the pan and put my non stick frying pan on the heat with a few spoonfuls of oil olive.
I then sautéed the meat and then transferred it to the pan and continued the procedure as stated in the recipe.
I simmered it for two hours, then removed it from the pan and blended the hot milk. I transferred it back into the saucepan and simmered it for another 5 minutes and when it was thick enough I put the meat back in the sauce.
I served it over linguine and it was perfect. I must say that although I was a bit reluctant to make lamb it was so delicious that I think this dish will put lamb or goat back on our table again.
The following day there were leftovers and it was even better.
Lamb braised in Milk
Total Time:
2 hours
30 minutes
Lamb is the star of the Easter lunch and we want to offer you an exquisite recipe from Tuscany, a classic. How to prepare the leg of lamb in milk.
Ingredients
2 - 3 garlic cloves, minced
1 cup chopped flat-leaf parsley
2 teaspoons fennel seeds
1/2 cup extra-virgin olive oil (I used more)
1200 grams leg of lamb, trimmed and cut into 2-inch pieces
Salt and freshly ground pepper
4 cups milk
200 ml heavy cream
2 rosemary sprigs
Instructions
Using a chef's knife, chop the garlic with the flat-leaf parsley and fennel seeds to form a coarse paste.
In a large non stick frying pan, heat the olive oil and saute the meat on both sides. Remove to the pan and add the garlic paste and cook over moderate heat until fragrant, about 1 minute. Transfer to the pan, raise the heat to moderately high. Cook, turning, until lightly browned all over and season with salt and pepper.
Add 1/2 cup of the milk to the pot and cook over high heat for 2 minutes, stirring to scrape up any browned bits. Add the remaining 3 1/2 cups of milk, the heavy cream and rosemary. Bring to a simmer, then reduce the heat to low. Cover and cook, stirring occasionally, until the lamb is tender, about 2 hours.
Using a slotted spoon, transfer the lamb to a bowl; discard the rosemary. Boil the milk mixture over high heat until reduced to 4 cups, about 5 minutes. Working in batches, puree the hot milk mixture in a blender. (As the leg of lamb had bones, you must be extra careful that there are no pieces of bones in the milk sauce). Return the sauce to the pot, add the lamb and simmer over low heat until warmed through.
Season with salt and pepper and sprinkle some parsley on top and serve.
Nutrition Information
Yield

8
Serving Size

1
Amount Per Serving
Calories

662
Total Fat

50g
Saturated Fat

20g
Trans Fat

0g
Unsaturated Fat

27g
Cholesterol

178mg
Sodium

212mg
Carbohydrates

8g
Fiber

1g
Sugar

1g
Protein

44g
Kopiaste and Kali Orexi!