Kattimerka (in the Greece called katimeria), is a Cypriot traditional pastry dessert made with dough and were fried in a traditional frying pan called sadji, which unlike the Arab Saj, which is dome shaped, the Cypriot sadji resembles more like a wok.
Epsima (in Cypriot dialect) and Petimezi (in Greek) is a molasses-like syrup made from the juices of grapes, dates back to antiquity and it is available in Greek and Cypriot deli shops.
Teratsomelo or black gold as it was called in the old days is again a similar molasses like syrup made from the carobs. The carob trees are abundant on the island and carobs used to be exported worldwide, so Cyprus was a wealthy country because of carobs.  Zygi, a coastal village between Limassol – Nicosia, was named Zygi because it means "to weigh".  It was a  weighing station before the carobs were exported by vessels, abroad.
The word "carat" from the ancient Greek word "keration", was given after the shape of the carob pods.  The beans inside the pod are of the same size and weight, so they were used in antiquity to weigh their precious stones.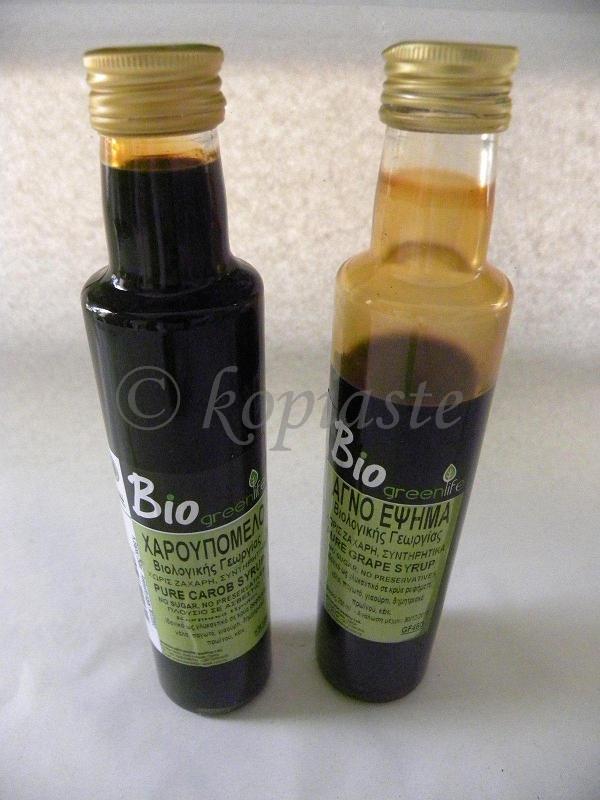 The recipe is included in my cookbook Mint, Cinnamon & Blossom Water, Flavours of Cyprus, Kopiaste as well as in Volume 2 of my e-cookbook, sold on all Amazon stores.


Kopiaste and Kali Orexi,