Homemade Pizza Dough is very easy to make. All pizza dough starts with the same basic ingredients: flour, yeast, sugar, water, salt, and olive oil.
Apart from pizza, you can use this dough to make many other creations. (You will find a list at the end of the post).
What kind of flour can I use to make Pizza dough?
Flour is the main ingredient in pizza dough, and the type you use can have a big effect on the end result.
The best one to use is bread flour because it makes the dough more elastic and crunchy, due to the greater amount of gluten it contains.
Of course we can also use all-purpose flour or a combination of both and I use it many times because I do not always have bread flour at home.
The texture of your pizza dough is usually associated with the amount of gluten found in the flour as gluten creates a stable texture, making it one of the crucial ingredients of pizza dough.
A few more minor details that make a difference.
Sugar is necessary as it helps activate the yeast and makes for a crispier crust. I sometimes add honey instead of sugar.
The water used must be lukewarm (tepid). Lukewarm water is neither hot or cold.
If you have a thermometre the temperature is around 40°C (104°F). If you don't have a thermometre do it the old way.
Boil some water and then gradually add room temperature water testing each time slowly with your pinky.
If you can hold your pinky in the water and count up to to 5, then the water is ready.
Another secret is to wet the dough with olive oil before rising, which makes a lovely, elastic dough.
At this stage you can use the pizza dough but it is preferable to make it the previous day.
Put your dough in a bowl and cover it with cling film and a kitchen towel. Put it in the fridge and let it rise slowly overnight, at least for 12 hours.
Next day take it out of the fridge so that it comes back to room temperature (about an hour), knead it for a few minutes and the dough is ready for use.
I've been making pizzas for many years but this is my best pizza dough.
My friends and relatives who have tried it, say that it's the best crust they've ever had, considering that it is not baked in a wood fired oven nor baked on a pizza stone.
I have a few pizza recipes to share with you, as well as a couple of calzone recipes I made recently using the same dough, so before giving the recipes here is the dough I use.
Apart from making pizza from scratch, how about making pizza with your leftovers?
Pizza Bolognese:
Ingredients:
Pizza dough
Leftover Bolognese sauce as the base
Any other ingredients to enrich it such as mushrooms, bell peppers, onions etc.
Mozarella or other cheese than melt on top
Directions:
Prepare dough as above.
Grease your baking tin with olive oil and spread the dough.
Add the leftover bolognaise as the base. Put any other ingredients you like on top and cover with cheese.
Preheat your oven to 200 degrees C / 400 F and bake until golden, for about 20 minutes.
Leftover pizza is great for breakfast, brunch or as a snack the next day.
Here are a few other recipes I made pizza, using leftovers:
Pizza Pull-aparts:
Same dough, filled with Bolognese and topped with feta.
Spetzofai Pizza:
All you need for Spetzofai pizza is some cheese on top. The dish itself has sausages and peppers.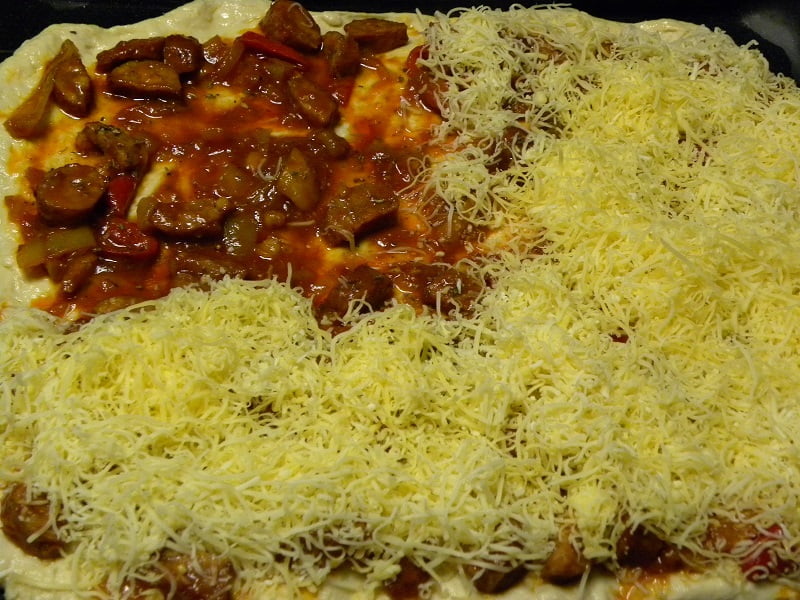 Pizza Peinirli
Although I have never posted the recipe for "peinirli" before, as the recipe is included in my cookbook "More Than A Greek Salad", the dough for peinirli is slightly different for that of pizza, as instead of water we add milk.
I have used this dough to make these gondola shaped boats, which I filled with a filling I made with leftover meat sauce from the equivalent to the Greek Bolognese, which I mixed with some bechamel sauce.
After filling the boats I topped it with lots of cheese, suitable for pizza and baked them in the oven for about 20 minutes.
As I did not intend to post the recipe I did not take any notes of the exact measurements I used.
However, they were so delicious that it is worth mentioning the ingredients even if they are roughly estimated.
For about 1 cup of leftover meat sauce I made a bechamel with about 2 tbsp olive oil, 2 tbsp flour, salt, nutmeg, 1 1/2 cups of milk and 1 egg.
The meat sauce was mixed in the bechamel and left to cool before filling the boats. I rolled the dough thin and oblong, I added the meat sauce and then topped it with cheese.
I then twisted the edges to give them the shape of the boats. With the above amount of dough it yields about six peinirli.
There were two leftover, which the next day which I heated on the sandwich griller but without the plates touching the cheese.
They made a lovely snack together with some Greek coffee.
How to make Easy Homemade Pizza Dough
Total Time:
1 hour
15 minutes
Ingredients
Starter:
2 tbsp bread or all-purpose flour
8 grams (0.28 oz) active dry yeast or 25 gr fresh yeast
1 tbsp sugar
1/4 cup lukewarm water
Dough:
500 gram bread or a mixture of bread and all-purpose flour
1 tsp salt
1 cup lukewarm water
4 tbsp olive oil, divided
Instructions
In a medium sized bowl combine flour, yeast and sugar and mix.
Pour the lukewarm water and mix until it becomes a batter.
Cover with cling film and a kitchen towel and let it rest for 5-10 minutes or until it bubbles. During this time, the yeast should start to bloom and froth up.
Attach the dough hook to your stand mixer. Add the flour, 2 tbsp olive and salt and mix on low speed.
Add the yeast mixture and continue mixing on low speed.
Finally add the water gradually and mix until the dough gathers around the hook.
Remove the hook and add the remaining 2 tbsp olive oil and coat the dough.
Cover with cling film and a kitchen towel and let it rise, until it doubles in volume.
When ready to use, transfer to a lightly floured surface and knead briefly, so that it deflates and becomes smooth (about 3-5 times).
Your dough is now ready to make pizza or other delicious creations.

Notes
Add the water gradually, as depending on the type of flour it might need less or more.
Nutrition Information
Yield

1
Serving Size

1
Amount Per Serving
Calories

3042
Total Fat

79g
Saturated Fat

12g
Trans Fat

0g
Unsaturated Fat

61g
Cholesterol

0mg
Sodium

4989mg
Carbohydrates

491g
Fiber

37g
Sugar

43g
Protein

96g
"These values are automatically calculated and offered for guidance only. Their accuracy is not guaranteed."
Pizza Dough Creations
Here are a few recipes you can make using pizza dough.
Kopiaste and Kali Orexi,