Sharing is caring!
Gingerbread men are soft cookies, flavoured with ginger, cloves, nutmeg or cinnamon and sweetened with honey, sugar or molasses.
The origin of gingerbread is a bit complicated as it is know through Europe but today lets talk about its connection with Greece.
Ginger (Zingiber officinale), was known in Greece from antiquity. In fact it is mentioned by Dioscourides (40 – 90 AD) for its medicinal properties.
In ancient Greece, ginger was known as zingiberis (ζιγγίβερη ή ζιγγίβερις – ancient Greek ζιγγίβερις), from Prakrit (Middle Indic) singabera and arrived to Greece through the spice route trade.
Gingerbread history
Gingerbread were brought to Europe in 992 AD by the Armenian monk Gregory, (also called Gregory Makar and Grégoire de Nicopolis), who lived in Ancient Nicopolis.
At the time, Nicopolis was the capital city of the Roman Province of Epirus (which was near Preveza, in western Greece).
Gregory left Nicopolis to live in Bondaroy (north-central France), near the town of Pithiviers, in North-Central France.
He stayed there for seven years and taught gingerbread baking pain d'épices (literally "spice bread") to French Christians.
It was then spread to many other parts of Europe.
During the 13th century, gingerbread German immigrants brought them to Sweden. In the 15th century Germany, a gingerbread guild, controlled production. Source: Wikipedia
Eventually it took the form of the cookie we know today, retaining its old name.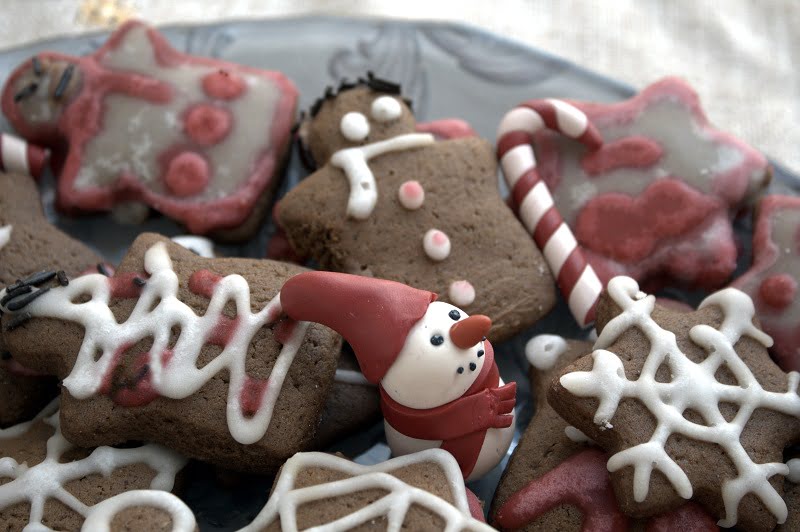 The recipe is based on my Spiced Carob Cookies, with a few minor changes. I love carob syrup, which adds an amazing chocolaty taste.
In this recipe I use dry ginger and cane sugar and I add no cocoa or chocolate.
I added some of the Gourmet Salt I made with Peppermint. You can just add plain coarse sea salt if you like, but although the taste of peppermint is very subtle, it adds to the overall flavour.
The gingerbread recipe is perfect to make with kids, and to eat with the rest of the family at Christmas or any time you fancy.
Their taste is amazing. They are so addictive you just can't eat just one.
Decoration
The decoration takes a lot of time. As it was our very first time attempt decorating them, it took about an hour for my daughter and I to finish them.
If you like, you can decorate them with Royal Icing. However, I've stopped using it because of the raw egg.
Instead, I made a lemon glaze, which matched perfectly with the other flavours.
If you like the taste of lemon, as much as I do, all you need is fresh lemon juice and icing sugar. You can add flavour if you like and if you want coloured icing, just add a drop of food colouring.
If you don't like lemon, you can add just a tablespoon of lemon juice and add other liquid of your choice. Be careful what to add, as it may colour the icing. Milk, rose water or blossom water would be my other choices.
Although I have a decoration pen and some writing icing, I forgot to bring them along from Asini, so I had to improvise.
I bought a syringe from a drug store, which I used (without the needle) to make the decoration on top.
Another way to decorate them, if you do not have proper equipment is to use a sandwich bag and make a very small hole at the corner.
PIN FOR LATER
Kopiaste and Kali Orexi!

Sharing is caring!