These Kourabiedes by Parliaros are Greek Christmas cookies, similar to shortbread cookies which are flavoured with rum and real vanilla pod and filled with toasted almonds and pistachios.
There are many recipes for kourabiedes but the main ingredient which gives this traditional Greek cookie its taste is the Greek ewe's and goat milk butter.
However, if you cannot find Greek sheep's butter you can also make them with any other butter you usually use.
I have made kourabiedes quite different this year after watching a Greek cooking show by Stelios Parliaros, a famous Greek pastry chef.
I mixed in some pistachios as well and used real vanilla pod, added rum and they were fantastic. If you want a more traditional recipe, see my last year's post here.
The only difference I made to his recipe was to use a vanilla pod and add pistachios in half of them.
To make these cookies, I start by roasting the almonds (with skin on) and the pistachios so that they cool before using them. You can roast them ahead but I usually do this when preheating the oven.
I roasted them separately in two tins as pistachios need about 8 minutes and the almonds around 15 minutes, stirring them a couple of times.
I used the Paddle Beater Attachment and I beat the butter with icing sugar for almost half an hour, until the mixture was light and fluffy.
The traditional flavour for kourabiedes is vanilla. To flavour them, I used a real vanilla bean. Vanilla beans are quite expensive, so feel free to substitute them with either vanillin or vanilla essence.
How to use a vanilla bean
To cut open the vanilla bean, use the tip of a sharp knife and cut along the bean.
Using the knife to scrape the seeds and this is what to use.
The seeds of one vanilla bean are equivallent to about 3 teaspoons of vanilla extract, depening of the size of the bean.
Once split open, the seeds must be used, as these cannot be stored. However, if a recipe calls for one teaspoon of vanilla extract, just cut 1/3 of the bean and then split open just this piece.
Wrap the remaining piece in cling film and store in the refrigerator.
Do not discard the used part. You can put it in a jar and fill it with sugar. Leave it there for about a month so that the sugar is flavoured and then use this sugar in your desserts.
Next step is to combine all the dry ingredients. Put the flour in a bowl and add the baking powder, salt and vanilla seeds and mix.
Lower mixer speed and then add the flour mixture until incorporated.
Usually an alcoholic drink is added to kourabiedes. Parliaros chose to use rum, which I happened to have at home. The traditional alcohol used is brandy or you can use any other liqueur.
After the addition of the rum, stop the mixture to check the cookie dough. Test it with your fingers. It should be a soft dough which does not stick to your fingers.
When the nuts cool, coarsely pound them with a pestle and mortar or in a food processor. You can mix them all in the mixture if you like but I prefered to use them separately to make two different kinds.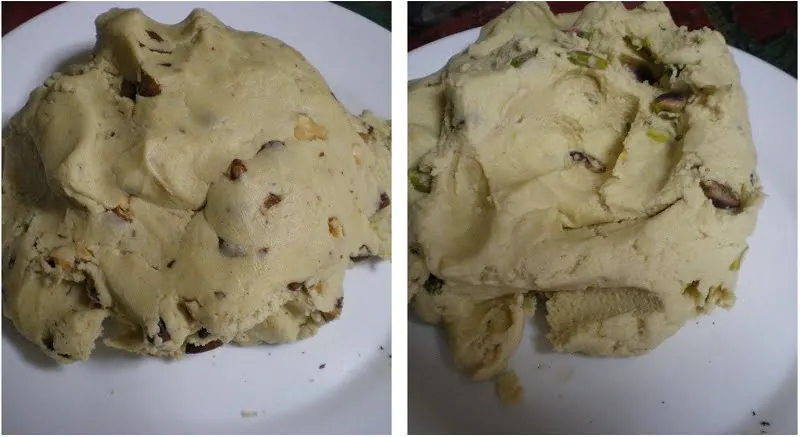 I divided the dough in two parts and in most of the dough I added the almonds and in the remaining the pistachios.
To distinguish them, I made the ones with the almonds round and baked them on a baking tin lined with parchment paper.
The ones with the pistachios I gave them a crescent shape, which is more traditional.
Be careful not to make them too big as they will expand when baked. Make them about the size of a walnut and space them 3 – 4 cm (about an inch or more) apart.
Bake them for 20 – 30 minutes, depending on their size and your oven.
Let them cool and turn them oven. Sieve some icing sugar and them turn them over. Sieve more sugar on top and place them in a platter.
Leftover icing sugar can be reused by sieving it again.
Wishing you all Happy Holidays!
Kourabiedes by Parliaros
Total Time:
1 hour
25 minutes
These Kourabiedes by Parliaros are Greek Christmas cookies, similar to shortbread cookies which are flavoured with real vanilla pod, filled with toasted almonds and pistachios and when baked they are coated in icing sugar.
Ingredients
300 grams Greek Ewe's and Goat milk butter
110 grams icing sugar
1/3 vanilla pod or 1 tsp vanilla essence
30 ml black rum
600 grams all-purpose flour
1 tsp baking powder
A pinch of salt
100 grams almonds with the skin on, roasted
40 grams pistachios, roasted
200 grams icing sugar, for coating them
Instructions
Preheat the oven to 180 degrees Celcius and toast the pistachios for 8 minutes and the almonds for 15 minutes. Set aside to cool and coarsely pound them.
Attach the paddle beater to your mixer and beat the butter and sugar on high speed, until light and fluffy.
Combine flour, baking powder, salt and vanilla seeds. Lower mixer speed and add the dry ingredients, mixing until incorporated.
Add the rum and mix for another minute until it is absorbed.
Finally add the nuts and mix again.
Line a baking tin with parchment paper and shape kourabiedes in whatever shape you like.
Bake for 20 - 30 minutes, depending on your oven.
Let them cool and turn them over. Sieve some icing sugar to coat them and turn them over. Sieve some more sugar on top.
Put them in a platter and sieve the leftover sugar on top.
Store them in an airtight container to keep them crunchy.
Nutrition Information
Yield

40
Serving Size

1
Amount Per Serving
Calories

115
Total Fat

3g
Saturated Fat

1g
Trans Fat

0g
Unsaturated Fat

2g
Cholesterol

2mg
Sodium

39mg
Carbohydrates

20g
Fiber

1g
Sugar

8g
Protein

3g
"These values are automatically calculated and offered for guidance only. Their accuracy is not guaranteed."
Christmas Desserts
Looking for inspiration for this Christmas?
Like this post?
You can hover over this image to pin it to your Pinterest board. Also, please feel free to share it with your friends and fellow bloggers, using the share tools below.
Kopiaste and Kali Orexi,