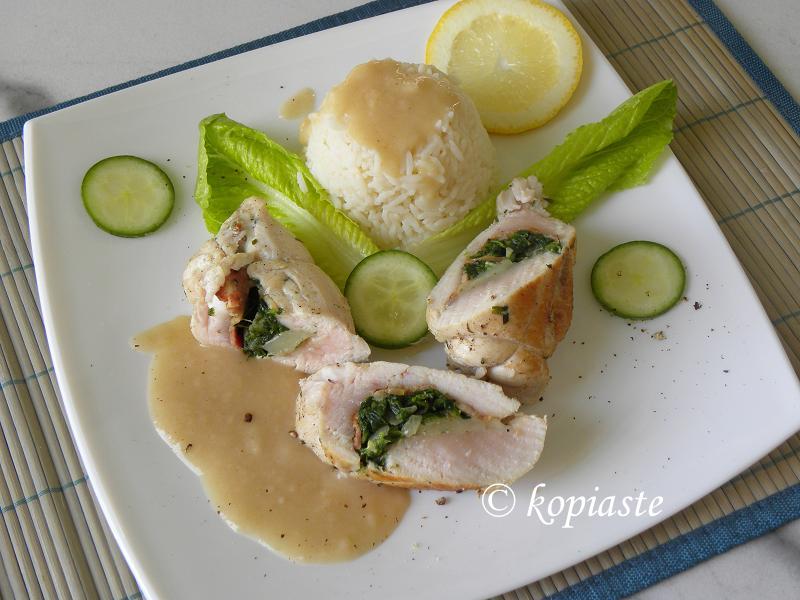 This is an old recipe I made a couple of years ago but I prepared it a little bit different this time. First of all I have sliced the chicken in a different way and then I tied it with kitchen string. I bought filleted chicken breasts so they were without the skin and bones and as I did not have any chicken stock at home, I prepared the sauce with wine and a vegetable bouillon.
I also cooked it quite differently from the previous time and the chicken was very juicy inside. The only thing I regret is that I did not have any mushrooms to make the sauce with but still it was very flavourful.
Braised Chicken breasts stuffed with spinach, graviera and bacon
Preparation time: 30 minutes
Cooking time: 30 minutes
Serves: 7
Ingredients:
7 slices cooked bacon

200 grams of spinach

1 small onion, finely chopped

1 clove garlic, finely chopped

1 tablespoon olive oil

7 chicken breasts, each cut in the middle without separating

Seasoning: a pinch of salt, pepper,

tarragon

7 slices graviera

3 tablespoons olive oil

½ vegetable bouillon

1 cups water

½ cup white dry wine

3 – 4 tablespoons flour

Salt and white pepper
Directions:
Cut each chicken breast in the middle, so that it opens flat. Season with salt, pepper, and tarragon and set aside.

Wash the spinach and place it in a pot without any water. Bring to a boil until it wilts and remove from heat and drain excess water.

In a non stick frying pan brown the bacon on both sides.

Discard the fat and add 1 tablespoon olive oil.

Sauté the garlic and onion until translucent and then add the spinach and mix.

Season with salt and pepper to taste.

Set aside.

Add a slice of bacon and cheese and a

spoonful of spinach on each chicken breast, fold and secure with a toothpick.

Then with a kitchen string tie the chicken breast and remove the toothpick.

Heat 1 cup of water and dissolve the vegetable bouillon and set aside.

In a non stick frying pan heat the remaining oil and sauté the chicken breasts on all sides.

Place them in a pyrex.

Add the wine and the vegetable bouillon and bake in a preheated oven at 180o C for ten minutes.

Turn on the other side and bake for another ten minutes.
Remove chicken to a platter and remove the string.

In the frying pan heat the oil again, add the flour and make a roux until it begins to brown.

Add as much pan juice needed to make the sauce. Taste and season with a pinch of salt and a pinch of white pepper and mix until the sauce is ready.
Serve with a rice pilaf.
Kali Orexi!