I have the pleasure to announce that I am going to be this month's host of Think Spice, created by Sunita, of Sunita's World. When I contacted Sunita way back in May, last year, asking if I could host one of the events, Sunita gladly replied to me that I would host in February. My wish was to host an event featuring the Greek mastic resin called "masticha" in Greek.
A few days ago, Sunita sent me a reminder but I had second thoughts. Although I love mastic gum, I knew that it would be quite difficult for many of you to participate as it would be difficult to find this spice, unless you lived somewhere near a Greek community.
I asked Sunita if she could do an exception so that I may host the event featuring two spices, as if I decided to host a more popular spice, I saw the possibility of someone else featuring this spice very remote. Sunita, was kind enough to make this exception and I thank her from the bottom of my heart.
Think Spice… Think Mastic Gum.

Mastic gum (Μαστίχα, pronounced masticha), deriving either from the Greek verb mastichein ("to gnash the teeth", origin of the English word masticate) or massein ("to chew"), is a resin produced by the Pistacia lentiscus, which is a shrub which lives over 100 years, reaching 2 – 3 metres high. This variety of shrubs are encountered all over the Mediterranean and Middle Eastern countries but for reasons that are not entirely understood, only the trees cultivated in the southern part of the Greek island of Chios produce the distinctively flavoured resin. Some people say the key lies in the underwater volcanoes of Chios. Others refer to the legend of St. Isidore, who was tortured by the Romans and left bleeding under a mastic tree. Out of sympathy for the martyr, the tree began to cry. Its tears became the crystal mastic gum.
This aromatic, ivory coloured resin is originally in liquid form, coming out of the "wounded" shrub. It is produced in the bark and not in the wood, and in order to collect it numerous vertical incisions are made which make it tear. The liquid tears drop are then sun dried into hard, brittle, translucent resins. When chewed, the resin softens and becomes a bright white and opaque gum. In ancient times, the mastic resin was the first chewing gum known. Mastic Gum was highly revered for its medicinal properties in the relief of symptoms of dyspepsia and other intestinal disorders. The benefits of this naturally occurring resin is now being rediscovered in modern medicine for its antimicrobial effects and for the treatment of ulcer.
The culinary uses of this spice is to flavour desserts, cakes, pastries, puddings, ice creams, cookies, sweets etc. and it can easily substitute vanilla. It is also used for flavouring spirits and liquors, such as Chios's local drinks of Matichato & Masticha. In savory recipes it is used as a spice to flavour sauces, bread, cheese, meat, fish, seafood and pies but also by using the mastic flavoured spirits.
Within the European Union, Chios Mastic production is granted protected designation of origin (PDO) and a protected geographical indication (PGI) name.
Turning the tear drops into powder!!
The best way of doing this is by using a mortar and pestle. Before doing this put the mastic resins in the deep freezer for about an hour until they become very hard. Add a few mastic tear drops with sugar or salt, depending if it is used in a sweet or savory recipe and pound it to a fine dust.
Think Spice… Think Fennel Seeds.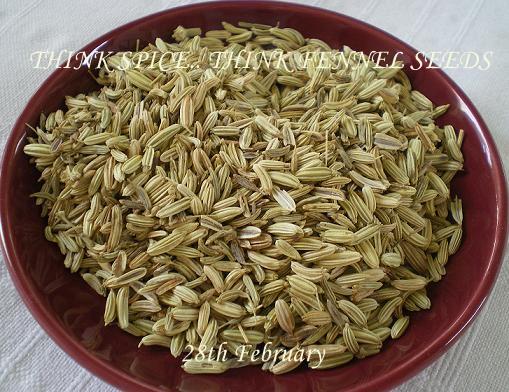 Fennel Seed is the oval, green or yellowish-brown dried fruit is a member of the parsley family. Fennel is native to southern Europe and the Mediterranean area. Its Greek name Μαραθόσπορος (marathosporos) comes from the Greek word "marathos (Foeniculum vulgare) and sporos which means seed". The famous battle of Marathon (490 BC) against the Persians, takes its name from this plant because on the fields, the fennel plants were in abbundance.
Fennel seeds have a sweetly refreshing licorice-anise flavor. It is used for meats and poultry, but even more for fish and seafood. It is also used as a seasoning in bread and pastries and in candies and also for medicinal purposes (fennel oil and fennel tea for infants).
To be a part of this event, you just have to do the following:
1. Cook up something in which either "mastic gum" or "fennel seeds" feature as the main spice.

2. Post it on your blog anytime between today and midnight, in any part of world you live in, of the 28th of February and please link back to this post and Sunita's World.Feel free to use any of the above three logos with your post.

3. Send me an e-mail at ivyliac AT gmail DOT com, with Think Spice.. Think Twice:Mastic Gum or Fennel Seeds as the subject, with the following details:
Your name and location,

Your blog's name and URL,

The name of your dish and URL (permalink) to your post,

A photo, if possible. Don't worry about resizing.I can do that for you.
4. Non bloggers are also welcome. If you do not have a blog but would like to be a part of this event, please send me your recipe and write-up (with picture, if possible) at the above e-mail and I would be happy to include it in the roundup.
5.Multiple entries are welcome.
I hope you enjoy both spices.
Kopiaste and Kali Orexi,