Nistisimi Béchamel is a vegan substitute which can be used on top of Greek dishes such as pastitsio, moussakas, papoutsakia etc to make them vegan.
The Béchamel sauce was introduced to Greece at the beginning of the previous century by a Greek Chef, Nicolaos Tselementes.
I believe all of you know what béchamel is.
Béchamel sauce, also known as white sauce, is made from a white roux (butter and flour) and milk.
The Greek Béchamel is quite different as it contains eggs and cheese.
Can you imagine a béchamel sauce without butter, milk and eggs, to be rich and tasty and to be used by vegans and for Orthodox Lenten recipes?
This has been swirling into my head for quite some time now and I searched the internet to see if there were any béchamel recipes without eggs and milk.
I knew that I could make one using any plant based milk such as almond milk, coconut milk or soya milk and soya cheese but I tried them and did not like the taste.
The only recipe I did find was a recipe for a "nistisimi" (vegan) one was making a roux and adding vegetable stock.
This sounded very bland and unappealing to me .
I, therefore, decided to experiment and make my own version so that I can still enjoy a pastitsio or moussakas during lent.
If it didn't work, the worse thing that could happen was to eat the rest of the dish without the béchamel.
I decided to combine a roux with extra virgin olive oil and flour, and a mild skordalia with mashed potatoes and almonds.
Although this béchamel seems to have a lot of ingredients, the result was still very light and tasty and a very healthy dish, compared to the classic béchamel which is very rich.
A few more ideas to use it, would be on top of stuffed eggplants, like papoutsakia or lasagna.
This vegan bechamel now brings vegan dishes to another level and you can now imagine how many other dishes you can make with this bechamel.
The recipe is included in my cookbook Mint, Cinnamon & Blossom Water, Flavours of Cyprus, Kopiaste!
Nistisimi Béchamel (Vegan)
Additional Time:
30 minutes
Enjoy this essential creamy vegan Béchamel sauce to apply on your Greek dishes such as Pastitsio, Moussakas and Papoutsakia or on your casseroles, bakes, pasta and whatever else you can think of!
Ingredients
3 medium potatoes
1/2 cup blanched almonds
1 clove garlic
1 tbsp olive oil
1 tbsp vinegar
For the roux:
35 grams extra virgin olive oil
35 grams all-purpose flour
About 3 cups of the potato water
1 tbsp sea salt
White pepper to taste
1/4 tsp nutmeg
Instructions
Peel, wash and cut potatoes into smaller pieces. Bring to a boil, reduce heat and then simmer until the potatoes are soft.
Reserve 3 cups of the boiling potato water and then drain.
In a food processor add the almonds, garlic, olive oil and
vinegar and mix until they are pureed, adding a few tablespoons of the potato water, if necessary.
In a separate saucepan prepare the roux. Heat the olive oil
over medium heat and mix in the flour, the salt, pepper and the nutmeg and keep mixing until the flour starts roasting and turns into a light brown colour.
Add the potato water gradually and mix to get a thick sauce. (There might be some leftover water}. Add the hot potatoes and with a hand mixer, puree them in the roux (or you can do this separately and combine).
Add the puréed almonds and mix. Taste and add more salt if necessary.
Notes
Serves 1 baking dish 17.5 x 25.5 cm
Nutrition Information
Yield

1
Serving Size

1
Amount Per Serving
Calories

932
Total Fat

87g
Saturated Fat

10g
Trans Fat

0g
Unsaturated Fat

73g
Cholesterol

0mg
Sodium

7434mg
Carbohydrates

259g
Fiber

32g
Sugar

16g
Protein

44g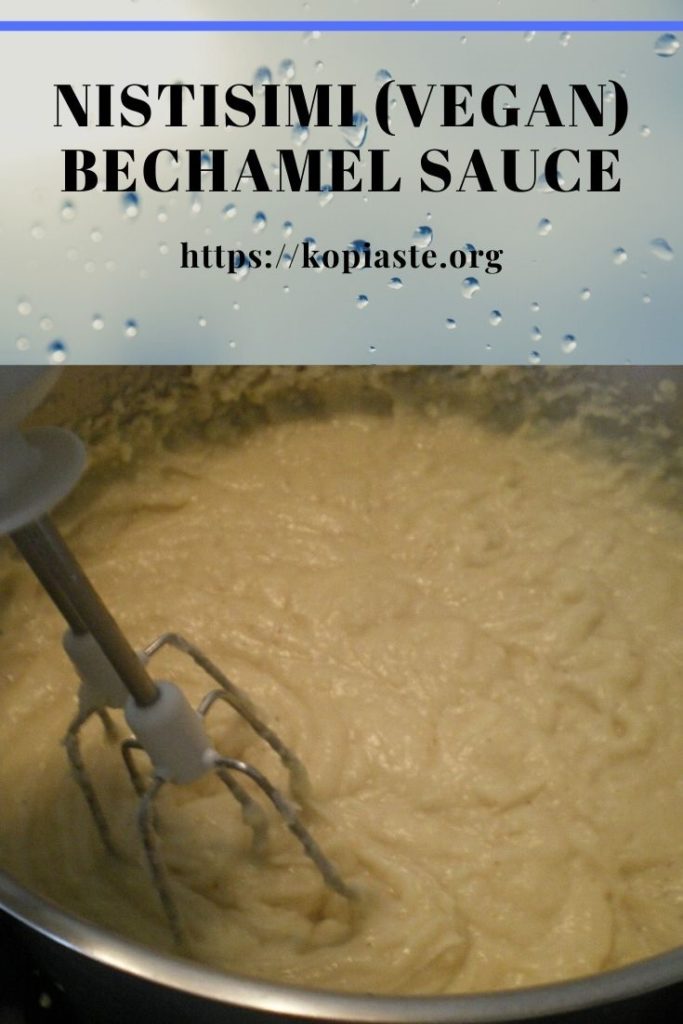 Kopiaste and Kali Orexi!