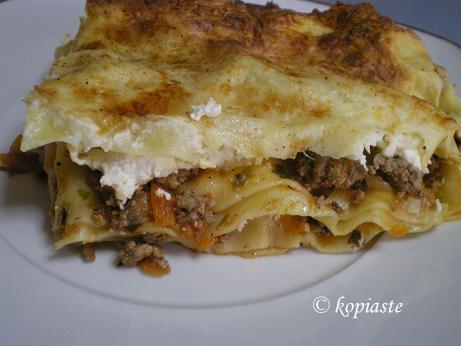 Yesterday I didn't know what to prepare for lunch and remembered that I had some lasagna in my pantry which were there for quite a long time. I had some vegetables, bell peppers and mushrooms and some spring onions, carrots, parsley and eggplants from last week's visit to the farmers' market, which needed to be used. Instead of buying the usual ground beef, I decided to make a more healthy version using ground turkey and anthotyro which is a Greek cheese very low in fat.
Although I would be very happy if I could make an all vegetarian lasagna dish, two of my three children do not like most of the vegetables so I either have to cook two different dishes or adjust the recipe to please them all. In baked dishes like moussakas, chicken pie and lasagna I prepare half the tin without the vegetables and the other half I add them separately. I also do this in many other pasta dishes.
Pasta, macaroni and lasagna are all Greek words. About lasagna, I am quoting from Wikipedia, that although the dish is generally believed to have originated in Italy, the word "lasagna" is derived from the Greek word λάσανα (lasana) or λάσανον (lasanon) meaning "trivet or stand for a pot", "chamber pot". The Romans later borrowed the word as "lasanum", in Latin, to mean cooking pot. The Italians then used the word to refer to the dish in which lasagna is made. It wasn't long before the name of the food took on the name of the serving dish.
Another theory suggests that lasagna might have come from Greek λάγανον (laganon), a kind of flat sheet of pasta dough cut into stripes.
The word pasta also derives froman ancient Greek verb "επιπάσσω", (epipasso) which means "sprinkle' in a sense of showing the technique of rolling out dough and of course the word "macaroni – plural macaronia", Greek "μακαρόνι" comes from the Greek words "makaria" (meaning food made from barley") and were offered in ancient Greece at wakes. This tradition exists until today and after a funeral relatives gather and eat.
I am submitting this recipe to Abby, of Eat the Right Stuff, who is hosting this week's Presto Pasta Nights, created by Ruth, of Once Upon a Feast.
Greek Style Lasagna with Anthotyro
Preparation time: 30 minutes
Baking time: 1 hour
Serves: 5

Ingredients:

15 lasagna noodles, which do not required to be cooked

500 grams ground turkey

5 springs onion, finely chopped.

1/2 cup of various colours of bell pepper, green, yellow, red, chopped

1 cup of mushrooms, chopped

3 carrots, grated

½ cup of fresh parsley, finely chopped

1 eggplant, peeled and diced

1 large garlic clove, finely chopped

500 grams (1 can of whole tomatoes) blended

350 grams of anthotyro cheese

½ tsp garlic powder

½ tsp oregano

½ tsp dried basil

Salt

Freshly ground black pepper

½ cup white dry wine

½ cup olive oil

Ingredients for the béchamel sauce

2 tablespoons olive oil

2 tablespoons flour

0,5 litre milk (I used low fat milk)


2 eggs

A pinch of salt

1 pinch of nutmeg

a few spoonfuls of freshly grated halloumi cheese to sprinkle on top (optional)

a pinch of cinnamon to sprinkle on top (optional)

(See step by step instructions for the sauce here)

Directions:

In a skillet add the olive oil on the heat, (reserve 2 tablespoons) and sauté the

ground turkey.Add the onions, garlic and sauté for a few minutes, then add the grated carrots, mix and add the wine.(Before adding the wine you can sauté all the other vegetables as well but I sautéd them separately because my children don't eat them)Mix until the alcohol evaporates and add the seasoning and herbs.

Add the tomato and ½ cup of water and simmer for about 20 minutes.Remove from the heat before the sauce thickens and mix in the parsley.

(As I have to do this separately, in a non stick frying pan I add 2 tablespoons of olive oil and sauté the eggplant, then I add the mushrooms and bell peppers and sauté for another minute and remove from the heat).

In a baking tin, ladle one third of sauce and spread along the bottom of the tin.The reason I wanted the sauce not to thicken is that the noodles may cook in the juices. Apply a layer noodles, and spread another 1/3 of the sauce (here I added the eggplant, mushrooms and pepper on one side of the tin.

Crumble the anthotyro and add half of it on top of the ground meat.Apply the second layer of lasagna. Ladle in remaining sauce as well as remaining vegetables and anthotyro.Finally add the third layer of lasagna. (If you would like to see how anthotyro is formed you may read my post when I made Halloumi).


Finally, I made half the quantity of my béchamel sauce, and when it set I added more milk to make it thinner as I didn't want a thick layer of cream on top.

Finally I grated some halloumi on top and sprinkled a dash of cinnamon on it.

Bake at 180° C until it is golden brown on top, in my oven I baked it for 1 hour. Allow to cool before serving.
Loulou, of Chez Loulou is hosting an event about cheese called La Fête du Fromage. Although everybody loves Greek feta, there are a lot of Greek cheeses which are equally good but unknown around the world, so I would also like to introduce you to anthotyro. (After a question in the comments, I would like to add this in the post). The name anthos means blossom and tyros means cheese. Therefore anthotyros "blossom cheese" is named for the way the curds blossom as they are stirred to make other cheese. If you like you may see my post when I made Halloumi: Anthotyro is an exquisite, fresh white soft cheese. They usually compare it to ricotta. Anthotyros is unsalted but salt or sugar is added depending on what you want to make. I have seen it compared to ricotta but the only similarity is that they are both white soft cheese. The taste is completely different.
If you liked this recipe, you might also like:
Lasagna with ground meat and bechamel
Makaronia tou Fournou (Pastitsio made in Cyprus)