Prickly pear honey syrup is a delicious syrup made with the juice of the prickly pear fruit and sugar, honey or other sweetener. To flavour it I add scented geranium leaves and cinnamon.
I made this prickly pear syrup last year when my sister-in-law, who knows how much I adore them, gave me a bucket full of them. We ate as many as we could and with the remaining I made this syrup.
I've made this syrup in the past using sugar instead of honey but I definitely prefer the one with honey as, apart from being much healthier, honey has an amazing taste by itself.
Depending on the variety of prickly pears used and the sweetener used, the syrup can have a light or dark colour.
If you want to make it with sugar, add 2 cups sugar and 1 cup water. In this case, you can boil them all together and after extracting the juice, boil again to reduce to the consistency of syrup. The lemon juice is always added in the end. For more details, see my recipe on How to make Pomegranate Syrup.
Prickly pear is the fruit of a cactus of the genus Opuntia. The most common species is opuntia ficus-indica (Indian fig), which are native to the Americas and more specifically to Mexico. It is also known as Νopal or Τuna.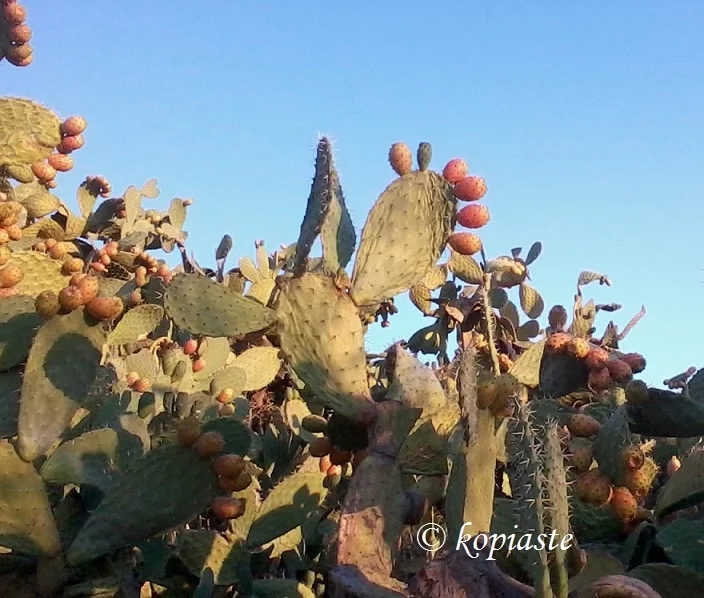 The genus is named for the Ancient Greek city of Opus, where, according to Theophrastus, an edible plant grew which could be propagated by rooting its leaves.
The cactus plant has a characteristic prickly pear appearance, with flattened green pads bearing wool and spines. The spines are brown, reddish-brown, or gray, and often over 3 cm in length. The pads and fruit bear tiny glochids which can lodge in the skin and cause irritation.
Around June, you will see yellow flowers blooming around the pad, which later on will form the fruit.
As the prickly pear cactus does not need much water to grow, you will find it in arid places of hot climates around the Mediterranean.
In Nafplio, where we live, there are forests of prickly pears all over Acronafplia and Arvanitia but you can find them all over Argolida (Peloponnese).
In Greek they are called "Frangosyka" which means "figs of the Francs" as they were probably grown during the Frankish rule of Greece (around 1200 A.D).
There are many varieties of prickly pears around the world but in Greece the three most known one are: Sulfarina, which has yellow flesh, Muscaredda, white and Sanguigna, red. Other varieties are Santa Maria and Santa Ynez.
The nutritional and medicinal value of the prickly pear is of great value as it is rich in magnesium as well as taurine, an amino sulfonic acid, substances which are important for brain and cardiovascular health.
This fruit is rich in potassium, niacin, thiamin and vegetable fibers which help reduce hyperglycemia. They are rich in calcium, which helps prevent osteoporosis as well as symptoms of alcohol abuse, because they hydrate the body and prevent headaches and stomachaches.
The prickly pears contain powerful antioxidants, which protect various tissues and organs such as the arteries and the nerves, the eyes and the joints.
Before handling the prickly pears, it's advisable to wear latex gloves and wash them well, so that most of the glochids are removed.
Its sweet, succulent interior is eaten cold together with the seeds.
In the previous video, you can see someone peeling the prickly pears without using gloves. That's my sister-in-law who has a lot of experience to do this. I usually peel them using a fork and knife.
You can use this syrup instead of using honey, maple syrup, pomegranate or other syrup.

Prickly Pear Honey Syrup
The prickly pears contain powerful antioxidants, which protect various tissues and organs such as the arteries and the nerves, the eyes and the joints.
Ingredients
1.100 grams prickly pears, peeled
1 cup water
1 cup thyme honey
1 inch cinnamon stick
3 – 4 scented geranium leaves (optional)
¼ cup (4 tbsp) lemon juice
Instructions
Wash the prickly pears. Wear latex gloves and peel them (see video above).
Put them in a pot with the water and press them with a potato masher to break. Bring to a boil and remove them immediately from the heat. Set aside to cool.
Put them in a colander with a bowl underneath and press them with a spoon until all the juice is extracted.
Put the juice, honey, geranium leaves and cinnamon on the heat. Put it on the heat and mix to dissolve the honey. After boiling point, reduce the heat and simmer for fifteen minutes.
Set aside to cool. (At this stage, if it is ready put it back on the heat and when it boils, add the lemon juice). If it is not thick enough, put it back on the heat and bring to a boil again. Cook for five more minutes. Add the lemon juice, mix and turn off the heat.
Discard the cinnamon stick and geranium leaves and when it cools store in sterilized jars.
Serve with Greek yoghurt, over pancakes, crepes, ice cream, use it to wet sponge cakes, in vinaigrettes, etc.
Kopiaste and Kali Orexi!