Ladolemono (in Greek λαδολέμονο) pr. lah-tho-LEH-moh-noh, is a Greek composite word from "ladi" which means oil and "lemoni" which means lemon.
Oil in this case, refers to the best quality of olive oil, so this is a Greek condiment made with extra virgin olive oil, lemon juice and flavoured with Greek oregano.
This dressing / sauce is used to add flavour to grilled fish or meat, to dress cold or warm salads or to dress legumes.
In Athens, I usually buy some Greek oregano from Mount Taygettus. However, last week when we went to Sparta we went up on the slopes of Mount Taygettus and picked some.
Taygetus Greek: Ταΰγετος, also Taigetos is a mountain range of the Peloponnese, Southern Greece, extending about 65 miles (100 km) north from the southern end of Cape Matapan in the Mani Peninsula. It rises to about 7,900 ft (2,410 m) at Mt. St. Elias or Prophitis Elias.
The mountain is named after Taygete, who was a nymph, one of the Pleiades according to the Bibliotheca (3.10.1) and a companion of Artemis. In Byzantine times and up until the 19th century, the mountain was known as Pentedaktylos (Greek for five-fingered). The mountain range includes the prefectures of Arcadia, Laconia and Messenia. The highest peak of the mountain is known for displaying the approximate shape of a pyramid. A church of the prophet Elias (προφήτης Ηλίας) is located near the peak.
The valley of the Evrotas River lies to the east, while the Ionian Sea lies to the south and west along with the Gulf of Kalamata or the Messenian Gulf and Arcadia to the north. Almost all of the Evrotas valley, the Parnon Mountains and half of Laconia can be seen from the eastern slope. The western slopes panorama includes Kalamata and the eastern half of Messenia. Most of the southwestern part of Arcadia can also be seen. The central part of the mountain range is commonly called "Skoteini Plevra" which means "the dark side" because the villages that are in the Taygettus don't receive as much sunshine, especially in the morning and the pre-dusk hours. Much of the area is forested and in higher areas, deforested with grasslands, meadows and flowers. The area receives sunshine only during the afternoon hours. The length is about 4 to 5 km and the width is approximately 1 km. (courtesy Wikipedia).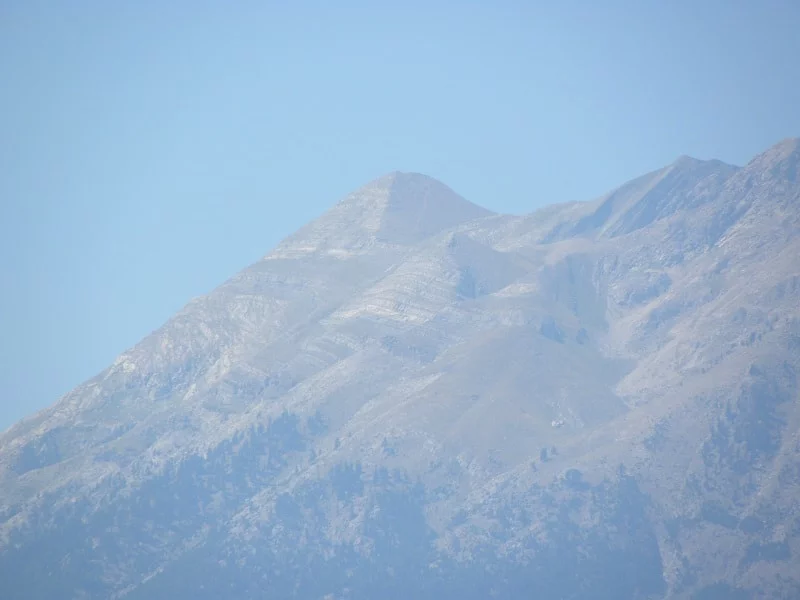 I am sure that all of you who are not of Greek origin, do not know that Greece had Pyramids even before the ancient Egyptians. The pyramid of Taygettus is visible without the use of binoculars but in this picture it is not very clear as I took it from the car and from far away. I am giving you a few links and if you are intrigued you may read all about this. One of these pyramids is visible from the road towards Sparta and it is more clear during winter when there is snow on it.
Although the Pyramid of Taygetus is disputed, the others are not but the Greek government instead of restoring them have left them to total destruction as the pyramid of Hellinikon, near Argos which a few decades back was in a very good condition.
Origanum vulgaris hirtum (and not oregano vulgaris, which is marjoram) is the true Greek Oregano with flavor so intense it numbs the end of your tongue when fresh.
Oregano is an important flavouring herb in Mediterranean cookery, and is often used dried rather than fresh. When it is fresh you can make oregano pesto or oregano flavoured sea salt.
In order to preserve oregano, you have to dry it first, always inside the house. First wash the herb and let it drain. Tie all the ends together and hang it upside down and let it dry indoors for a few weeks.
The best way to remove it from the stalks is to put it in a plastic bag and then rub the leaves otherwise you will prick your fingers on the twigs.
Another way is to wear latex gloves and remove the leaves from each individual twig.
I also put the leaves in a food processor to crush them into smaller pieces. I then store it in zip lock bags or air-tight containers.
Ladolemono with olive oil and oregano from Taygettus is a special treat.
The best way to use your leftover bread is to toast it or grill it. Then wet it with olive oil (my husband adds a loooooot!), sprinkle oregano and coarse sea salt and you'll have the BEST bread you've ever eaten!
It is perfect for a quick snack or accompaniment to drinks like ouzo, tsipouro or just a glass of wine.
See also post for making Pita chips.
Top it with some of your favourite ingredients and the "mezedaki" or appetizer, similar to bruschetta, is ready.
What to add in the dressing?
To make "ladolemono" you need a good quality of extra virgin olive oil and oregano.
Our relatives in Sparta have olive groves and they give us some of their extra virgin olive oil but we also buy some when we are there.
The ratio of olive oil to lemon juice depends on what you are dressing. A good ratio would be 1:1.
However this is a matter of personal taste. For example, is you are dressing an oily fish, it is preferable to add more lemon juice. If you want to dress a salad and cut down on the calories, add less olive oil.
After adding the olive oil and lemon juice, the other main ingredients are oregano, coarse sea salt and black pepper.
Oregano is the basic aromatic herb for this dressing and even in Greece the Greeks look for oregano which originate from a few places such as Crete, the Mount of Taygettus, and the island of Allonissos, because of its wonderful fragrance. If you add this oregano in the oil and lemon dressing no other ingredient is necessary as this enhances the flavour of the fish or meat.
Optionally, you can add some black pepper or other spices, lemon zest, fresh herbs, mustard, garlic, etc. These extras, however, should not overwhelm the flavour of oregano.
Just put all the ingredients in a jar with a lid and give them a good shake.
Vlita Salad (amaranth greens) for example, are usually served with olive oil, lemon (or vinegar), garlic, oregano, and pepper.
When there is garlic or other ingredients in the ladolemono, such as fennel or capers, it is best to blend them in a food processor.
This and many more recipes are included in my cookbook Mint, Cinnamon & Blossom Water, Flavours of Cyprus, Kopiaste as well as in my e-cookbook.
Ladolemono Dressing with Extra Virgin Olive oil and Oregano from Mount Taygettus, in Lakonia
Ladolemono dressing/sauce is used to add flavour to grilled fish or meat, to dress cold or warm salads or to dress legumes.
Ingredients
½ cup extra virgin olive oil
½ cup of lemon juice
1 tbsp oregano
1/2 tsp coarse sea salt
A pinch of black pepper
Optional ingredients:
1 tsp Dijon Maille mustard
Zest of a lemon
Chopped garlic
Capers
Fresh herbs (e.g. dill, chives, fennel fronds etc.)
Other spices of your preference
Instructions
Put all the ingredients in a container with an airtight lid and shake well so that the end result is a creamy dressing.
Shake or stir before using, as the oil will separate.
Notes
If using the optional ingredients, put all the ingredients in a food processor and mix until all combined.
Nutrition Information
Yield

1
Serving Size

1
Amount Per Serving
Calories

1045
Total Fat

110g
Saturated Fat

15g
Trans Fat

0g
Unsaturated Fat

91g
Cholesterol

0mg
Sodium

2621mg
Carbohydrates

24g
Fiber

8g
Sugar

5g
Protein

4g
"These values are automatically calculated and offered for guidance only. Their accuracy is not guaranteed."
Other relevant recipes:
Lavraki (sea bass) with Mustard Ladolemono
Something fishy . . with Ladolemono
Kopiaste and Kali Orexi,