Skordalia is a dip made by combining crushed garlic and mashed potatoes or stale bread (soaked in water) and nuts, and then olive oil is added to make a smooth emulsion. Scroll down for both recipes.
The traditional way is to crash the garlic together with salt in a mortar and pestle but nowadays some people make it in a food processor or blender.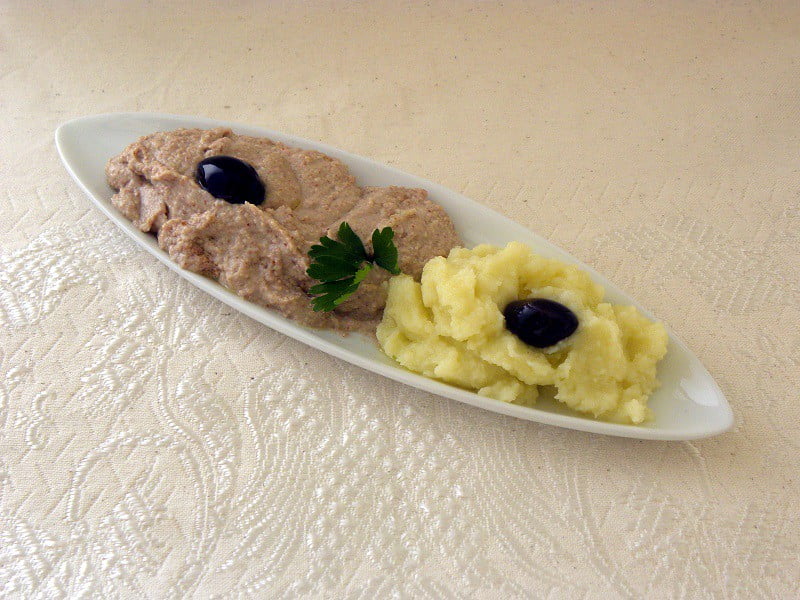 Αs we read in Wikipedia, skordalia is a pleonastic compound of the Greek word skordo (meaning garlic) and the Italian agliata (meaning garlicky).
In the Ionian islands which were under Venetian rule for many years they call it aliada. Skordalia may be the modern equivalent of ancient skorthalmi.
Traditionally it is served with Bakaliaros (salted codfish) a battered-fried fish, especially during the great Lent period when abstaining from meat, fish and dairy products for fifty days we are allowed to eat fish on Annunciation Day (25th March) and on Palm Sunday (which is the last Sunday before Easter).
Skordalia can also be served with fried vegetables, such as eggplant and zucchini but apart from fish it goes well with roasted meat as well.
Many years ago, I used to hate garlic and of course I did not eat skordalia or anything with garlic in it. Once, when my husband and I were invited to a friend's house for dinner, among other things she prepared skordalia. I kindly said I did not want any but she insisted that I tried it. I did not want to insult her so I tried some of her skordalia, which she had made with walnuts and I must say, I am really glad she insisted because I loved it!!
Ever since, I make her skordalia, which is my favourite.
However, my husband prefers his with potatoes, so each time I always make both of them so that we both enjoy it.
Skordalia with Potatoes (Garlic Dip)
Skordalia is a side dish with mashed potatoes and garlic, great to accompany fish or other meat dishes.
Ingredients
3 medium potatoes, boiled
2 - 3 cloves garlic, depending how strong you want it
½ tsp sea salt
Freshly grated black pepper
1/3 cup extra virgin olive oil, divided
1/4 cup red wine vinegar or lemon juice
Finely chopped parsley or spring onion, for decoration
Instructions
In a food processor or a blender, puree garlic with 1/3rd of the olive oil or use a pestle and mortar and puree the garlic with the salt (without the olive oil).
Boil the potatoes until soft.
Transfer them to a bowl and mash them with a fork or a potato masher. They do not need to be completely pureed.
Add the olive oil while the potatoes are still warm, the garlic puree and salt, if using the first method, or garlic paste, pepper and mix well. Add vinegar or lemon juice gradually, taste and adjust.
Set aside to cool.
Serve at room temperature.
Notes
The garlic flavour will become stronger as it cools.
If you do not like garlic, use roasted garlic instead, for a milder taste.
Before serving drizzle some more olive oil on top and decorate with an olive or finely chopped parsley or finely chopped spring onion.
Nutrition Information
Yield

2 cups
Serving Size

1
Amount Per Serving
Calories

599
Total Fat

36g
Saturated Fat

5g
Trans Fat

0g
Unsaturated Fat

30g
Cholesterol

0mg
Sodium

620mg
Carbohydrates

60g
Fiber

7g
Sugar

3g
Protein

7g
A great side dish to Bakaliaros (battered cod) but also to vegetables. It pairs well with beets.
The second recipe is made with stale bread and walnuts. It is the traditional recipe, made in Thrace before the potato was imported to Greece.
Skordalia with Bread and Walnuts (Garlic Dip)
This is a different Skordalia from Thrace, made with garlic, stale bread and walnuts.
Ingredients
1 cup stale bread (without the crust) after being soaked and water squeezed out
1 cup walnuts
3 - 4 cloves of garlic
½ tsp sea salt
3/4 cup extra virgin olive oil
¼ cup red wine vinegar
Instructions
In a food processor or a blender, puree garlic, salt and 1/3rd of the olive oil.
Add the vinegar and walnuts, keeping 2 tablespoons walnuts for the end.
Gradually add the olive oil and the bread and continue until you attain the consistency of a thick sauce.
Taste and adjust if you want more acidity to the dip.
Before ending add the remaining two tablespoons of walnuts, which just crush with your fingers into small pieces and mix into the sauce.
Refrigerate covered for at least one hour before serving.
Nutrition Information
Yield

2 cups
Serving Size

1
Amount Per Serving
Calories

838
Total Fat

89g
Saturated Fat

11g
Trans Fat

0g
Unsaturated Fat

75g
Cholesterol

0mg
Sodium

603mg
Carbohydrates

10g
Fiber

5g
Sugar

1g
Protein

8g
You may also like:
Penne with Skordalia, Zucchini and Olives
Like this post?
You can hover over this image to pin it to your Pinterest board. Also, please feel free to share it with your friends and fellow bloggers, using the share tools below.
Kopiaste and Kali Orexi,