Koupepia (as we call them in Cyprus) are dolmades made with grape leaves, stuffed with ground pork or veal, rice, fresh herbs and seasoning, cooked with tomato and lemon juice.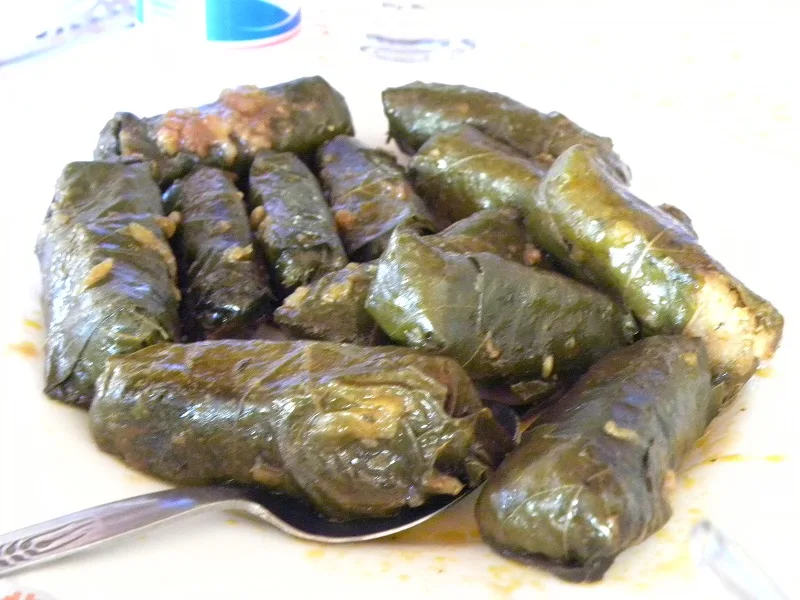 They can be served as part of a meze platter or salad plate, eaten as finger food or as a main dish.
The difference from the usual Greek ones is that in Cyprus we do not add avgolemono sauce but instead we add tomato and cinnamon, similar to many recipes found in the Aegean islands, which adds a heavenly taste to this dish and an irresistible smell while they are being cooked.
This is one of my family's favourite dishes and it's one of those few times that I don't have to prepare a second meal because they all love this one.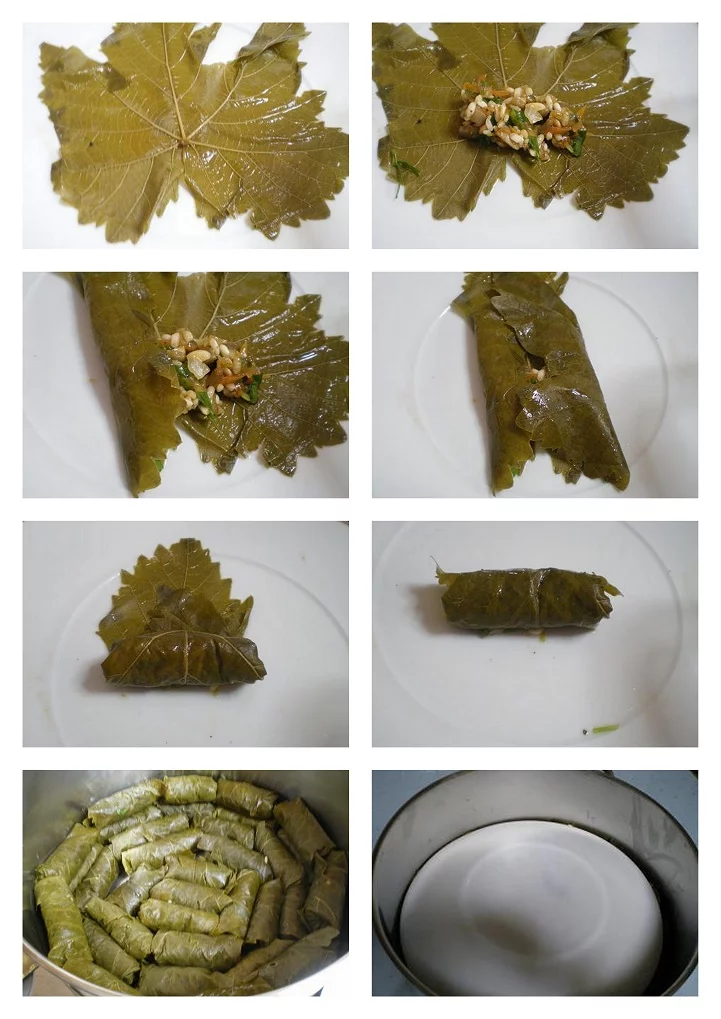 While I was cooking, I remembered that this is a recipe I knew since I was still at school.
When I was taking my First Certificate in English examination (called Lower Certificate) I was 14 years old.
Our teacher told us that the examiners usually request the students to talk about something they like doing. I remember that even back then, I chose to speak about cooking.
They asked me what my favourite meal was and I told them it was koupepia, stuffed vine leaves.
The examiner asked me to describe the whole procedure of how this meal was prepared.
Although I am not sure how my cooking skills were back then, I did pass the examinations but I suppose after so many years I must have improved my cooking skills as well.
Although, when graduating I acquired many GCEs O level degrees and later on a Proficiency Degree in English, I don't know about my English skills, as so many years have passed since then and although I've been using English in all my jobs, I am not familiar with the culinary terms.
I hope that I and can still explain the procedure and that you will understand my instructions. Now that I am blogging in English I hope to learn more culinary terms and practice my English 🙂
Although dolmades are better served when warm, koupepia are best served cold, so they can easily be served as finger food, during a party or a gathering.
In Cyprus we also make this dish using other leafy greens such as silverbeet or cabbage or stuffed zucchini flowers or onions.
If you have a vine, see how you can store your vine leaves.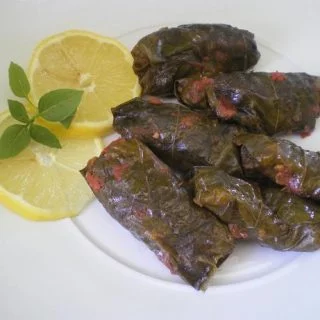 Koupepia me Ampelofylla (Cypriot Stuffed Grape Leaves)
Total Time:
1 hour
5 minutes
Koupepia (as we call them in Cyprus) are dolmades stuffed with ground pork or veal, rice, fresh herbs and seasoning, cooked with tomato and lemon juice.
Ingredients
60 fresh or brined vine leaves
1 kilo (2.20 lbs) ground pork
1/3 cup olive oil, divided
2 onions, finely chopped
1 cup parsley, finely chopped
3 - 4 tbsp dried mint
2 cups fresh ripe tomatoes, pureed, divided or 1 cup concentrated tomato juice and 1 cup water
½ cup Carolina or other short grain starchy rice
Salt
Freshly ground black pepper
¼ tsp cinnamon
½ cup lemon juice
1½ cups water
Instructions
Wash the fresh vine leaves and blanch them for 5 minutes. Add cold water and drain. If using jarred brined grape leaves, wash, rinse and drain them.
In a skillet heat half of the olive oil and sauté the onion until translucent. Add the ground meat and sauté until it turns white. Add half of the tomato and half of the lemon juice and cook for 5 minutes stirring once in a while.
Mix in the remaining ingredients and set aside to cool.
Put a leaf on a plate, vein side facing up, remove stem and put about a tbsp of the mixture near the stem.
Neatly fold left edge and then right edge and then roll all the way.
Wrap up into a cigar shape (don't fold too tight as the rice will expand during cooking).
Repeat with the remaining grape leaves and filling.
Place neatly in the pot seam side facing down, starting from the edge, moving in a circle towards the centre. Second and third layers may be placed on top.
Add the remaining tomato, olive oil as well as lemon juice and then cover them with a plate (which must be about the size of the pot).
Finally add water to cover the plate and bring to a boil, Cover with the lid, reduce heat and simmer for about 30 - 35 minutes.
Allow to rest for a while before serving.
Serve with Greek yoghurt.
Nutrition Information
Yield

8
Serving Size

1
Amount Per Serving
Calories

499
Total Fat

35g
Saturated Fat

11g
Trans Fat

0g
Unsaturated Fat

22g
Cholesterol

118mg
Sodium

263mg
Carbohydrates

11g
Fiber

2g
Sugar

3g
Protein

34g
A similar recipe is included in my cookbook Mint, Cinnamon & Blossom Water, Flavours of Cyprus, Kopiaste!
Kopiaste and Kali Orexi!