An air fryer is a counter top appliance which actually mimics deep frying, without oil or very little oil.
I bought an Air Fryer several months ago and have been experimenting with some new and old recipes. Old recipes will be updated in the respective post whereas new ones will be posted separately and linked to this post.
My fryer is an AEG AF6-1-6ST model.
I did not find my fryer listed on Amazon but this one is very similar.
What is an Air Fryer?
An air fryer is a counter top appliance which actually mimics deep frying, without oil or very little oil.
In fact it is a small convection oven where you can do almost anything a convection oven can do.
Oil-free fryers are one of the trends of the year and more and more households are betting on them.
The truth is they are a much healthier alternative to conventional fryer, allowing you to cook much healthier.
Benefits of having this appliance
Healthier Cooking. The single most important factor for most people buying an air fryer is the prospect of healthier cooking. If you have been avoiding deep frying food, as I have, you will love the fryer which does the same thing with a tablespoon of extra virgin olive oil.
Crisp & Crunchy Food.
It's Very Versatile, it is Fast, Safe and Easy to Use. You can fry, deep fry, grill, bake etc. in no time.
Faster Than Oven Cooking. This mean economy on the electricity bill. There are some air fryers that need preheating, which means more time but the one I have does not need preheating.
Easy to Clean. Remember frying in a frying pan? Well no more spilling on the walls and on the stove top. You only have one appliance to clean.
How to clean the air fryer
Well, I only have experience with my air fryer. After the food is removed, just put some water, enough to cover the basket and let it heat for 1 minute. Then with a soft sponge and soap, wash and rinse.
How to operate the AEG Air fryer
Please bear in mind that there are many brands of air fryers so each one may operate differently.
Mine is an AEG AF6-1-6ST model with 1.800 W and 8 installed programs.
This means that by pressing a button the temperature and time are automatically set. This will allow you to quickly cook different foods such as: cakes, chicken, fish, other meats, French fries or pizzas.
However, you can always manually configure your fryer AEG using the temperature and time commands. In this model we like that they are separated, being easier and more intuitive to select them.
Once your recipes have been finalized, You can separate the basket from the container for easy cleaning. As it is a rack, the fat will have accumulated in the container, separating it from your ingredient.
These are some of my recipes which I have cooked in the air fryer.
Greek-style fried potatoes
Super crispy Greek-style fried potatoes are tender and fluffy on the inside and crunchy on the outside. There is an installed program for French fries, which you can make with just 1 tablespoon olive oil, in just 20 minutes!
However, you can convert your recipes
See how to convert your recipes.
Serve them as a side to schnitzel, salmon, mpiftekia, meatballs, soutzoukakia, pork chops, marinated chicken breast, etc.
Sheftalia
Sheftalia singular. Sheftali, are Cypriot oval shaped crépinettes, made with minced pork, herbs and spices which are then wrapped in caul fat and barbecued.
Marinated Chicken Breast
These Marinated Chicken Breast are so simple to make and so delicious! The Chicken breasts are marinated and then cooked in the air fryer. They are crispy on the outside and so tender and juicy inside!
Soutzoukakia Smyrneika
Soutzoukakia Smyrneika, are spicy sausage-shaped meatballs, which are lightly fried and then cooked in a delicious tomato sauce and come from the once Greek part of Asia Minor, Smyrna.
You cannot imagine how much fat I found below the basket but still they remained equally delicious as the fried ones!
Meatballs Keftedes
Greek Meatballs also known as Keftedes, are full of flavor and super delicious. I have two recipes in the same post for Greek and Cypriot meatballs, with different flavours. They are super easy to make but without all the calories!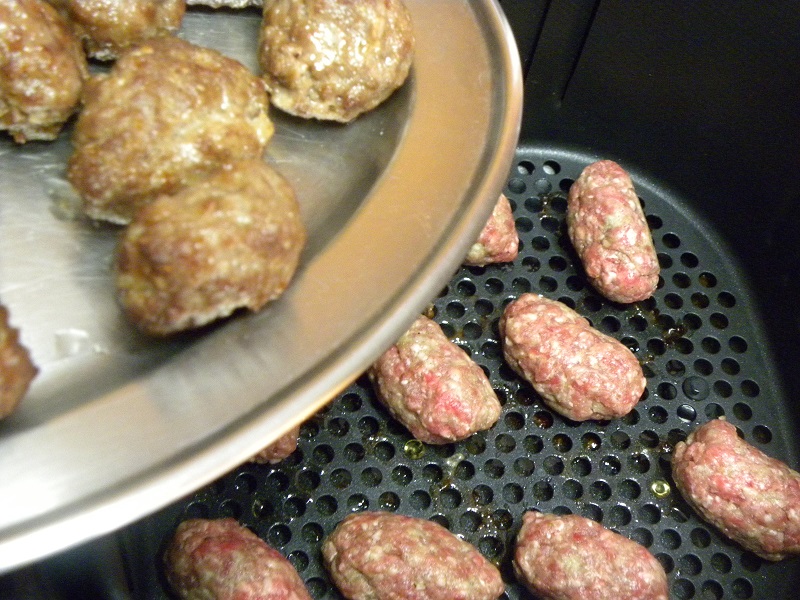 Mpiftekia (Greek Beef Burgers)
Mpiftekia, are Greek homemade burgers, made with ground veal and shaped into round patties, oblong or even wrapped around a skewer (called kebab in Greece).
They are grilled or baked in the oven along with potatoes.
Air fryer Halloumi
To air fry the halloumi, no oil is needed. I set it at 180oC for ten minutes. There was no need to turn them over.
Pizza
Pizza was ready in 5 minutes: I used Greek pita bread, marinara sauce, oregano, bacon, mushrooms, three cheeses plus mozzarella and topped with my basil salt! Delicious! I used the pizza program.
Sweet Potato Fries
Same as Greek-style fried potatoes.
Roasting Chestnuts in the Air Fryer
Follow the same instructions as roasting them in the oven. The difference here is that no preheating is required and the time of roasting is much quicker. Therefore, saving on electricity.
How to use the Air Fryer
Yield:
Anything deep fried or baked
Estimated Cost:
200 Euros
An air fryer is a counter top appliance which actually mimics deep frying, without oil or very little oil. In fact it is a small convection oven where you can do almost anything a convection oven can do.
Materials
Air Fryer
Oil
Seasoning
Other ingredients depending on the recipe
Instructions
Prepare the ingredients.
Put them in the basket or in the air fryer without the basket, depending on the recipe.
Choose one of the installed program.
Check for doneness and increase time by a few minutes, if necessary.
Notes
The instructions in each recipe I post are based on the AEG AF6-1-6ST model. Each air fryer is different, so you will have to adjust the time according to the model you have.
Air Fryer Recipes
Wondering what to cook in an air fryer? Find easy recipes for air fried chicken, meatballs, burgers, fries and so much more!
Kopiaste and Kali Orexi!