This Greek Sausage Lasagna is made with Greek leek sausages, with feta and goat cheese, topped with a Greek Bechamel sauce.
See some more recipes for lasagne I made in the past.
The idea for this sausage lasagna started one day when I had leftover Spetzofai.
The first time I made it, I had some leftover roasted sweet peppers (piperies florinis) and roasted cherry tomatoes, which I added to the recipe.
We liked it so much that since then I made it many times. The last time I made it, I also made the video but unfortunately that day I didn't have any roasted peppers or tomatoes but I did it any way.
I have added them in the recipe card as optional ingredients but if you have them, I recommend that you add them.
Now this dish has become one of my go-to dinners, which all the family loves!
What kind of sausages can I use?
Each region in Greece and even each country has its own type of sausages, so don't hesitate to use the sausages you like best.
In this recipe I have used Greek Pork Sausages with leeks.
Instead of pork sausage, you can use sausages made with beef mince, chicken, turkey etc.
Sometimes, I remove the casing from the sausages and it resembles like minced meat when cooked.
Depending of the sausages you use, the flavour of your dish will be different, depending on the spices used in each kind of sausage.
If your sausages do not have an intense flavour your can add some spices used in Greek cuisine, such as oregano, savory, thyme, paprika, cumin, nutmeg, allspice or any other spice you like.
How to layer lasagna
Spread a thin layer of béchamel and some sauce in the bottom of a casserole dish.
Add a layer of lasagna noodles, overlapping if necessary.
Spread a layer of sausage sauce.
Spread a layer of cheese.
Repeat those layers two more times.
Top with the remaining béchamel sauce and tomato sauce from the sausages and sprinkle the remaining feta and goat cheese on top.
What types of lasagna noodles is best to use?
As far as I know there are three types of lasagna noodles.
The first type are the fresh homemade lasagna noodles, which are a lot of work but they are worth the effort.
Then there are two types of store-bought lasagna.
One type needs pre-cooking whereas the other doesn't.
I've tried the ones you have to cook first many years ago but they were a bit fussy to prepare, as you had to boil them and then put them on clean kitchen towels to dry. If you need to use those lasagna noodles, see detailed instructions on How to boil lasagna noodles, in this post.
The ones I use are those that do not need pre-cooking.
For each type, you can use lasagne made with spinach, gluten-free, whole grain lasagne, wavy lasagne, etc.
Can I freeze leftover lasagna?
Leftovers can be stored in the fridge for 3 – 5 days.
However, if you don't want to eat the same food in the next days, leftover lasagna freeze well.
Place leftover in a glass bowl with a plastic lid, or other containers suitable for the freezer and the microwave.
There are various other ways to freeze your lasagna, such as aluminum pans with lid, plastic containers with lid, etc. Thaw before reheating either in the oven, the microwave or the air fryer.
Can I use ready made sauce to cook the sausages?
Of course. In my recipe, I have used some leftover tomato sauce I use on pasta. See also my Spicy Tomato Sauce or my Marinara Sauce.
Of course, you can also use any ready made store-bought sauce you like.
Greek Sausage Lasagna
Additional Time:
30 minutes
Total Time:
1 hour
10 minutes
This Greek Sausage Lasagna is made with Greek leek sausages, with feta and goat cheese, topped with a Greek Bechamel sauce
Ingredients
13 lasagna noodles
350 grams feta and goat cheese
For the sausage sauce:
1 onion finely chopped
1 clove garlic, finely chopped
¼ cup extra virgin olive oil
300 grams Greek sausages, cut into small pieces
1 cup bell peppers, various colours, julienned
½ cup white dry wine
2 cupws ready-made tomato sauce
½ cup roasted piperies florinis (sweet peppers) (optional)
½ cup baked cherry tomatoes (optional)
1 tsp sea salt
Freshly grated black pepper.
Béchamel sauce:
1 litre milk
50 grams olive oil
50 grams all-purpose flour
1/4 teaspoon salt
1/4 teaspoon ground nutmeg
1/2 cup of grated halloumi or graviera
Instructions
In a non-stick frying pan add the olive oil and sauté the onion, until translucent. Add the garlic and sauté for a few seconds, until fragrant.
Chop the sausages into smaller pieces. Add the sausages and cook until no longer pink, for 6 – 7 minutes.
Add the bell peppers and cook for a five minutes.
Add the baked sweet peppers (piperies Florinis) and cherry tomatoes.
Add the wine and cook for a couple of minutes for the alcohol to evaporate.
Add the tomato sauce and mix to combine. Add salt and pepper. (I do not add any additional spices, as the sausages have their own spices, which flavour the dish).
Cover with the lid and cook for five minutes.
Set aside.
Prepare the béchamel sauce.
Before starting, heat the milk.
In a saucepan heat the olive oil and add the flour, salt and nutmeg
Stir with a balloon whisk, until it starts to slightly brown.
Remove the pot from the heat and add the warm milk, stirring constantly. Put it back on the heat and stir until the sauce is thick and creamy. (Be careful as the hot milk may overflow).
Remove from the heat and mix in the grated cheese.
Assembling lasagna:
To assemble lasagna, pour about 1 ladle of béchamel sauce.
Then add some sauce from the sausages (without taking any sausages and spread it on the bottom of a 24 x 18 cm Casserole dish or Pyrex.
Add three lasagna noodles, overlapping if necessary.
Add another ladle of béchamel sauce as well as 1/3 of the cooked sausages.
Spread it to cover the lasagna noodles.
Crumble some feta and goat cheese on top.
Add another layer of lasagna noodles.
Continue with another layer of béchamel sauce, cooked sausages, feta and goat cheese.
Add another layer of lasagna noodles.
Continue with another layer of béchamel sauce, cooked sausages, feta and goat cheese.
Reserve some sauce without sausages for the final layer.
Add the final layer of lasagna noodles.
As the Pyrex is getting wider on top, use four noodles and cut one to cover the sides of the dish.
Top with a layer of béchamel sauce, leftover sauce from the sausages the remaining feta and goat cheese.
Bake in a preheated oven to 180o C, for 30 minutes, or until golden on top.
Let it stand 15 minutes before serving.
Nutrition Information
Yield

6
Serving Size

1
Amount Per Serving
Calories

858
Total Fat

52g
Saturated Fat

20g
Trans Fat

0g
Unsaturated Fat

28g
Cholesterol

106mg
Sodium

1834mg
Carbohydrates

63g
Fiber

4g
Sugar

16g
Protein

32g
"These values are automatically calculated and offered for guidance only. Their accuracy is not guaranteed."
Lasagne Recipes
Here are a few ideas to make your lasagna.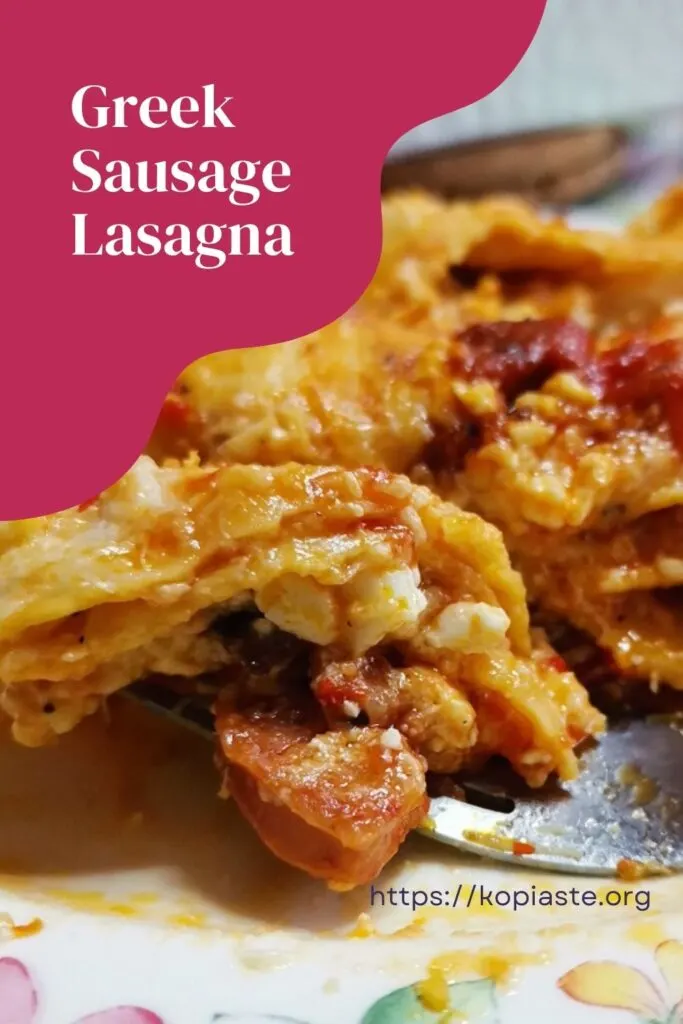 Kopiaste and Kali Orexi!