Kebab Yiaourtlou, is a dish made with ground lamb or veal or a mixture of both, kneaded together with onion, garlic, and spices, then packed by hand around skewers and grilled.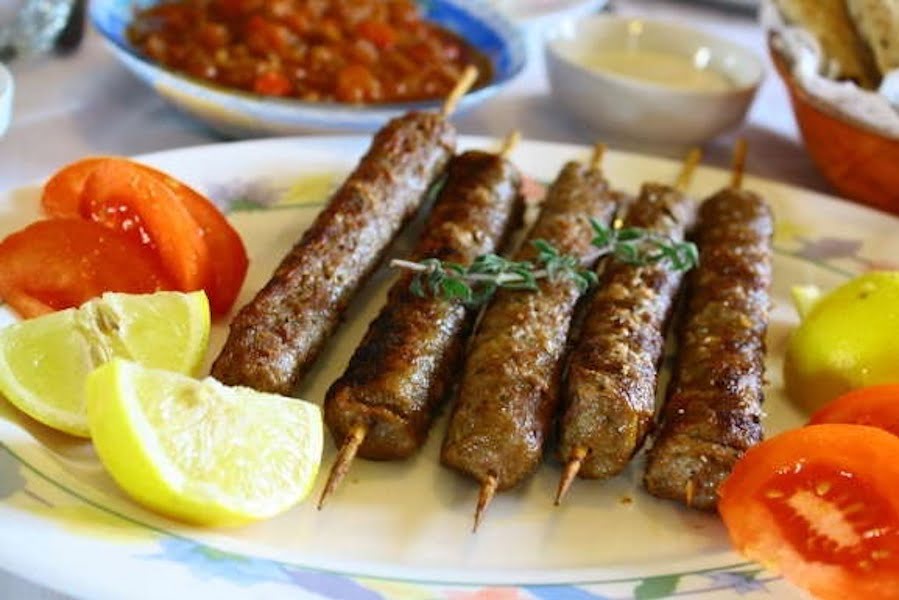 Yiaourtlou is the yoghurt sauce served with it.
Traditionally these delicious kebab sausages, originating from "Turkey", are made with minced lamb and are very spicy.
According to Turkish-Armenian linguist and travel writer Sevan Nişanyan, the word "kebab" originates from the Persian word "kabab", which means "to fry".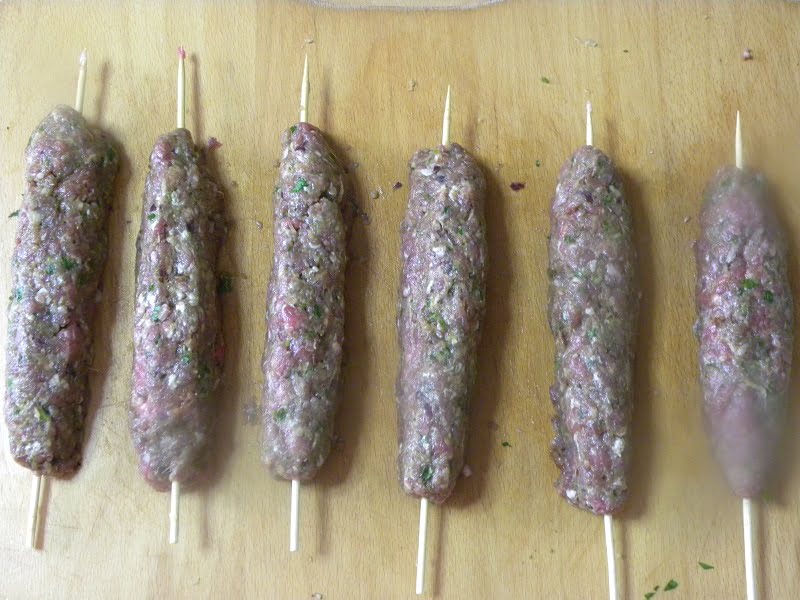 These mince kebabs were introduced to the Greeks by the Greek refugees of Asia Minor, who fled from Turkey to save their lives from the Turkish atrocities in 1922.
They are served in Greek "pita" bread, with yoghurt sauce, called "yiaourtlou" and tomato sauce to balance the heat with some sweetness from the tomato sauce and refreshing, cold yoghurt.
Usually flat metallic skewers are used which prevent them from rotating around the skewer but if you don't have any you can use two round metallic skewers or bamboo skewers, as I did.
Note:
If you use bamboo skewers, the skewers should be soaked in water for 15 minutes as this prevents the skewer from catching fire when cooking over charcoal.
They can also be cooked on a hot non-stick frying pan, on a grill or grilled in the oven.
The traditional way
Traditionally, kebab is made with lamb mince, which has a lot of fat in it. The ratio of mince lamb to fat is 4:1., which means that for 1 kilo mince lamb you will need 250 grams of fat.
The other ingredients are added to the lamb mince and are kneaded well. The fat in the mince will bind the ingredients together.
However, in Greece we don't use lamb mince any more, so we make the kebabs with minced veal, which is much leaner. In this case, we can add some wet bread or breadcrumbs to bind the meat.
How to make the kebabs juicy
The onion added to the kebab makes them juicy and also adds some sweetness to the meat. However, a grated tomato will also help keep the meat juicy as well. If the meat is too lean, you can also add a couple tablespoons of olive oil.
Spices
The usual spices which are added to these mince kebabs are allspice, cumin, paprika, cinnamon, coriander, hot boukovo (similar to hot chilli flakes), black pepper, fenugreek and sumac.
How spicy and hot this dish is will depend on your personal taste. Add more or less spices and if you like them more hot add more hot boukovo.
I don't make mine too spicy or hot, so for more heat you can add more boukovo and if you don't like any heat in them, you can substitute hot boukovo with sweet boukovo.
How to cook kebab
The kebabs may be cooked over charcoal for about 10 minutes, turning them on all sides until cooked through.
In a non-stick shallow frying pan: Grease the pan with olive oil and grill on each side for about 10 minutes, turning them often until golden. If they dry out, baste them with some olive oil.
In the oven: Preheat the oven to 180° C (350º F). Place the rack on the highest position and grill them for about 20 -25 minutes, turning them a couple of times, until the meat is no longer pink.
The kebabs may also be cooked on a metal or cast iron grill, until cooked through.
Heat a metal or cast iron grill pan till it is very very hot. Using a silicone brush, lightly grease the grill pan with olive oil.
Place the prepared skewers in a single layer, sear for 3 to 4 minutes before turning. Baste the skewers with olive oil before turning.
Sear again for 3 to 4 minutes and keep basting with oil and rotate the kebabs on all sides till opaque and fully cooked.
How to serve a Kebab
Warm up a Greek pita bread and add the kebab.
Add some tomato sauce and yoghurt sauce on top. Finally add some thinly sliced onion and some paprika.
Kebab Yiaourtlou
Additional Time:
30 minutes
Total Time:
1 hour
10 minutes
Kebab Yiaourtlou, is a dish made with ground lamb or veal or a mixture of both, kneaded together with onion, garlic, and spices, then packed by hand around skewers and grilled.
The recipe is adapted from my cookbook "More Than A Greek Salad".
Ingredients
For the kebabs:
500 grams minced veal (from the shoulder) or minced lamb
2 slices (100 grams) whole wheat bread without the crust, soaked in water and drained (optional)
1 medium onion, minced
1 garlic clove, minced
2 tbsp olive oil
1 tbsp salt
¼ tsp ground black pepper
A pinch of allspice
¼ tsp cumin
½ tsp boukovo (hot pepper such as chili pepper or harissa)
¼ cup parsley, finely chopped
Olive oil for brushing
Tomato Sauce:
3 tbsp olive oil
1 medium onion, finely chopped
1 garlic clove, finely chopped
2 large, ripe tomatoes (about 500 grams), peeled and cubed
1 tbsp tomato paste
2 sprigs fresh oregano, or thyme or savory (optional) (or a pinch of dried oregano, thyme or savory)
1 tsp sea salt and freshly grated black pepper
Yiaourtlou Sauce:
200 ml Greek yoghurt
2 tbsp olive oil
2 tbsp lemon juice
¼ tsp salt
A pinch of black pepper
To serve:
6 pita bread
Onion slices
Sweet Paprika
Instructions
Kebab:
Put the onion, garlic and olive oil in a food processor and mix until puréed.
Put the minced meat in a large bowl, add the puréed mixture as well as all the bread, spices and parsley and mix until well combined.
Divide the mixture into 6 equal parts (100 grams each) and shape them into oblong sausages.
Thread them on bamboo (or metal) skewers shaping them with both hands, distributing the meat evenly on the skewer.
Cover with cling film and refrigerate for about half an hour for all the flavours to mingle.
Grease a non-stick frying pan or cast iron grill with olive oil. Cook turning them frequently and basting them with olive oil, until cooked through, for about 10 minutes.
The kebabs may also be cooked over charcoal. Grill your kebabs over high heat.
Grill for 8 – 10 minutes turning them frequently until cooked through.
For grilling in the oven, preheat the oven to 180o C (350º F). Place the rack on the highest position. Grease a shallow baking tin with olive oil and put the kebabs with or without the skewers. Grill on all sides until golden.
Finally you can cook them on a toaster grill. Heat a countertop grill and lightly grease the grates. Cook the kebab turning them over until cooked through. You can put the lid above the kebabs, without the top touching the kebabs.

Tomato sauce:
Heat the olive oil in a pot and sauté the onion until translucent. Add the garlic and sauté for one minute and then add the herbs and spices and mix. Add the puréed tomatoes and tomato paste and mix.
Bring to a boil and cook on high heat, with the lid ajar, allowing some steam to escape, mixing regularly, for about 25 minutes or until the sauce reduces to a thick sauce.
Yoghurt sauce:
To make the yoghurt sauce, just mix all the ingredients together and refrigerate.
To serve:
Warm up a Greek pita, put some sauce on it and put the kebab with some salad leaves. Add the Yoghurt Sauce, some onion slices and sprinkle some red sweet paprika on top.

Notes
If you have made more kebabs than you need, you can wrap them in cling film and freeze them. Thaw before grilling.
Nutrition Information
Yield

6
Serving Size

1
Amount Per Serving
Calories

451
Total Fat

31g
Saturated Fat

8g
Trans Fat

0g
Unsaturated Fat

21g
Cholesterol

111mg
Sodium

1762mg
Carbohydrates

11g
Fiber

2g
Sugar

6g
Protein

32g
Grilled Meat
Summer is here. Time to make some barbecue!
PIN FOR LATER
Kopiaste and Kali Orexi!