The method for roasting peppers is the same for any kind of peppers, but I have chosen Piperies Florinis, which are red sweet peppers, named after the prefecture of Florina, where they are cultivated.
Before giving my recipe, I wish to explain the easiest method for roasting peppers.
There are many ways you can roast them but I think the simplest is in the oven.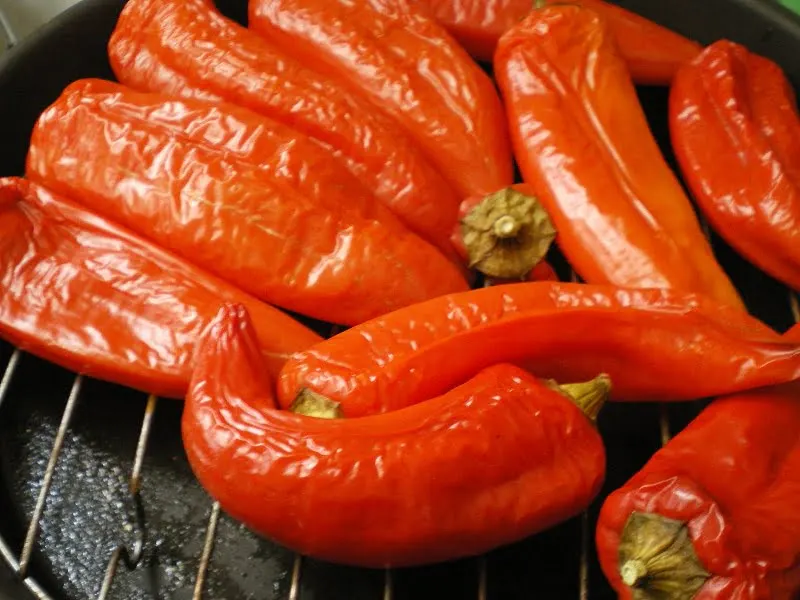 Alternatively you can roast them on charcoal, which is the best, as they get the smoky taste, or on an open gas flame, which I do not have.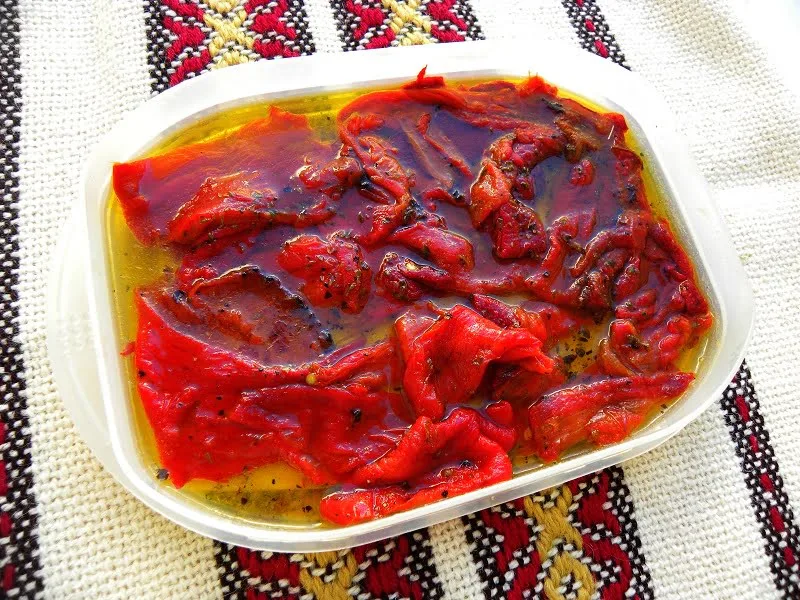 How to roast Piperies Florinis (Greek Red Roasted Peppers)
Ingredients:
1 kilo red sweet peppers (Florina type)
1 tablespoon olive oil
For preserving them:
1/2 cup extra virgin olive oil
2 tablespoons wine vinegar
1/2 tsp sea salt
Freshly grated black pepper
1 clove garlic, finely chopped (optional)
A pinch of oregano or thyme (optional)
Directions:
Wash the peppers and after draining excess water brush them with the olive oil and place them in the oven at high temperature 220 degrees

Celsius

until their skin blisters. Watch carefully so they do not burn and turn them over, once.

Place the roasted peppers in a plastic bag and seal for 5 – 10 minutes and allow them to sweat.
Open the bag and remove stems, peel, remove and discard the skin, seeds and any veins.
When they cool put them in jars or in a Tupperware, airtight vessel. Add salt, wine vinegar, garlic, herbs and olive oil until they are covered.
They can be preserved for a long time, so long as they are covered with olive oil
The first thing I made was a side dish, very easy to prepare and very tasty.
Roasted Red Peppers with Feta
Cooking time: 15 minutes
Ingredients for 4
4 preserved peppers
2 cloves of garlic
2 medium onionos, finely chopped
1 large ripe tomato, peeled and cut into cubes
100 grams feta or goat cheese, cut into cubes
½ cup parsley, finely chopped
A pinch of paprika
Salt and pepper to taste
A couple tbsp olive oil
Directions:
Sauté the onions in a non stick frying pan, add garlic and sauté as well. Add vinegar and mix, add tomato and cook for a few minutes.
Season with salt and pepper and finally add feta and mix.
Finally, remove from heat and add the parsley and paprika and serve on top of the preserved peppers.

You can find my Greek recipes in my cookbooks «More Than A Greek Salad», and«Mint, Cinnamon & Blossom Water, Flavours of Cyprus, Kopiaste!» both available on all Amazon stores. Read more here.
Other related Recipes:
Scarlet Pesto with Piperies Florinis
Chicken Kiev with Piperies Florinis
Kopiaste and Kali Orexi,