Pasta Frolla is an Italian shortbread pastry made with fat, flour, salt, sugar and flavour, such as vanilla or citrus zest, which are bound with an egg.
The word "pasta" means dough and "frolla", as explained to me by my friend Simona, means tender in Italian, as it is a very flaky dough.
In Greece we make a similar one which is called Pasta Flora, which is topped with Jam.
However, Pasta Flora is quite different as you will see that the ingredients and method of making it is similar to a cake rather than a tart.
What is the ratio for the shortcrust pastry?
The ratio I use for making the shortcrust pastry is 1:2 that is for every 100 grams butter, I add 200 grams of flour, although the Italian add more butter, which makes it more flaky but also with more calories.
To sweeten the crust, we can add crystal sugar, brown sugar, icing sugar etc., but each kind will have a different texture.
I usually don't add too much sugar when making Pasta Frolla as the Jam on top will make it too sweet.
We can cut the cold butter into very small pieces or even better to grate it on the big holes of a box grater.
Some of the butter will stick on the grater so a good way to clean it up is to reserve some of the flour, with which to clean up the grater.
We then add the remaining ingredients and the egg will help to bind the dough.
A much easier way is to make the dough in a food processor. If you have a food processor which can take all the ingredients, you can have the dough ready in five minutes.
Unfortunately I only have a mini food processor which I have to make the dough in batches. I add some butter, flour and icing sugar (you can use regular sugar if you prefer) and pulse it in batches until it resembles with coarse meal.
I then bind the mixture with an egg(s).
You can watch me making it in the video.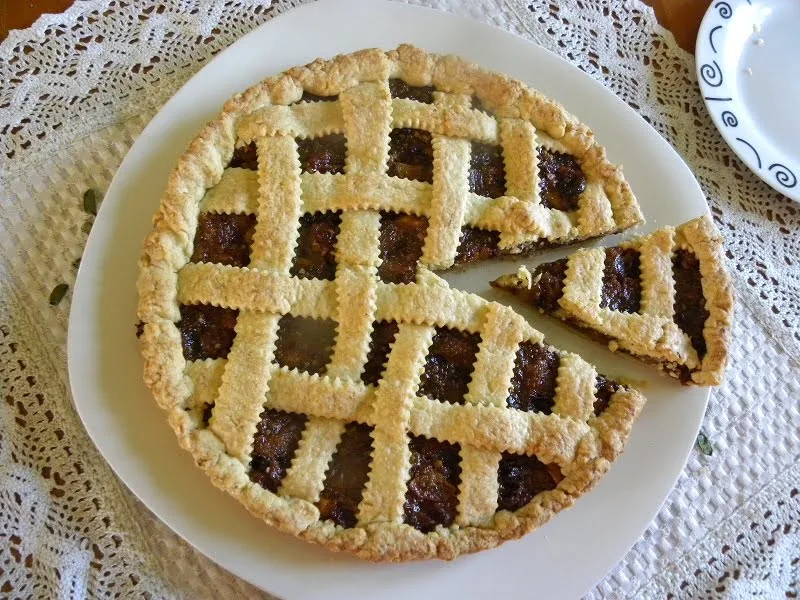 During the past years I've made some different variations of the crust either using regular butter or buffalo butter, margarine, olive oil or butter combined with shortening. The taste and texture differs depending on which one you prefer but the one I like best is with butter.
The ingredients should be cold when making the crust and before baking it you should put it in the refrigerator for a while.
Each time I decided to post one of the recipes of Pasta Frolla I made, something came up and kept postponing it, so today you'll see all the different variations I've made.
The above is a Pasta Frolla with Cherry Jam and Cherry Preserve. I made it in a smaller baking tin so the dough was enough to cover the sides as well. In this one I used brown sugar.
Here I made mini tarts with strawberry jam and Seville orange marmalade, which I baked them in a muffin tin for about 20 minutes.
In this one I used a few leftover fruit preserves which I pureed in a food processor. In the center I used mixed citrus marmalade.
For this one, I made the crust with 200 grams butter and 50 grams shortening.
Here is one with Quince Jam and Chestnut Puree in the middle, topped with quince jam.
For those of you who love figs, you will love my Fig Newton Pasta Frolla, which I made a few days ago, hence the Christmas decorations.
I named it after the Fig Newtons biscuits, which I loved as a kid and which was so similar in taste.
Fig Newtons Pasta Frolla (or Pasta Flora)
Total Time:
1 hour
15 minutes
Pasta Frolla is an Italian shortbread pastry tart, similar to the one we call Pasta Flora, in Greece. The word "pasta" means dough and "frolla", as explained to me by my friend Simona, means tender in Italian, as it is a very flaky dough.
Ingredients
For the dough:
500 grams all purpose flour
1 tsp baking powder
½ tsp salt
2 heaped tbsp sugar or more if you prefer it on the sweeter side
250 grams cold butter cut into smaller pieces or grated
1 tbsp lemon zest
1 whole egg and a yolk
For the filling:
500 grams fig jam
Egg wash:
Optional (see note)
Instructions
Follow the directions to make the Pâte brisée, but instead of adding water, add a beaten egg to bind the dough. If the egg is small you can add another yolk or a couple tbsp cold water. Add the egg gradually and if you have any leftover you can use it to egg wash the lattice.
Line a 24 cm tart pan with parchment paper. Add half of the dough which after covering it with cling film, press with your fingers to spread it. Refrigerate.
Roll out the remaining dough between parchment paper. When it becomes 1 cm thick cut it into 2 cm stripes. Refrigerate for fifteen minutes. You can cut the stripes with a knife or a ravioli cutter or shape them with your hands to make them round.
Spread the jam on top of the pastry and form the lattice on top. Use the leftover pieces to cover the rim.
Bake in a preheated oven to 180 degrees Celsius for about 45 - 50 minutes or until gold on top.
Run a knife around the side of the tart to free it from the tin.
Set aside to cool for half an hour and then remove the outside rim.
Notes
Reserve a little bit of yolk (about 1/8th), which dissolve with a tablespoon milk.
Nutrition Information
Yield

10
Serving Size

1
Amount Per Serving
Calories

529
Total Fat

22g
Saturated Fat

13g
Trans Fat

1g
Unsaturated Fat

7g
Cholesterol

91mg
Sodium

302mg
Carbohydrates

77g
Fiber

2g
Sugar

29g
Protein

6g
Tarts:
Some more Sweet and Savoury Tarts
Kopiaste and Kali Orexi!