A very flaky and delicious spinach and mushroom tart (or quiche) made with buffalo milk butter and buffalo feta-style cheese.
About the Tart Shell
The secret of making a good tart shell is the quality of the butter used and following some basic techniques.
Up to now I have been using only regular butter, which although it makes a tasty crust but not very flaky.
A savoury tart is always perfect for brunch, parties, enjoyed with friends for dinner, to take at picnics, to enjoy with a glass of a cup of coffee or tea.
I've been using this basic recipe for tart shells for years, and it's even a component of many sweet and savoury recipes you'll find on this website.
This time I made the crust with buffalo milk butter.
It is sold in 125 grams packs.
That amount would have made a smaller tart shell so in order to fit my tart pan I had to add some cow's milk butter as well.
The result was amazing. It came out flaky, tender, and flavourful.
One of the cheeses I used is a feta-style white cheese made with buffalo milk as well. It is similar to feta but creamier and richer in taste!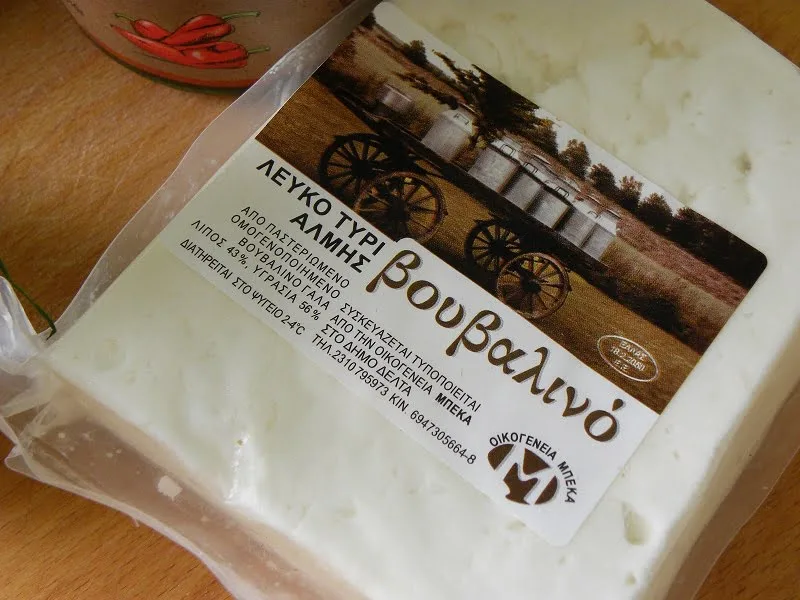 Note: In Greece, only cheeses made of ewe's and goat milk are allowed to be called feta. This feta-style cheese is very creamy and delicious but it has to be called "white cheese".
Tarts are fun to make, mainly because they're so versatile. Check out some of the recipes on my blog.
Tarts:
Some more Sweet and Savoury Tarts
Mushroom and Spinach Tart
Additional Time:
30 minutes
Total Time:
2 hours
20 minutes
A very flaky and delicious spinach and mushroom tart or quiche made with buffalo milk butter and buffalo feta-style cheese.
Ingredients
300 grams flour (2 and 1/3 cups)
200 grams butter (150 buffalo and 50 grams cows butter) at room temperature
1 tsp salt
2 tbsp cold water
Filling:
¼ cup olive oil
400 grams spinach
½ tsp salt
4 spring onions, finely chopped
1 clove roasted garlic
1/3 cup chives, finely chopped
4 eggs
½ cup milk
1 tbsp all purpose flour
1 tbsp olive oil
Salt and Pepper
90 grams graviera, grated
150 grams buffalo feta
1/3 cup chives, finely chopped
½ cup dill finely chopped
130 grams (about 10 small) button mushrooms
Instructions
Prepare the tart shell.
See instructions here.
Prepare the filling:
Put the spinach in a colander and sprinkle some salt. After ten minutes squeeze the spinach to remove as much water as possible.
Heat the olive oil and sauté the spring onions, until translucent. Add the mashed garlic and spinach and cook for about five minutes until all the juices have evaporated. Chop all the amount of the chives. Add half of it and mix. Remove from the heat and set aside to cool.
Put the eggs, milk, flour, olive oil, salt and pepper in a bowl and whisk to combine. Add the grated graviera, reserving 3 tablespoons, the crumbled buffalo cheese, the dill and the chives (reserving a tablespoon), the cooked spinach and mix.
Preheat the oven to 170o C (convection oven) .
Remove the cling film from the tart shell and pour the mixture inside. Spread the mixture evenly and add the mushrooms on top.
Sprinkle the reserved graviera and chives on top.
Bake for about 50 minutes or until golden on top.
Serve warm or cold.
Nutrition Information
Yield

8
Serving Size

1
Amount Per Serving
Calories

383
Total Fat

16g
Saturated Fat

4g
Trans Fat

0g
Unsaturated Fat

11g
Cholesterol

113mg
Sodium

605mg
Carbohydrates

44g
Fiber

7g
Sugar

5g
Protein

19g
Kopiaste and Kali Orexi!