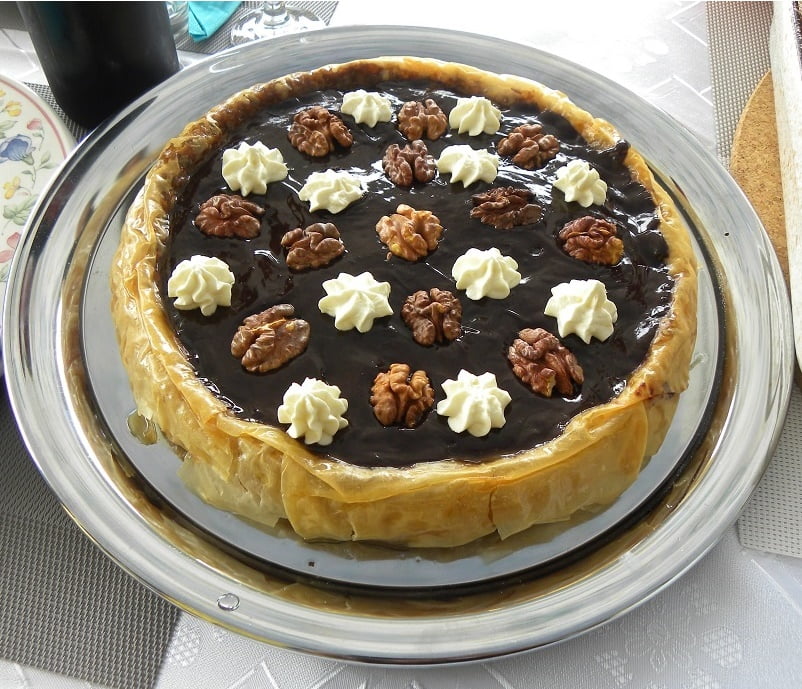 Baklavas Tart is a twist to the classic Greek baklavas dessert made with walnuts and topped with chocolate ganache.
Baklavas (pronounced Mpah-klah-VHASS), is one of the best Greek desserts, which is a rich, sweet pastry made of layers of phyllo, filled with chopped nuts with spices among the layers and drenched with syrup.
Today's recipe baklavas is made in a Tart pan. To make this tart, I cut the phyllo sheets giving them a round shape, using the tart pan as my guide.
Lightly score the phyllos 2.5 cm (1 inch) away from the tart pan and with a sharp knife or a pair of scissors, cut round sheets of phyllo.
The phyllo sheets are buttered and layered in the tart pan with nuts between the phyllo sheets.
After the baklavas tart is baked, it is drenched in honey syrup and when the syrup is absorbed, chocolate ganache is added on top.
Really, who can resist a dessert like that, especially if you are a chocolate lover like I am?
I've made Baklavas innumerable times, considering that it is one the desserts I used to make in the restaurant I used to work in but also during the cooking classes.
I've made quite a few tweaks to the classic recipe, either using nuts and spoon sweets (quince) or adding pastelli combined with more nuts.
You can use any nuts you prefer or a combination of several nuts, such as almonds, walnuts, pistachios, peanuts, hazelnuts etc.
Note: As nothing goes wasted in my kitchen, leftover phyllo pieces can be made into this easy Tyropita.
*Update 1/12/2015:
I would suggest that if you have a tart pan with a deep indentation, it is preferable, after the syrup dries, to reverse it and put the chocolate on top, as it makes it look much prettier!
When I made this tart again, I added a few drops of raspberry essence in the chocolate ganache, which made a huge difference to the taste of the chocolate layer. It tasted amazing!
Also this time I bought a bigger container of heavy cream and the leftover I whipped it with a little icing sugar and decorated the baklavas on top.
You can find my Greek recipes in my cookbooks «More Than A Greek Salad», and«Mint, Cinnamon & Blossom Water, Flavours of Cyprus, Kopiaste!» both available on all Amazon stores. Read more here.
Today I have great news to share with you. BHMAgourmet, a Greek magazine, is hosting the First Food Blog Awards and my blog has been nominated in the category "Best Greek cooking in English".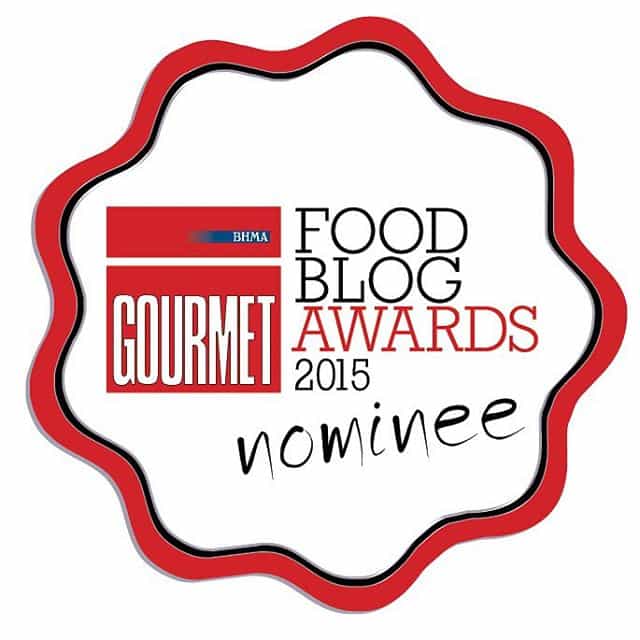 The Best Chocolate Honey Baklavas Tart
Baklavas Tart is a twist to the classic Greek baklavas dessert made with walnuts and topped with chocolate ganache.
Ingredients
10 sheets phyllo dough
110 grams toasted walnuts
120 grams toasted almonds
2 tbsp dried bread crumbs
1/2 tsp powdered cloves
1 tsp cinnamon
1 tbsp cane sugar
125 grams clarified butter
10 toasted walnut halves, for decoration (optional)
Syrup:
1 cup honey
½ cup water
3 cloves
1 small piece (about an inch) cinnamon stick
1 tbsp lemon juice
Chocolate Ganache:
125 grams dark chocolate
125 ml heavy cream 35%
A pinch of freshly grated black pepper (optional)
A pinch of coarse sea salt
3 drops vanilla or raspberry essence
Instructions
Preheat the oven to 180oC / 350o F or 160oC / 320oF, for convection
oven.
While the oven is preheating, toast the walnuts and almonds, for about 15 minutes and set aside to cool. Reserve 10 walnuts halves for decoration. When
they cool pulse the remaining in a food processor with a couple of spins to
make coarse pieces. Add the bread crumbs, cinnamon, cloves and cane sugar to the nuts, mix and set aside.
Prepare the syrup. Put the honey with water as well as spices in a small pot and mix until the honey has dissolved. Bring to a boil and cook for 5 minutes. Remove from the heat, discard the spices and add the lemon juice.
Prepare the clarified butter. Put the butter in a small frying pan or pot and melt it over medium heat. Remove the froth which rises on top and use the melted butter only. The milk solids should be discarded.
Take 10 sheets of phyllo and put the tart pan on top. Lightly score the phyllos 2.5 cm (1 inch) away from the tart pan and with a scissors, cut round sheets of phyllo.
Brush the tart pan with butter.
Brush three sheets of phyllo and place one on top of the other. Using the brush, arrange them to sit on the tart pan. Sprinkle 1/3 of the nut mixture on top. Place another two phyllos, brushed with butter on top and press them with the brush to sit over the nuts. Add the next 1/3 of nuts and two more sheets on top, brushed with butter. Continue with the remaining nuts.. Finally add the remaining three sheets, each one brushed with butter.
Now take the edges of the phyllo and twist them around the pan, to form the rim. If the edges are dry, wet them by brushing them with some butter. Finally brush the top.
Wet your hands and sprinkle some water on top.
Reduce the temperature to 160oC / 320oF or 150oC / 302oF for a convection oven and bake for about 30 minutes or until golden on top.
When the baklavas is ready, remove from the oven. Using a spoon wet the surface and sides of the tart with the cold (or lukewarm) syrup. Set aside until
the syrup is absorbed.
While it is cooling prepare the chocolate ganache. Place a double boiler (bain Mari) on the heat and add the heavy cream. When the water starts boiling add the chocolate, cut into pieces and mix until it starts melting. Add the vanilla or raspberry essence, salt and pepper and continue mixing until it melts.
Add the chocolate ganache on top and decorate it with the reserved roasted walnut halves.
Set aside for a few hours for the chocolate to set before cutting. If you like, when the ganache sets, you can decorate it with whipped cream as well.
No refrigeration is needed. However, if you add the whipped cream you will have to refrigerate it.
Nutrition Information
Yield

10
Serving Size

1
Amount Per Serving
Calories

608
Total Fat

38g
Saturated Fat

15g
Trans Fat

0g
Unsaturated Fat

21g
Cholesterol

47mg
Sodium

231mg
Carbohydrates

64g
Fiber

4g
Sugar

42g
Protein

8g
Other related Recipes:
All you need to know about Greek Baklavas
LIKE THIS POST?
You can hover over this image to pin it to your Pinterest board. Also, please feel free to share it with your friends and fellow bloggers, using the share tools.
PIN FOR LATER
Kopiaste and Kali Orexi,