Fakokeftedes are lentil burgers. These vegetarian burgers started as an experiment one day when I had leftover Fakes Moudjentra. We loved them and ever since I make more to have leftovers. Usually when lentils with rice are leftover, the rice absorbs all the fluid so they become one mass which are not enjoyable to be eaten the next day.
Although in this recipe I used leftover brown lentils, other kinds of lentils can be used or any other leftover legumes such as chickpeas, beans (red, white, black), fava etc. Before using them, you must drain them from any fluid they may have and puree or mash them. Then you can add your favourite herbs and spices and finally you need something to bind them together, such as flour or eggs.
As you may see from all the different lentil burgers below, each one looks different depending on what ingredients are used and how they are cooked. Your main ingredient are the leftover Lentils and whether you will add eggs, courgettes (zucchini), carrot, bell peppers, onion, garlic, different spices, cornmeal all other flour to bind them, the choice is yours.
The first time I made them I did not add onion or courgettes (zucchini), nor flour and shallow fried them.
I made them again adding courgettes but since the courgettes release a lot of water, I added some flour to bind them. The flour was not enough so I added some cornmeal as well.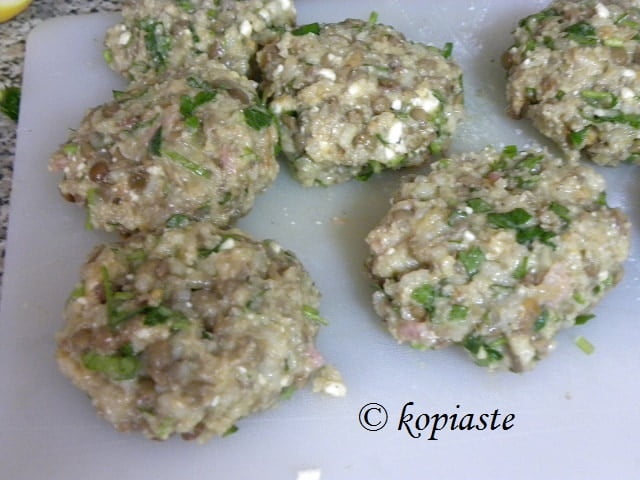 Yesterday, I made them adding only cornmeal and added an onion as well. If you add feta, do not crumble it too much in order to get pieces of feta bursting with flavour and melting into your mouth.
I am trying to cut down on calories so instead of frying them, I put them on parchment paper and baked them for about half an hour. Now they are not only delicious but with less calories as well. Two burgers, a slice of bread and lots of Greek salad (without feta and olives) was filling and a healthful meal. Even better with some real Greek Tzatziki as well if you are not counting the calories.
The baked ones may look a little bit dry but try these lentils and you will love them as well.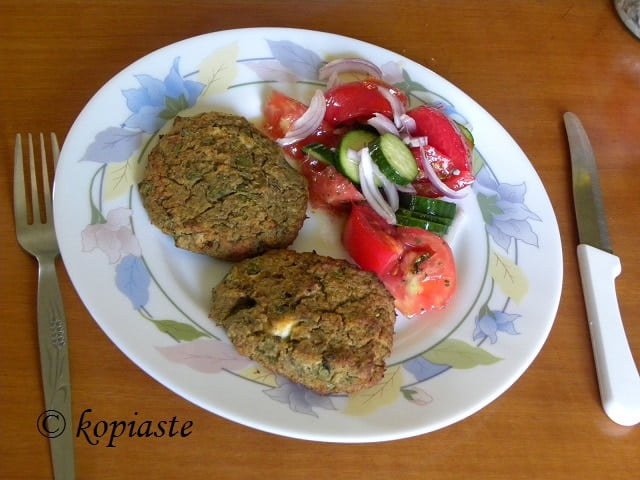 Fakokeftedes, Healthful Greek Lentil Burgers, with leftovers
Preparation time:25 minutes
Cooking time: 30 minutes
Serves: 9
Ingredients:
2 cups leftover cooked lentils (fakes moudjentra)
120 grams courgettes (zucchini) (3 small ones), cut into 3 – 4 pieces each
1 egg
1 onion, quartered
1 clove roasted garlic
1/2 cup bread crumbs (2 slices 30 grams each, crust removed) or panko
80 grams feta, crumbled
Salt and freshly ground black pepper
1/2 cup fresh mint, finely chopped or 3 tbsp dried
1/3 cup parsley, finely chopped
1 tbsp flaxseed
1/8 tsp cumin
1/8 tsp smoked hot or sweet paprika
About 1 cup cornmeal
Directions
In a food processor puree the courgettes together with the egg. Add the onion and garlic and mix until pureed. Then add lentils a few tablespoons each time and process. Empty the puree into a bowl. Put the bread in the food processor and make the bread crumbs.
Add them in the bowl, crumble feta, add herbs and spices and mix all the ingredients.
Add cornmeal gradually* (you may not need all of it) and mix until they can be shaped.
Refrigerate the mixture for a couple of hours and then form into patties.
Line a baking tin with parchment paper and place the patties.
Preheat oven to 180o C / 350o F (fan forced) and bake for half an hour without turning them over or until golden on top.
If you want to fry them, heat the olive oil and fry on one side until a crust forms and then turn over. Fry on both sides until golden brown.
Place on kitchen paper to absorb excess oil before serving.
*Note: the amount of flour or cornmeal will depend on how much fluid there is in the ingredients. For example your eggs may be bigger or the zucchini may have more water.
Fry one first and if it falls apart when turning it over, add more flour.
Lentil Burgers with courgettes
I am telling you, I am in love with these patties. I am making more lentils just to have leftovers, so I don't need any excuse to make them. This time I used dill and filled them with feta. The best part is that when baked, they only have 100 calories each and if you are gluten intolerant, adding corn meal they are gluten free!!!

Baked Gluten Free Fakokeftedes filled with Feta, recipe by Ivy
Preparation time: 15 minutes
Cooking time: 30 minutes
Makes: 10 (100 calories each)
Ingredients:
2 cups leftover fakes moudjentra
1 egg
Salt and freshly ground black pepper
1/2 cup fresh dill, finely chopped
1/2 tsp Greek spice mixture
About 1/2 cup cornmeal
80 grams feta, cut into 10 pieces
Directions:
Put the cooked lentils in a bowl and mix with all the ingredients, except feta and mix well.
Take a heaped spoonful of mixture, flatten it in your palm, add a small slice of feta and cover with the mixture.
Line a baking tin with parchment paper and place the patties.
Preheat oven to 180 C / 350 F (fan forced) and bake for half an hour without turning them over or until golden on top.
They were served as a side dish to Fassolakia Yiahni (stewed green beans).
Update: 12th September, 2014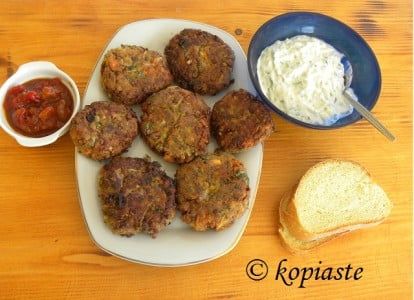 This is my latest update. I made them a few days ago with more vegetables in them. I fried the lentil burgers and served them with Fetatziki Sauce and Tomato Chutney. This combination was heavenly! The vegetables, especially the bell peppers, which were cut, gave an amazing taste and texture to these burgers.
In these ones you can see some colour in them as well, mainly from the colourful bell peppers used.
Fakokeftedes (lentil burgers) with vegetables
Ingredients:
2 cups leftover cooked lentils
1 onion, finely chopped onion
2 roasted garlic cloves, mashed
1/2 cup finely chopp

ed bell peppers

3 small courgettes, coarsely grated

3 small carrots, coarsely

100 grams feta, crumbled

3 eggs

1 sprig fresh,mint (or 1 tablespoon dried),

3 tbsp parsley, finely chopped

1 tbsp salt

Freshly grated black pepper

A pinch of cumin

1 cup dried whole wheat bread crumbs

1/2 cup flour for dredging

Olive oil, for frying (depending on the size of your frying pan, it should be at least 1 cm)
Directions:
Mix all the ingredients except the last two.
Form them into burgers.
Heat the olive oil in a non stick frying pan and fry until golden, on both sides.
Remove on kitchen paper to absorb any excess oil before serving.
You can find many more Greek recipes in my cookbook "More Than A Greek Salad", and "Mint, Cinnamon & Blossom Water, Flavours of Cyprus, Kopiaste!" both available on all Amazon stores.
Other relevant recipes:
Ntomatokeftedes (Tomato fritters)
Revithokeftedes (Vegan Chickpea Patties)
Keftedes me Mavrommatika (Vegan Black-eyed beans patties)
Kolokythokeftedes (Greek zucchini patties)
Kopiaste and Kali Orexi,