Kormos, also called mosaic or salami or "doukissa" (duchess cake), is a no bake, easy dessert with biscuits, which are bound together with a buttercream or melted chocolate.
It is usually formed into a log, hence it's Greek name "kormos' which means tree log but of course you can also shape it as you like.
This is an all time favourite, easy dessert I remember from my childhood but like everything else, recipes can evolve as well into something more complex than an ordinary, simple dessert.
You must know by now how I love making fruit preserves, jams and homemade liqueurs.
I never serve them the old fashioned way but when I am tempted and want something sweet to eat, a small piece of spoon sweet will satisty my urge.
Another reason I make them is to use them in my recipes.
This old fashioned dessert has now been revamped taking it to another level.
Don't skip the addition of coarse sea salt and freshly cracked black pepper in this recipe.
Each bite will add an intriguing complexity to the taste when it bursts into your mouth, mingled with the citrus fruit taste, creating a wonderful contrast of sweet, spicy and savoury which will create an amazing experience to your palate,
Orange and chocolate is one of my favourite combinations but any other fruit preserve would be equally good.
I can imagine it with bergamot, nerantzi (bitter oranges), cherries, vyssino (sour cherries), sykalaki (figs), kydoni (quince), Karydaki (walnuts) and the list may go on and on…
Enjoy!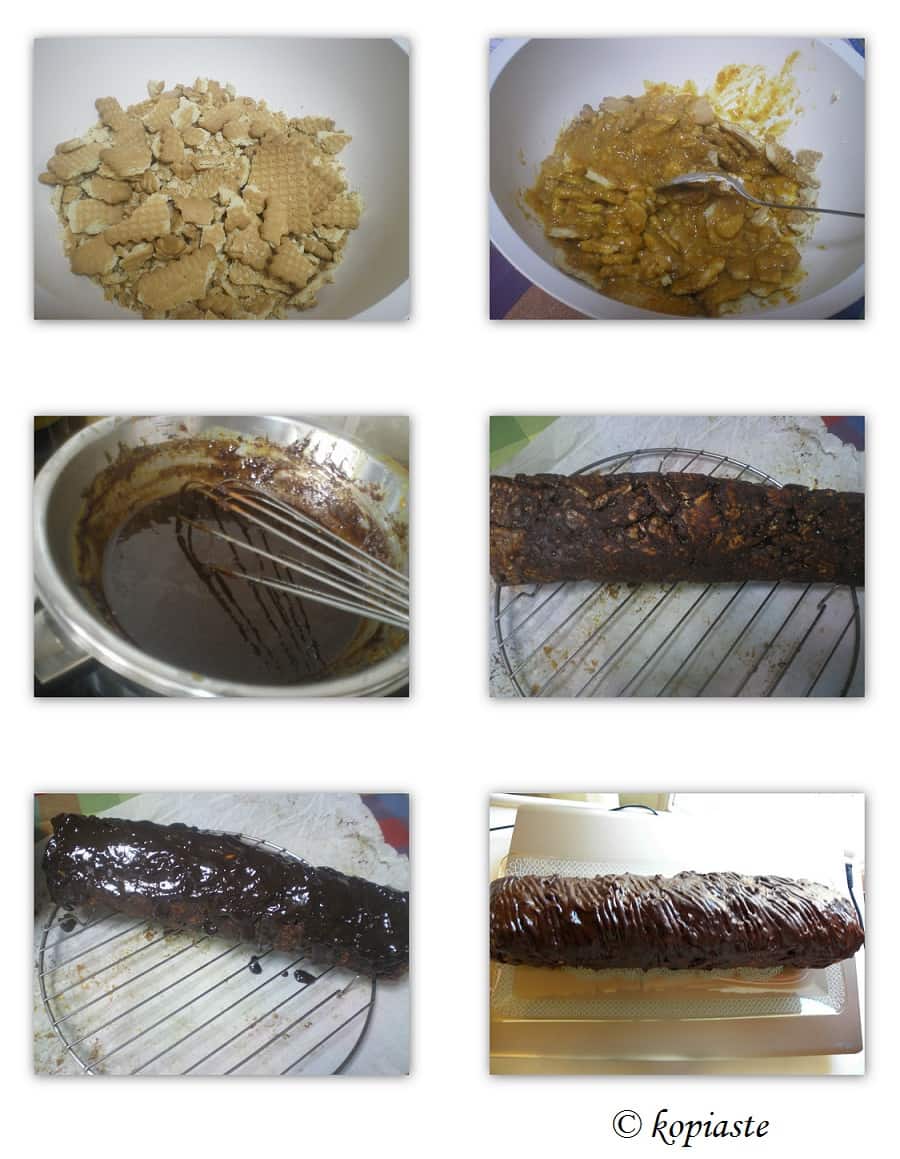 Kormos – Choco Orange Salami
Ingredients:
1 ¼ packets petit beurre biscuits
200 ml heavy cream
125 grams couverture chocolate
1 tbsp honey
A pinch of coarse sea salt
Freshly cracked black pepper
4 – 5 pieces orange spoon sweet (or other citrus spoon sweet), cut in small pieces
¼ cup syrup from spoon sweet
1 gelatin sheet
Directions:
Put the gelatin sheet in a bowl with cold water for 5 minutes.
Heat the cream, add chocolate and honey and mix until incorporated. Add salt and pepper and mix. Set aside.
Break the biscuits in large pieces and divide in two bowls.
In the first one add the orange spoon sweet,
Heat the syrup, add gelatin and mix until it dissolves. Set aside for 10 minutes to slightly cool and pour over biscuits and mix well to coat them.
In the second one pour the chocolate and mix.
Cut a big piece of parchment paper and on top of it place cling film. Add the chocolate biscuits first and with a spoon spread them to form a rectangle. In the middle add the orange biscuits and fold with cling film to make a roll.
Wrap with the parchment paper, place on a tray and transfer them to the fridge for a couple of hours or in the deep freezer for an hour.
Remove parchment paper and cling film. Put the parchment paper under a wire rack and place the log upside down on it.
Prepare chocolate ganache and pour some on top. Leave it for a few minutes to set keeping the remaining over the water bath. Place it in a platter, turn it over and spread the remaining ganache on top. Using a fork make some linear patterns on top.
Refrigerate for the chocolate to set.
Use a sharp knife to cut it into pieces.
An easier way to make it is to line a mould with cling film, mix all the ingredients together and refrigerate.
I did not add any ganache on this one.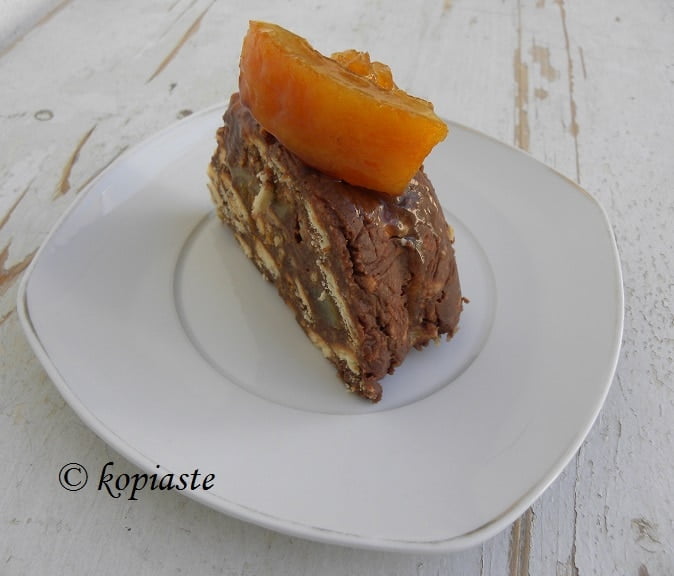 Update 16 September, 2016:
This is a recipe I made two years ago and did not have the time to post.
This dessert is so versatile that you can make it in so many ways.
If you don't have chocolate, use cocoa powder, milk and sugar or just condensed milk and water.
Although tea biscuits are usually used, try it with other biscuits as well or your leftover cookies during Christmas and nothing with go wasted!
White Chocolate Biscuit Kormos
Preparation time: 10 minutes
Cooking time: 15 minutes
Waiting time: 1-2 hours
Serves: 10
Ingredients:
200 grams white chocolate
225 grams petit beurre biscuits
½ cup roasted almonds, skin on
2 bergamot fruit preserves, cut into small pieces
2 tbsp butter or margarine
250 ml heavy cream
2 small kit kat bars
17 Maltezers
Directions:
Heat the heavy cream on low heat or over a double boiler, add the chocolate and butter. Stir until the chocolate melts.
Meantime, roast the almonds and crush them. Do the same for the biscuits, kit kats and Maltezers.
Put all the ingredients in a large bowl and mix well to coat them with the melted chocolate.
Line a bowl with cling film and empty the biscuits. Press them with a spoon to fill the bowl. Cover with remaining cling film and place in the deep freezer for about 1 hour.
Remove the cling film and store in the refrigerator.
Cut into slices and serve.
Other relevant recipes:
Kormos
Glyka tou Koutaliou (fruit preserves)
Kopiaste and Kali Orexi,