Kormos, also known as Mosaiko or Doukissa is a wonderful Greek, no-bake, chocolate dessert made with crushed biscuits which are bound together in various ways, taking the form of salami.
Kormos in Greek means tree log and has been named after its shape.
The name "Mosaiko", which means mosaic, from the patterns made when the dessert is cut.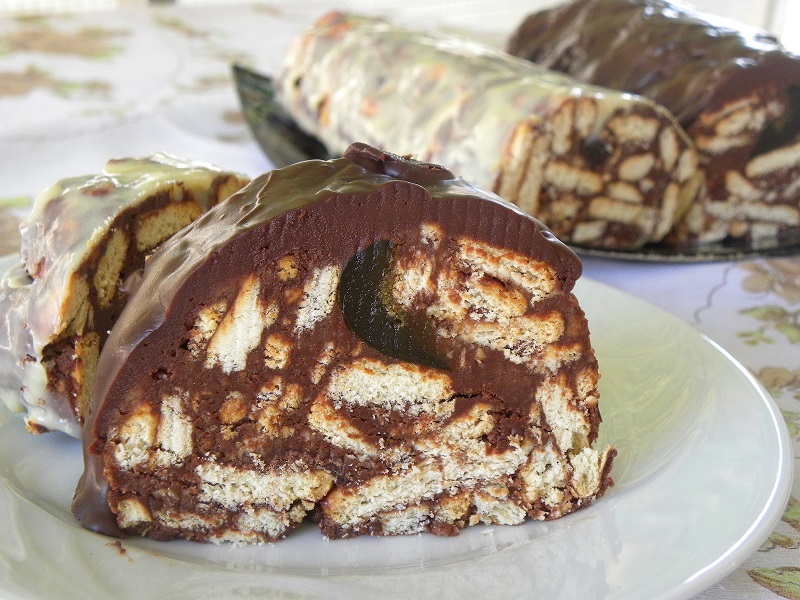 In Cyprus it is known as "Doukissa", which means duchess. I have no idea why it was named "doukissa" but maybe it was worthy to be served to a duchess 🙂
You can find this dessert under the name salami as well.
This no-bake treat is easy and simple to make even children can make it.
There are many variations of this simple dessert but I think it's the small details which make the difference.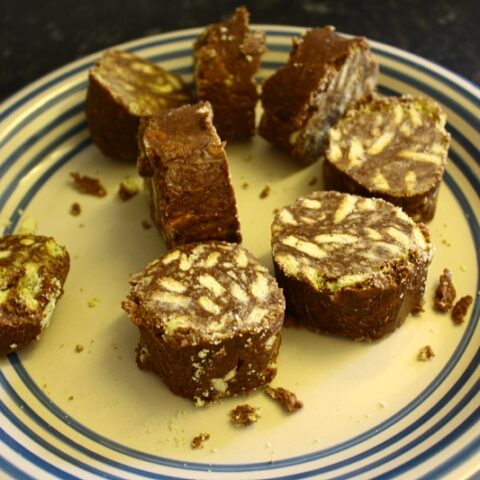 Mosaiko or kormos
Total Time:
1 hour
30 minutes
Mosaiko or Kormos is a very simple no-bake dessert made with crushed biscuits which are bound together with a chocolate buttercream.
Ingredients
250 grams unsalted butter, at room temperature
240 grams (2 cups) icing sugar
50 grams (1/2 cup) dark cocoa powder
1/2 teaspoon vanilla essence
3 packets morning coffee biscuits (or other biscuits of your preference)
1/4 cup Tia Maria Liqueur
240 grams (1 cup) evaporated milk
250 grams crushed walnuts
Instructions
Beat the butter with sugar until white and fluffy.
Add the cocoa powder and vanilla and continue mixing. Set aside a couple tablespoons of the buttercream.
Put the milk and liqueur in a bowl and wet the biscuits (but do not soak them).
Break them into smaller pieces and add to the buttercream.
Add the chopped walnuts and mix well. (Optional: Reserve some to sprinkle on top).
Cut two big pieces of cling film and spread the mixture giving it a salami shape.
Spread the leftover buttercream on top. Crush the leftover walnuts into powder and sprinkle it on top.
Roll up the cling film and wrap it.
Place in the fridge for a few hours until firm.
After chilling, remove log from the cling film.
Cut the log into slices before serving.
Nutrition Information
Yield

10
Serving Size

1
Amount Per Serving
Calories

527
Total Fat

39g
Saturated Fat

15g
Trans Fat

0g
Unsaturated Fat

22g
Cholesterol

62mg
Sodium

38mg
Carbohydrates

36g
Fiber

3g
Sugar

29g
Protein

7g
"These values are automatically calculated and offered for guidance only. Their accuracy is not guaranteed."
This dessert was made a few days ago and has gotten a makeover to celebrate my husband's name-day, which is on the 26th October. (You can find the new recipe at the end of the post).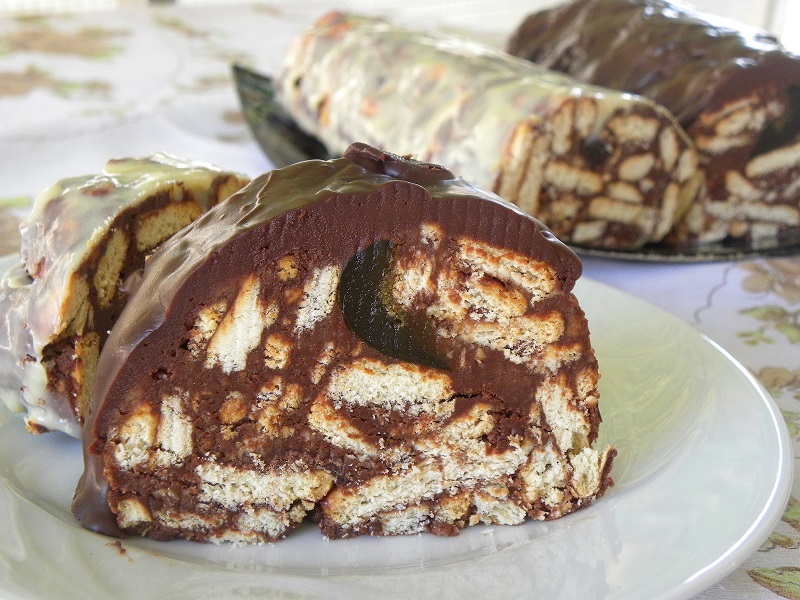 I based this recipe on the old one.
What makes it different in the new recipe, is the addition of melted dark chocolate in the buttercream and instead of vanilla I added raspberry essence, which goes well both with the dark and white chocolate.
I also added coarse sea salt, which bursts into your mouth, enhancing all the flavours, thus leaving a wonderful taste.
Finally, the addition of Greek homemade fruit preserves adds an extra bonus.
I added Glyko Sykalaki (Fig Preserve, filled with Roasted Almonds) in the one I coated with the dark chocolate and Glyko Kerassi (Cherry Preserve) in the one I coated with the while chocolate.
In the past I made a different version of Kormos – Choco Orange with chocolate buttercream, adding some Orange Fruit Preserve inside.
Citrus Fruit Preserves combined with Chocolate are meant to be together!
In the same post, you will find another one made with white chocolate.
As I said this is a very easy dessert but it's so delicious that it disappears in no time, so don't worry if the result makes two logs.
You can keep one in the freezer but it will disappear in no time as you just cannot eat only one piece!
Kormos or Mosaiko (easy chocolate log)
Total Time:
1 hour
40 minutes
This biscuit log is based on an old family recipe, to which I've made several additions.
Ingredients
1 packet (250 grams) unsalted butter, at room temperature
1 1/2 cups icing sugar
50 grams unsweetened cocoa powder, sifted
125 grams melted dark chocolate
1/4 tsp coarse sea salt
15 drops raspberry essence
3 packets of plain biscuits x 225 grams each, such as Marie, morning coffee or petit beurre
1 cup milk
For filling (optional):
6 fig preserves with roasted nut filling
Glazing:
½ cup cherry preserve (drained from syrup)
Milk Chocolate Ganache:
150 grams raspberry (or other) chocolate
100 ml heavy cream (or 100 ml milk plus 1 tbsp butter)
White Chocolate ganache:
125 grams white chocolate
40 ml heavy cream
Instructions
Leave butter outside the fridge for 2 hours to soften.
Sift icing sugar and cocoa powder
Melt the chocolate over a double bath (bain Marie). Set aside to cool.
Beat butter, cocoa powder and icing sugar using a hand mixer, on low speed, until fluffy. Add the melted chocolate, coarse sea salt and raspberry essence and mix to combine, increasing the speed.
In a separate bowl break the biscuits into smaller pieces and pour the milk. Mix it quickly so that they are evenly wet.
Add the biscuits to the buttercream gradually, mixing with a spatula, until all of them are added.
Cut two big pieces of parchment paper and place a piece of cling film on top of each.
Divide the mixture along the centre of both cling films, making them flat.
Add the cherry preserve along the centre on one of them and cut the fig preserve in half, placing the cut side facing up on the other.
Fold with the help of the cling film, giving them a salami shape.
Roll until round and wrap them in the cling film.
Wrap them with the parchment paper as well.
Place them in the fridge for a couple of hours before coating.
Adding the Chocolate Ganache:
Put the heavy cream in a microwave safe bowl.
Break the white chocolate into smaller pieces and heat on medium heat for 1 minute.
Mix with a spatula until the chocolate melts. Repeat for 30 seconds, if necessary.
Set aside to slightly cool and cover the first log.
To cover the second log I make a chocolate ganache. I used the double boiler method to make the dark chocolate ganache.
Store in the fridge until the chocolate sets.
You can also freeze it when the chocolate sets. Wrap it again with cling film.
If kept in the freezer, place at room temperature for a few minutes before cutting or serving.
Notes
1. The logs can stay in the freezer for a long time before coating them with chocolate. If coated, freeze them first and then wrap them in cling film.
2. The first time you put them in the freezer, place them on a flat surface, such as a tray, so that they will not break.
The new recipe was updated on 26 October, 2016.
Nutrition Information
Yield

24
Serving Size

1
Amount Per Serving
Calories

244
Total Fat

16g
Saturated Fat

9g
Trans Fat

0g
Unsaturated Fat

6g
Cholesterol

32mg
Sodium

87mg
Carbohydrates

23g
Fiber

1g
Sugar

16g
Protein

2g
"These values are automatically calculated and offered for guidance only. Their accuracy is not guaranteed."
Kopiaste and Kali Orexi,