Kariokes is a Greek dessert made with sponge cake, chocolate and lots of walnuts (karydia in Greek) from which it takes its name.
I made a healthier version of this dessert but without compromising on the taste.
Summer Escapes – Part III – Issioma, Karyon, Megalopolis
Continuing our summer escapes we decided to visit my husband's village, Isioma, Karyon, in Arcadia taking the beautiful mountain route from Sparta.
My SIL who lives in Australia was here on holidays so she wanted to see their village after so many years.
The village is called Issioma, Karyon (meaning belonging to or from Karyes), where they originally came from.
Karyes (meaning walnut trees probably because it had many walnut trees) was up on the slopes of Lykeon mountain (1.050 m.) and during winter when it was very cold, the shepherds took their flocks and went down the pastures, where they could graze.
They chose two places to stay and one was called Issioma, which means a flat place and the other Karyes, named after their old village.
Today they are known as Ano Karyes (upper Karyes) and Kato Karyes (Lower Karyes). Eventually after the Independence when the Turks left, more families moved there.
The villages are not far from Megalopolis. Kato Karyes is about about 8 km northwest of Megalopolis and after a couple of kilometres further north is Issioma.
After World War II and the Civil War, people left their villages for better lives, mainly to Athens and a lot of families immigrated abroad, especially to North America.
In 1965 and 1966, two major earthquakes destroyed a lot of villages, especially Karyes and some of the villages were rebuilt in nearby locations and some people left.
Finally, during that period, after the construction of two Electricity Power Plants, in the field basin of Megalopolis, which is full of coal and lignite, although at the time a lot of people benefited from getting jobs there, eventually other people left because of the pollution and the electricity company buying their properties.
The once beautiful villages around Megalopolis now remain with only a few inhabitants.
Megalopolis, which means the Great City, was founded in 371 B.C. In ancient times, the town grew very large and its ancient theatre was one of the largest known, with a capacity for 20,000 people.
In prehistoric times the field basin of Megalopolis was a lake and lots of dense forests around it.
Fossil bones of prehistoric mammoths, elephants and rhinoceroses were found near Issioma in 1902.
These fossils are now in the Paleontological Museum of the Capodestrian University of Athens. In the collage below you can see the village of Issioma, view from the cemetery and the smoke of the electricity plant, the cemetery church, the fountains of Ai Giannis, the yard of Ai Giannis and pictures from the village.
I borrowed two pictures from the website of Issioma, one of the excavations and the other of the local women, making bread.
In the collage below you can see the old house of our family.
We have donated it to the community, who are restoring it to be used as a guest house.
They have paved the yard and fixed the roof and are relying on grants and donations to continue its restoration.
See the house after it has been renovated.
In the back yard there is a large walnut tree.
My SIL told us that when she was a child she would go around the village and "steal" the neighbours' walnuts, so their grandfather planted this tree in their yard so that they could have their own walnuts.
The tree was full of walnuts (Genus Carya) and were just right to be eaten. When the walnuts are ripe (late September), their green skin turns black and they fall from the tree.
Their outer skin can then be easily peeled and inside is the nut shell. However, when they are still green like the ones we picked, they are very difficult to peel and you have to use a knife to remove the skin or soak the green walnuts in water for 3 – 4 days before peeling and then leave them in the sun to dry, unless you consume them right away.
We all collected as many walnuts as we could and took some to Sparta and I brought some to Athens to make this dessert.
In fact this was the first dessert I made during the past two months I am on diet and I tried to make it as healthy as possible.
Can kariokes be healthy?
I am not sure about the answer to my own question but I do know that I have created a recipe which is much healthier than ordinary desserts.
As I told you in previous posts I am on a diet, mainly for health reasons, due to high cholesterol levels.
I have checked my cholesterol again last week and now it has dropped to 180, which is perfect.
However, my doctor advised me to continue eating healthy and follow the Mediterranean diet which is no red meat (pork, beef, lamb), animal products (milk and milk products) but only low fat ones and eggs in moderation.
Instead I may eat chicken, turkey and fish 3 – 4 times a week and lots of legumes, fruit and vegetables.
How I made these heart healthy Kariokes
I made these kariokes last week when my SIL stayed with us for a few days before leaving for Australia and they couldn't believe that this was made with "healthy" ingredients.
The authentic dessert is made with sponge cake, walnuts and chocolate. Easier variations are made with biscuits, instead of sponge cake.
Instead of using sponge cake or biscuits, I used rusks which contain no sugar, but natural sweetening, with low fat and low salt content.
Instead of butter or margarine, I used an olive oil based becel proactive butter, which helps lower cholesterol.
I used 0% milk, I used fitness whole grain cereals with dark chocolate, demerera sugar (crystallized natural juice from cane), honey and couverture chocolate, which again does not contain any milk and of course walnuts, which are an excellent source of omega-3 fatty acids, good for the heart.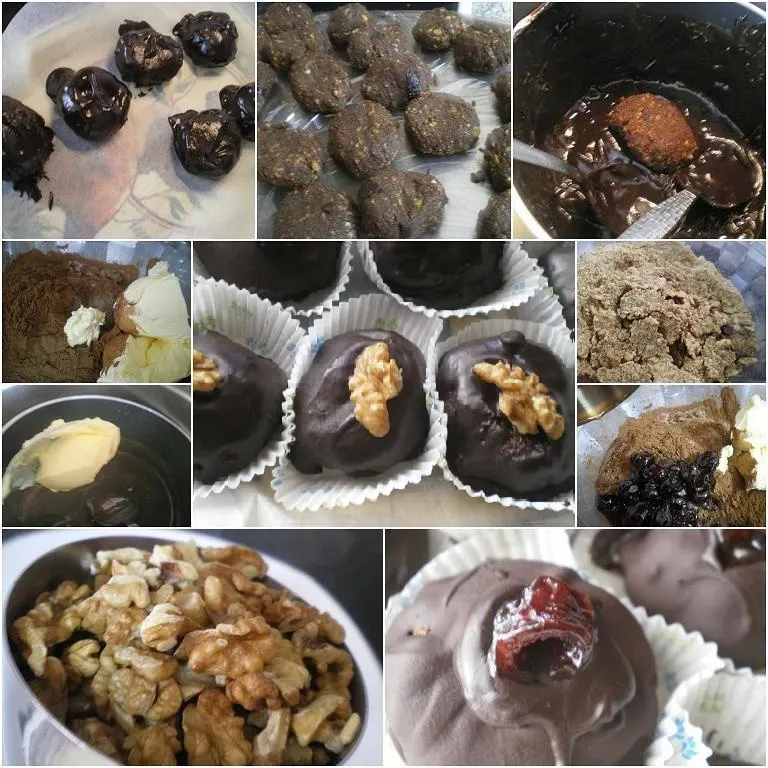 The dessert is easy to make. No mixer is required but I only used the food processor for the rusks and to break the sugar as it was in cubes and for the walnuts.
This can also be done with a pestle and mortar. The cereals were added whole and were crashed when mixing all the ingredients by hand.
The cherry spoon sweet is optional but I added it to give additional sweetness. You may leave it out or substitute it with raisins or craisins. The honey is the only liquid, apart from butter which will help bind all the ingredients together and of course add its sweetness.
If you don't want to add honey, increase the amount of sugar and add milk, a tablespoon at a time until the ingredients can be shaped and do not fall apart.
The dessert was not very sweet inside but even my children who like their desserts sweet did not complain because in any case it was coated with chocolate, which they love.
Note: Whatever chocolate remains in the end, you can either add it on top (before adding the walnut) or put it on parchment to dry and use it in other desserts.
This is my participation to the event Recipe Korner's best Cake Contest, hosted by Sheila of Welcome to my Kitchen. Sheila is a member of My Recipes & Events and is giving a copy of Barefoot Contessa's cookbook Back to Basics. Come and join us and post your original cake recipe and you may win the cookbook.
Healthy Kariokes (walnut - chocolate dessert)
Prep Time:
1 hour
30 minutes
Total Time:
1 hour
30 minutes
Kariokes is a Greek dessert made with sponge cake, chocolate and lots of walnuts (karydia in Greek) from which it takes its name.
Ingredients
170 grams low fat, no sugar, rusks
1 cup fitness, dark chocolate cereals
1 cup roasted walnuts (plus extra for decoration)
¼ cup demerara sugar
100 grams becel proactiv olive oil buttery spread
1/3 cup unsweetened dark cocoa, sieved
½ cup of cherry spoon sweet, without syrup (optional)
3 tablespoons Greek honey
For coating:
375 grams couverture chocolate
2 tablespoons becel proactiv buttery spread
4 tablespoons milk 0% fat
Instructions
In a bowl add the rusks, cereals, walnuts, butter, sugar, cocoa and cherries and using your hand mix them well.
Add the honey (or milk) and mix until they can hold together. Shape round about the size of a large walnut and place on parchment paper or cling film. Refrigerate until the chocolate is ready.
In a bain Marie (water bath) heat the chocolate until it melts and add the butter and milk. Mix until the chocolate is creamy.
Remove from the heat and dip each ball in the chocolate to cover on all sides and remove on parchment paper.
Immediately add half a walnut on top.
When they cool, refrigerate for at least one hour before serving
Nutrition Information
Yield

20
Serving Size

1
Amount Per Serving
Calories

259
Total Fat

15g
Saturated Fat

5g
Trans Fat

0g
Unsaturated Fat

9g
Cholesterol

11mg
Sodium

82mg
Carbohydrates

28g
Fiber

1g
Sugar

17g
Protein

4g
"These values are automatically calculated and offered for guidance only. Their accuracy is not guaranteed."
Other related posts:
Glyko Karydi (Fresh walnut spoon sweet)
Most information taken from Isioma Karyon Megalopolis website, in Greek.
Kopiaste and Kali Orexi!