Eating healthily according to the Mediterranean Diet, does not mean depriving yourself of all treats!
If you want to eat a dessert every now and then, just be smart about what you eat. All the ingredients I used to make this cream is low fat. I used low fat cream, low fat Greek yoghurt and low fat cheese. I did not add any sugar at all in the cream but only some syrup which gave colour, flavour, aroma and a little sweetness. The addition of the spoon sweet is what makes the difference and the amount will depend on how many extra calories you want to take. A little added on top will help until you get down to the middle and then dig right down and reach for the spoon sweet hidden at the bottom.
As I had made both spoon sweets the same day, I made the cream and then divided the mixture and added the strawberry syrup in the half and the apricot syrup in the other. However, you can just add any one you prefer, adjusting the amount.
Although I added the strawberries in the glass, the same way I did with the apricots, when pouring the cream on top it seems that the strawberries were lighter and floated and you could find the strawberries everywhere in the dessert whereas the apricots stayed at the bottom, making a better presentation.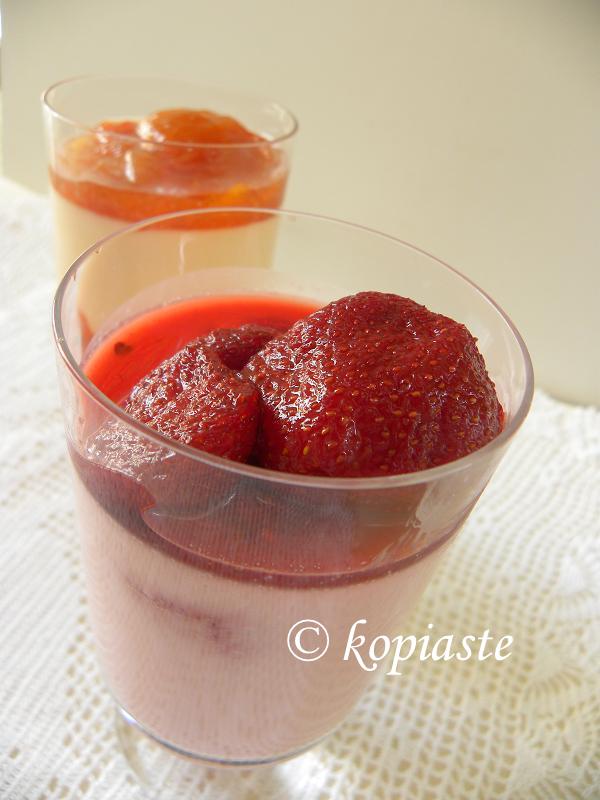 Milk and products derived from milk are a good source of calcium, protein and vitamins so what's better than having this cream for breakfast or have some served in smaller ramekins and have one as a 10 o'clock or afternoon snack. The spoon sweet is not too sweet and making it yourself with no preservatives is an excellent sweetener.
Although panna cotta is known to be an Italian dessert, similar versions are also found in Greece as well as other countries. In Greece this dessert is known as «κρέμα» pronounced "craema", which means cream, derived from Greek word khrīsma (to annoint). The Italian words panna (cream) cotta (cooked) is just a simple dessert made by simmering cream and milk and thickening it with gelatin. Sugar was not originally added in the cream as it was an expensive commodity and later one cooked fruit were added.
One of the ingredients I used was cottage cheese. Actually, this was not planned as I wanted to use dirollo cream cheese which I used before in another dessert, otherwise I would have used the Greek cheese called anthotyro or myzithra or anari. My husband didn't find any so he brought me the cottage cheese version. I was reluctant to use it, as I don't like this particular cheese, may be because in my mind it is connected with some older diets where this cheese was a staple. However, I decided to use it and tried whisking it hoping that the small pieces of cheese in it would dissolve and become cream. However, that did not happen so I passed it through a colander-sieve and with a spoon all the cheese passed through the sieve coming out like cream cheese. At the moment I didn't think of using a blender and that might have worked even better and easier. However, although a bit labour intense, the taste and final result was worth the effort.
Low Fat Greek Strawberry and Apricot Yogurt – Cream Cheese Panna Cotta, Recipe by Ivy

Preparation time: 10 minutes
Cooking time: 5 minutes
Setting time: about 3 hours
Yields: about 10 – 12
Ingredients:
3 envelopes (30 grams) unflavoured gelatin
1 cup water
400 ml low fat (3%) cream
400 ml low fat (0% – 2%) Greek yogurt
200 ml low fat (2.2%) cottage cheese or cream cheese or anthotyro
200 ml strawberry syrup
200 ml apricot syrup
Strawberry spoon sweet
Apricot spoon sweet
Directions:
Dissolve the gelatin into the water and leave it for 5 minutes until it is absorbed.
Heat the cream in a small saucepan and mix in the gelatin. Set aside until it cools.
Whisk the yogurt and cream cheese in a bowl until smooth.
Add the cream to the yogurt mixture and mix to combine.
Divide this mixture into two parts. Add 200 ml syrup (about 1 cup) of syrup in each and whisk to combine.
In a serving transparent bowl or glass add some preserved strawberries and fill the cup with the strawberry panna cotta.
Do the same adding an equivalent amount of preserved apricots and fill the cup with the apricot panna cotta.
Refrigerate for at least 3 hours and serve with extra strawberry or apricot spoon sweet on top.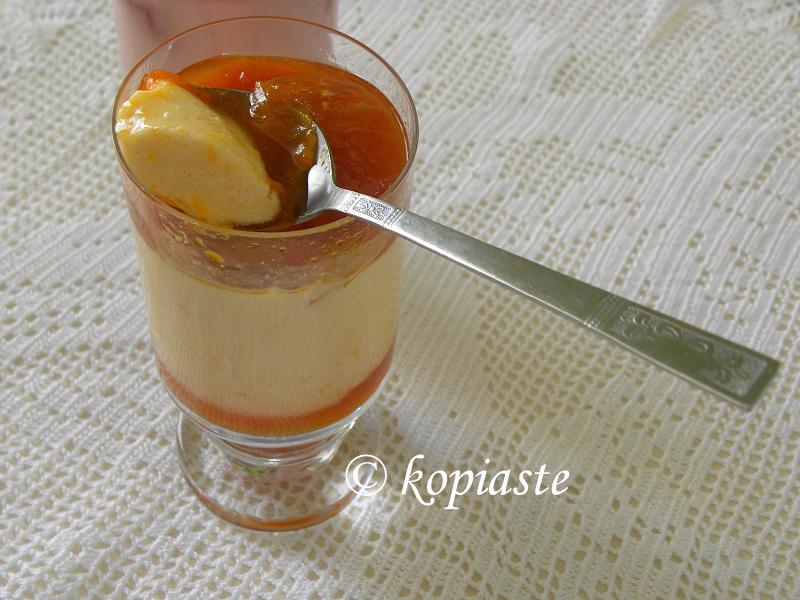 I am sending this recipe to Srivalli, of Spice your Life, for her event Kids' Delights.
Another way the children would enjoy this recipe is to make it into popsicles. Puree the fruit in a blender before mixing it with with cream and putting them in molds or make milk shakes.
I made some banana popsicles with milk and strawberry syrup to sweeten, flavour and colour them. I did not add too much syrup so that it would not become too sweet, so the colour is not very vibrant but tastewise they will love it.
Ingredients for 4 cups milk shake or 12 popsicles:
2 bananas, 4 cups low fat milk, 1/2 cup syrup
Kopiaste and Kali Orexi!!

You may also like:
Strawberry Jelly and Yoghurt Mousse Cake
Low fat Anthotyro-cream cheese Strawberry Jelly