This Greek Panna Cotta is an easy dessert made with Citrus Blossom Preserve which makes its flavour is unique as all the flavour comes from this Preserve.
Although panna cotta is an Italian dessert, I've called it Greek because of the Greek citrus blossom preserve, which gives it its amazing flavour.
I am very happy that I was the first one to come up with wtih this this light and aromatic dessert.
Now that I've tested it with the citrus blossoms, the road is open to make other desserts with flower petals and hopefully next year if my fragrant roses produce enough flowers, I will make rose petal water (rodonero in Greek) as well as preserve and use it to make a similar panna cotta.
When I made the Citrus Blossom Water and the Citrus Blossom Preserve with the leftover cooked blossoms, I wanted to test them in a recipe.
I have thought of several ways to showcase this preserve but I think the best one is to incorporate it in a panna cotta.
For those who do not know what panna cotta is, panna in Italian is cream and cotta means cooked.
Ι heated the cream until lukewarm and then added the softened gelatine so as to thicken it. Practically it is a cream jelly.
To sweeten it, you can add sugar or honey and to flavour it you can add any flavour you like but subtle and delicate flavours like this one works the best.
Instead of adding sugar, I used the preserve together with its aromatic syrup. It could be used without any additional flavour but to boost the flavour I also added some of the citrus blossom water I had recently made.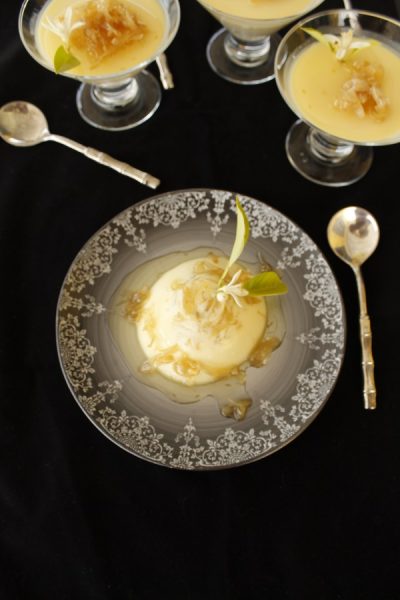 When making the panna cotta, the cream was heated until lukewarm. We Greeks are very practical at this. To knw if the temperature is lukewarm you put it on low heat and test regularly with your pinky finger. If you can leave it inside for a long time the cream is not warm enough, so you continue heating it. It becomes lukewarm when you can keep your finger in and count upto five. Otherwise use a candy thermometre and remove it from the heat when it reaches 36.5 to 40.5 Celsius or 98 and 105 degrees Fahrenheit.
In the meantime, I added 5 gelatin leafs in a bowl with tap water and let them sit for five minutes to soften. According to the package instructions, for each litre of fluid, you need 12 gelatin sheets. I used 400 ml cream, so according to my calculations I would need 4.8 sheets.
Taking into consideration the amount of syrup that would be added with the preserve, I estimated that I would need 5 sheets of gelatine.
I then put the gelatin leafs (without the water) in the cream and mixed it to dissolve. I measured one cup of citrus preserve and added it gradually to the cream. I mixed it and tasted it until the desired sweetness to my taste, also taking into consideration that I would serve it with additional citrus preserve on top.
I used almost 3/4 of a cup and the sweetness came out perfect. The remaing 1/4 cup was used to serve it on top.
The cream needs a few hours to set or even better let it set overnight and serve it the next day as its flavour develops and gets even better the next day.
If you want to unmold it into a plate, put your bowl in warm water for a few minutes. Pass a knife around the edges and slowly and gently let it fall in the plate.
There are no words to described this dessert which is so easy to make, light and aromatic that you will think that spring is captured in each bite.
I prepared a short video with part of our garden with the flowers and trees we grow. It is dedicated to all the mothers who are celebrating tomorrow.
Update: 5th August, 2017
Panna cotta with Seville Oranges
The above panna cotta was made with the blossoms of the Seville oranges.
However, when the fruit is still green and small, which is around August, we make this Seville orange preserve with the whole fruit and when it ripens, in winter, we make the preserve called Nerantzi or Kitromilaki, with the peel only.
When we came back to Assini, after spending some months in Athens, the first preserve I made around March or April was this one with Seville oranges we had in our garden, using only the peels.
Yesterday, when I decided to make this panna cotta again (same amount of cream and gelatine), I finely cut two preserves into small pieces and used the preserve to sweeten the cream with a bit of its syrup (no additional sugar was used).
I heated the heavy cream, added the soaked gelatine leaves, added the fruit preserve with a little bit of syrup and added a few drops of citrus essence and that was all.
This dessert is the easiest of all desserts as it only takes about five minutes to prepare and a couple of hours for it to set.
Adding delicious Greek fruit preserve to flavour and sweeten this Italian dessert, can only but make it much better!
Greek Panna Cotta with Citrus Blossom Preserve
This Greek Panna Cotta is an easy dessert made with Citrus Blossom Preserve which makes its flavour is unique as all the flavour comes from this Preserve.
Ingredients
400 grams heavy cream 35%
¾ cup citrus blossom preserve with syrup
1 tbsp citrus blossom water
5 gelatin leafs
Cold water
1/4 cup citrus blossom preserve with syrup, to serve on top
Instructions
Soak the gelatin sheets with tap water for 5 – 7 minutes.
Heat the cream until lukewarm. See above note.
Remove the gelatin leafs from the water and put them in the cream. Mix until dissolved.
Add the blossom water and citrus preserve and mix.
Divide the mixture into four bowls, set aside to cool completely and refrigerate for a few hours until the cream sets.
Serve with more citrus preserve on top.
Nutrition Information
Yield

4
Serving Size

1
Amount Per Serving
Calories

798
Total Fat

36g
Saturated Fat

23g
Trans Fat

1g
Unsaturated Fat

11g
Cholesterol

113mg
Sodium

145mg
Carbohydrates

115g
Fiber

0g
Sugar

71g
Protein

10g
"These values are automatically calculated and offered for guidance only. Their accuracy is not guaranteed."
Other relevant recipes:
Goat Cheese and White Chocolate Panna Cotta
Vanilla and Coconut Panna Cotta
Kopiaste and Kali Orexi!