Dolmades is a Greek traditional dish using vine leaves to enclose a filling with minced meat and rice, with a lot of variations. However, the recipe I made is not traditional at all.
There is a another Greek dish where sardines are wrapped in vine leaves and cooked with olive oil, lemon juice, spices and water but my recipe has nothing to do with that recipe apart from the sardines being wrapped in vine leaves is the only thing they have in common.
When I was given this black couscous, by the Mediterranean Diet Grocery Store, (Sophocleous 1 and Aristidou 11 Street, in Athens), to review , I had no clue what to make with it.
Although at first glance it even looked a bit repulsive but believe me, after I cooked it, we loved it!

I did not want to make the usual side dish, which I have made many times but never published. As I wanted to use it in a creative way, I kept thinking for days, ways to cook it.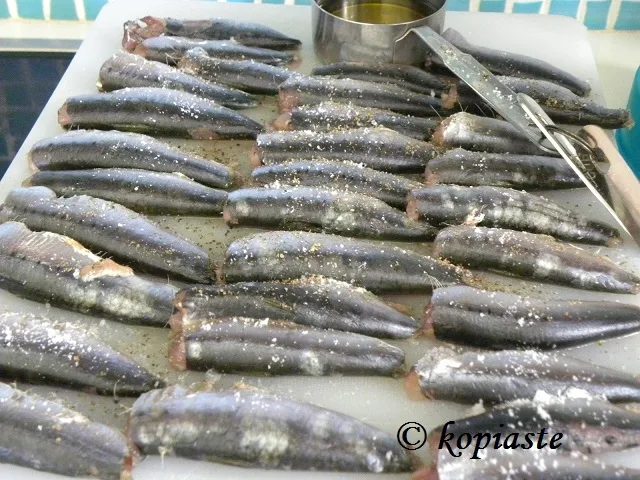 When the other day, I bought these lovely, fresh sardines from the farmers' market the idea of pairing them together clicked into my head. This handmade couscous, is made with cuttlefish ink, so these two ingredients sounded like a perfect match.
It's always risky to make new recipes, and believe me there are many recipes I have made which will never be posted, but this time my instinct was right and the result was amazing!
It was so delicious that you will be seeing more recipes with this black beauty!
Dolmades with Sardines and Black Couscous
Preparation time: 1 hour
Cooking time: 45 minutes
Serves: 4
Ingredients:
1/3 cup olive oil
1 medium onion, finely chopped
1 clove (about 1 tsp) mashed roasted garlic
1 vegetable organic bouillon
200 grams black couscous
¼ cup red dry wine
1 can (400 grams) tomato concasse, blended
2 ½ cups water
Salt and freshly grated black pepper
A handful dried mint
1 cup finely chopped parsley
40 filleted sardines
40 vine leaves
Directions:
Blanch the vine leaves, add cold water and drain.
Heat half of the olive oil in a non stick frying pan and sauté the onion until translucent. Add the garlic and bouillon and mix for a few seconds.
Add the couscous and mix until it is wet.
Add the wine and mix until the alcohol evaporates.
Add half of the tomato juice. Fill the can with water and add half of it.
Season with salt and pepper, add the dried mint, mix, lower heat and simmer until the couscous has absorbed the fluid.
Remove from the heat and mix in the parsley. Set aside until it cools.
Fillet the sardines. Pull the head and the guts which will come out with it.
Cut through the belly ending at its tail. Remove the bone and cut off the tail. Wash and drain.
Season the sardines with salt and pepper.
Place one of the leaves, vein side facing up, on a plate and put a sardine horizontally near the stem. Add a spoonful of the couscous mixture on top. Fold the vine leaf, left edge over the filling and then right edge. Then roll from the top, all the way, wrapping the vine leaf, to make a cigar shape.
Repeat with the remaining grape leaves and filling and place them in a baking tin.
Put the remaining olive oil and water in the remaining tomato juice, mix them and pour on top of the wrapped sardines.
Cover the baking tin with aluminum foil.
Preheat over to 180o C and bake for 1 hour.
Serve with a Greek Salad or make some Veggie Burgers, as well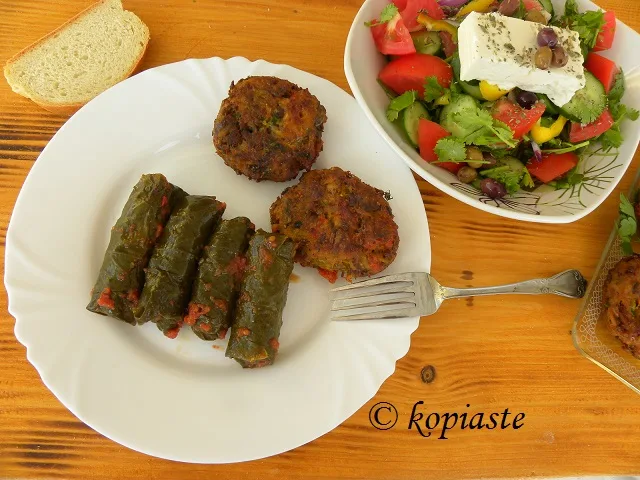 You can find many more Greek recipes in my cookbook "More Than A Greek Salad", or in the shorter version "More Than A Greek Salad Just The Cookbook" and "Mint, Cinnamon & Blossom Water, Flavours of Cyprus, Kopiaste!" both available on all Amazon stores.
Other relevant recipes:
Dolmadakia Bakaliarou (Dolmades with Cod fillets)
Vegetarian Dolmades with Mushrooms and Leeks
Kopiaste and Kali Orexi,