Amygdala is the name of almonds in Greek and this dessert is called Amygdalota "all almonds". There are a few versions either baked or not. These desserts are traditionally made in the Greek islands, shaped liked small pears with a clove inserted on the top and showered with confectioners' sugar.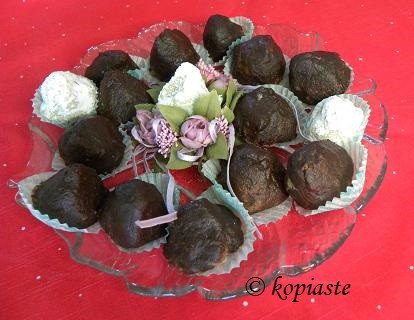 I did not follow the traditional recipe but made a total different recipe using other ingredients.
Chocolate Citrus Marzipans
Ingredients:
250 grams (8.80 oz) almonds, blanched and ground
235 grams (8.30 oz) icing sugar, sieved
1 tbsp lemon juice
½ tsp vanilla essence
50 grams butter or margarine
Citrus spoon sweet
Orange blossom water (about 2 – 3 tablespoons)
 Chocolate glazing:
125 grams couverture chocolate
1 tsp butter
3 tbsp heavy cream
2 tbsp Pilfar Orange liqueur
Directions:
Blanch the almonds and let them dry.   Grind them with some icing sugar in a food processor until powdered.
Add the remaining icing sugar as well as all the other ingredients and mix.
Finally add enough blossom water until they hold together and can be shaped resembling little pears.
In a double boiler melt the chocolate with 1 tsp butter and 3 tbsp heavy cream.  Mix in the liqueur.
Dip each amygdaloto in the chocolate and with a fork and a spoon try and carefully get one on the fork, so that excess chocolate will drip off.
Place on parchment paper to dry.
Serve them in cupcake cases and keep them refrigerated.
A similar recipe is included in my cookbook Mint, Cinnamon & Blossom Water, Flavours of Cyprus, Kopiaste!
They are so easy to make that your children would love to help you making them.
On Christmas Eve  one of the few traditions,  preserved in its entirety to this day, is Kalanta.
Kalanta are similar to Christmas carols and are sung on the Christmas Eve, New Year's Eve and Epiphany Eve, each time with a different song.
All the children go around from house to house in small groups, some playing a musical instrument such as a guitar or a harmonica but the most usual one is a metallic triangle held in one hand and hit with a wand producing a metallic sound.On each of the above three occasions they would sing different carols, which usually describe the occasion and end up by wishing the landlord good health and prosperity.In the past the children would be given traditional sweets such as kourabiedes and melomacarona but now they are only tipped with some coins.
Here is what all the children will be singing
I also wish all of you Happiness, Health and Prosperity.     Kala Christougenna "Merry Christmas".